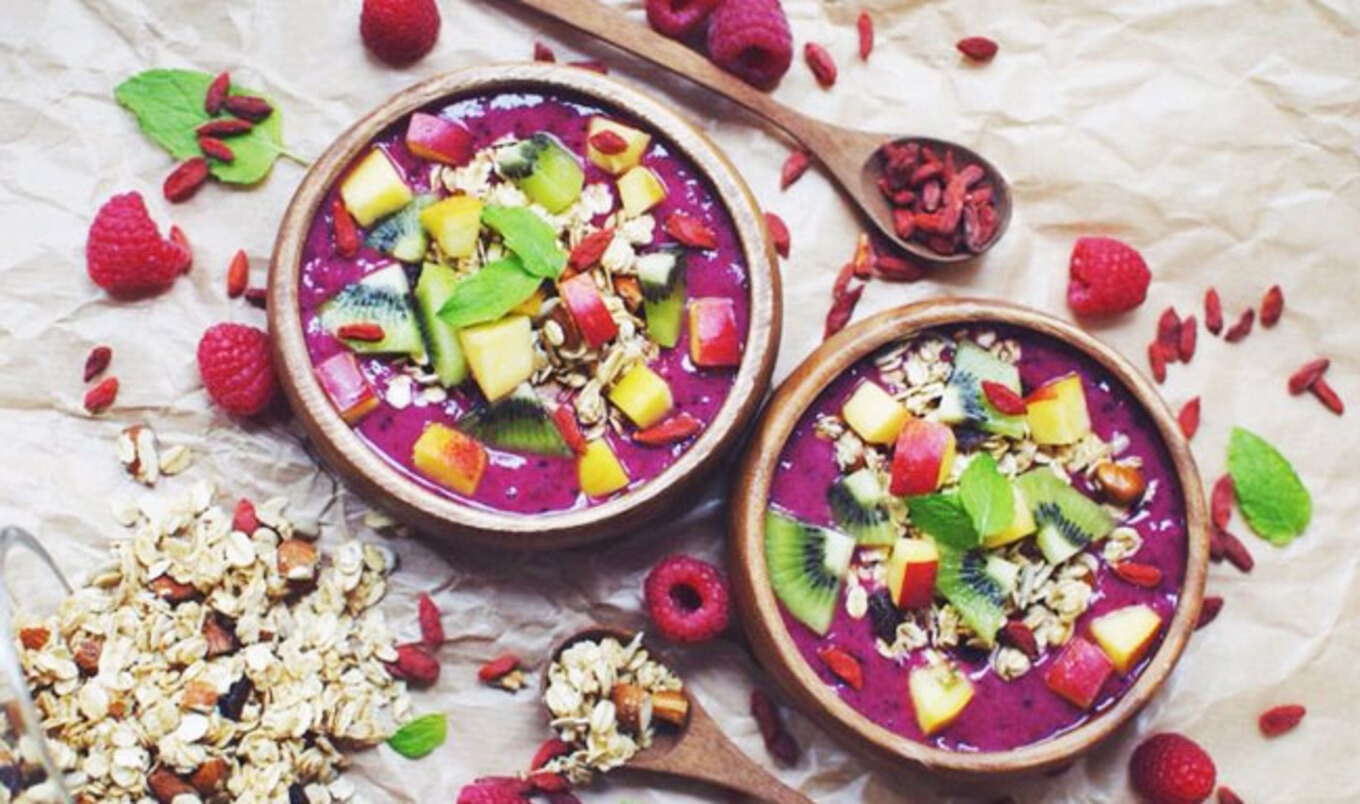 Hop on the unicorn-food bandwagon without sacrificing your health.
May 17, 2017
---
Unicorn food is the rage on Instagram, but what if you're a health-conscious vegan? After all, most of these unicorn foods are made with dairy, artificial colors, and refined sugars. Starbucks' recent Unicorn Frappuccino has 59 grams of refined sugar (in a Grande size), which is equivalent of eating six Krispy Kreme doughnuts. If the refined sugar doesn't concern you, perhaps the food colorings will, as a 58-page report by the Center for Science in the Public Interest revealed that nine of the food dyes currently approved for use in the United States are linked to health issues including cancer, hyperactivity, and allergic reactions. So how can vegans and health-conscious people still enjoy this food trend and not worry about fake colors, additives, animal products, or cancer-causing substances? The answer has always been right in front of you—fruit! Nature's treat is the perfect way to eat healthy and take Instagram-worthy pictures, which is why we're highlighting five of our favorite fruit-based foods that'll have your body feeling good and your social media accounts as on-trend as ever.

1. Smoothies
Smoothies are delicious and easy to prepare. Not only are they a quick way to nourish your body with essential vitamins and minerals but they are also a great way to naturally hydrate your body. Furthermore, smoothies are an excellent source of fiber. In fact, according to the 2015-2020 Dietary Guidelines for Americans, we tend to consume just 15 grams of fiber per day, which is barely half of the recommended daily requirement of 28 grams per day. To make a smoothie, all you need is some fruit (fresh or frozen) and a blender. Our favorite recipe involves blending bananas and strawberries (make sure to use more bananas for a thick, creamy texture), and adding agave if you prefer a sweeter smoothie. Pro tip: use the entire fruit instead of only the juice to ensure you get all the fiber as well. For more inspiration, we love the @breakfastsmoothies Instagram account. You will, too!

2. Smoothie bowls
Unlike smoothies, smoothie bowls are made to be eaten with a spoon. Use your smoothie mixture as a base for your "adult cereal," and add toppings such as fresh fruit, granola, muesli, raisins, nuts, seeds, or whatever you like. Doing so provides you with all of the benefits of smoothies but in the form of a more substantial meal. Smoothie bowls are a perfect way to start your day because so many alternative breakfast cereals or options are loaded with refined sugars and have very little nutritional value. For example, research by the Environmental Working Group indicates that 92 percent of cold cereals in the US come loaded with enough sugar in a single serving to exceed 60 percent of your daily recommended sugar allowance. So, to begin our day the healthy way, we visit IG account @smoothiebowlrecipes, where an array of vegan bowls awaits!

3. "Nice" cream
We all love ice cream. In fact, we all love ice cream so much that, according to the International Dairy Foods Association, the average American consumes 22 pounds of it per year. The reality is, however, that ice cream is not good for us due to excessive amounts of fat, sugar, and calories. Luckily, there's a solution, and that solution is "nice cream." All you need is some frozen bananas and a blender to make your base. The best part is you still get the creamy texture of ice cream but with none of the nasty ingredients. Add some raw cacao and chopped dates for sweetness, and you've got yourself a healthy, delicious dessert. If you want to take it further and ditch the banana, check out Frozen Fruit Co on Instagram to see how we make our nice cream entirely from fruit.

4. Fruit water
From increasing our energy levels to aiding our digestion, drinking water provides us with multiple health benefits. According to the Institute of Medicine, the average daily water intake should be 2.2 liters for women and 3 liters for men. However, drinking several liters of water a day can be difficult, especially if you find water too plain for your tastebuds. To remedy this, spruce up any H2O mixture by cutting fresh fruit and mixing it with water in a jug. Refrigerate any mixtures and be sure to let the water rest so the natural fruit flavors can mix into the water. Our latest IG favorite is this citrus-and-cucumber detox water from @everytin_natural.

5. Chocolate-dipped fruit
With chocolate-dipped fruit, you feel like you're having an indulgent treat while still getting the nutrients of fruit. This is one reason why we love @rachiesay's chocolate-covered strawberries. The other is that chocolate-covered fruit is easy to make by using coconut oil, cacao, and date syrup. Coconut oil helps promote heart health, cacao is full of antioxidants, and date syrup is rich in potassium, iron, and magnesium. Put the mixture in a jar and run it under warm water to make the coconut oil melt, and then dip your fruit in and let cool to harden the chocolate. Finally, refrigerate, or eat on the spot!

Victoria and Michael Philippou are co-founders of Frozen Fruit Co in Santa Monica, CA, where they make healthy, plant-based frozen treats made from fruit and natural fruit sugars.