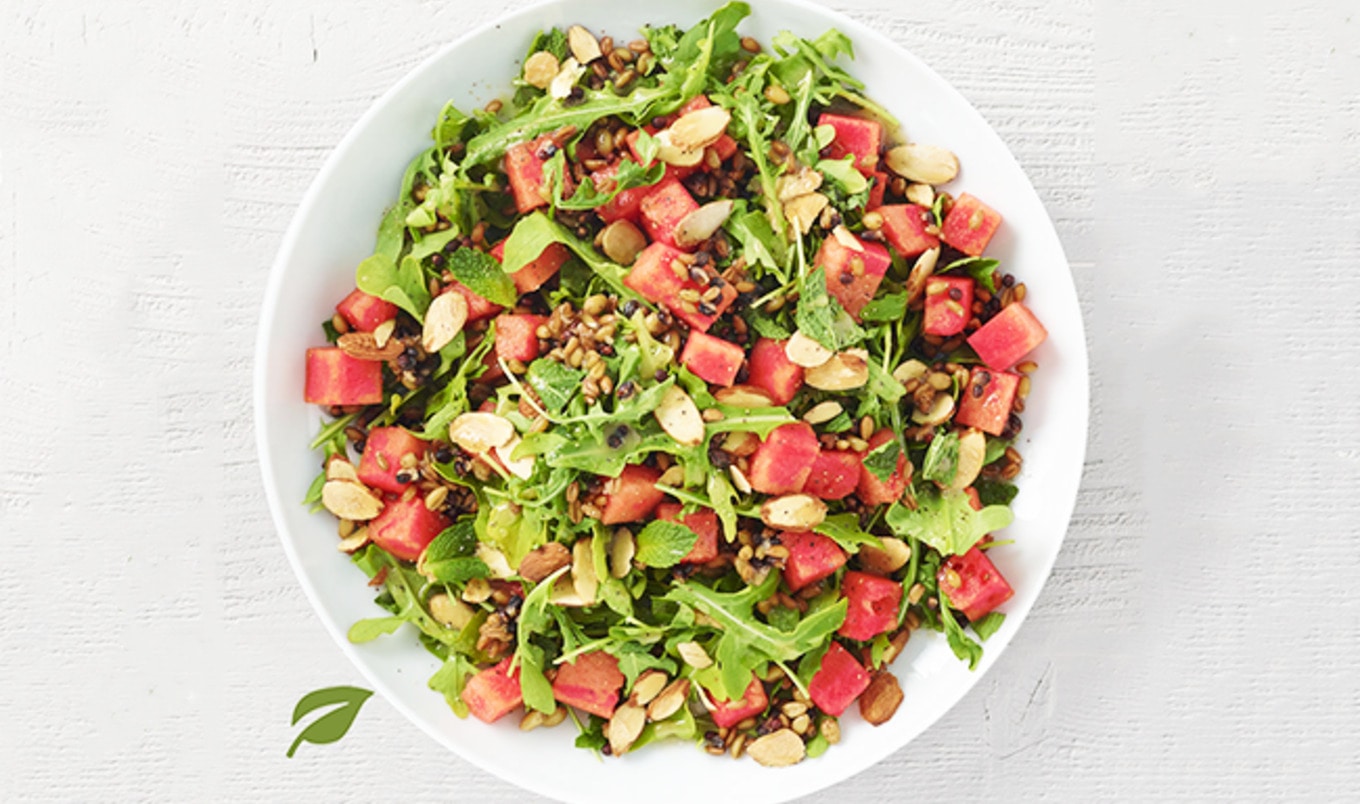 The fast-casual chain just made it easier to find vegan food on the menu, and we're ordering these five dishes pronto!
July 27, 2017
---
Last month, nationwide chain Panera Bread (almost) answered customer pleas for easy-to-order plant-based meals. While the eatery's definition of "plant-based" leans toward the idea of consuming more plants with a side of dairy and eggs, its new ordering system is very vegan-friendly and makes getting cruelty-free meals at Panera a cinch in a pinch. Sure, we'd love for the whole place to just go vegan, but, for now, we're happy Panera is moving in the right direction. Here are five meals we're ordering online from Panera for lunch—with side of a vegan-as-is Peach and Blackberry Smoothie (made with almond milk, of course).
1. Low-Fat Vegetarian Garden Vegetable Soup with Pesto
Hack: order without the pesto
Getting as many veggies into our systems at lunch is goal No. 1, and this soup boasts a variety of tomatoes, sliced zucchini, yellow beans, Swiss chard, cauliflower, and bell peppers with pearled barley added for extra texture. We're eating ours cold until the summer heat lets up.
2. Ancient Grain Greek Salad
Hack: order without the feta cheese
To us, fiber (while not very sexy) is super important, and this grain salad delivers. Packed with a blend of ancient grains served atop a bed of romaine and kale greens—which comes dotted with vine-ripened tomatoes, diced cucumbers, kalamata olives, and toasted almonds—this salad gets another hit of Mediterranean flavor from a tangy (and vegan) Greek dressing.
3. Modern Greek Salad with Quinoa
Hack: order without the feta cheese
Another Greek creation, the "modern" element here is a hefty serving of protein-rich red quinoa mixed with greens and vegetables, and finished with toasted almonds.This salad is still just as Greek without feta cheese, but if you want, you can add your own homemade version with a recipe sourced from the kind people in the Vegan Cheese Lovers Club Facebook group.

4. Mediterranean Veggie Sandwich
Hack: order without the feta cheese on sourdough, ciabatta, or French baguette
This meatless sandwich with bite includes piquant Peppadew peppers, cucumbers, lettuce, vine-ripened tomatoes, red onions, and a schmear of spicy cilantro-jalapeño hummus. This one is perfect on crunchy ciabatta bread, but several other vegan bread options (looking at you, sourdough!) are also available.
5. Watermelon Feta Salad
Hack: order without the feta cheese
Summer is the time when watermelon shines for its cooling, hydrating qualities. Panera's Watermelon (ditch-the-feta) Salad features its main ingredient on a bed of arugula and mint that's lightly coated in champagne Dijon vinegar and extra virgin olive oil, sprinkled with toasted almonds, fortified by ancient grains, and accented by a cracked black pepper and salt blend. This one makes a great picnic partner.
Bonus: Vegan, As-Is
Just like late-night favorite Taco Bell, Panera recently compiled a detailed guide to eating vegan that's updated regularly. From the bakery department, breads such as Black Pepper Focaccia, Sea Salt Focaccia, Ciabatta, Country, Rye, Sesame Semolina, French Baguette, Hoagie Roll, and Sourdough are made sans animal products and can be swapped into sandwiches or ordered as sides. As for breakfast, the Summer Fruit Cup and the Steel Cut Oatmeal with Strawberries, Pecans and Cinnamon Crunch Topping are both vegan. The Black Bean Soup, Watermelon Arugula with Almonds Salad, and Seasonal Greens Salad (try it with quinoa and avocado), among several others, are hearty lunch options that you can enjoy with no vegan hacks necessary.
Anna Starostinetskaya is VegNews' news editor, and her favorite meal of the day (after breakfast and dinner) is lunch.