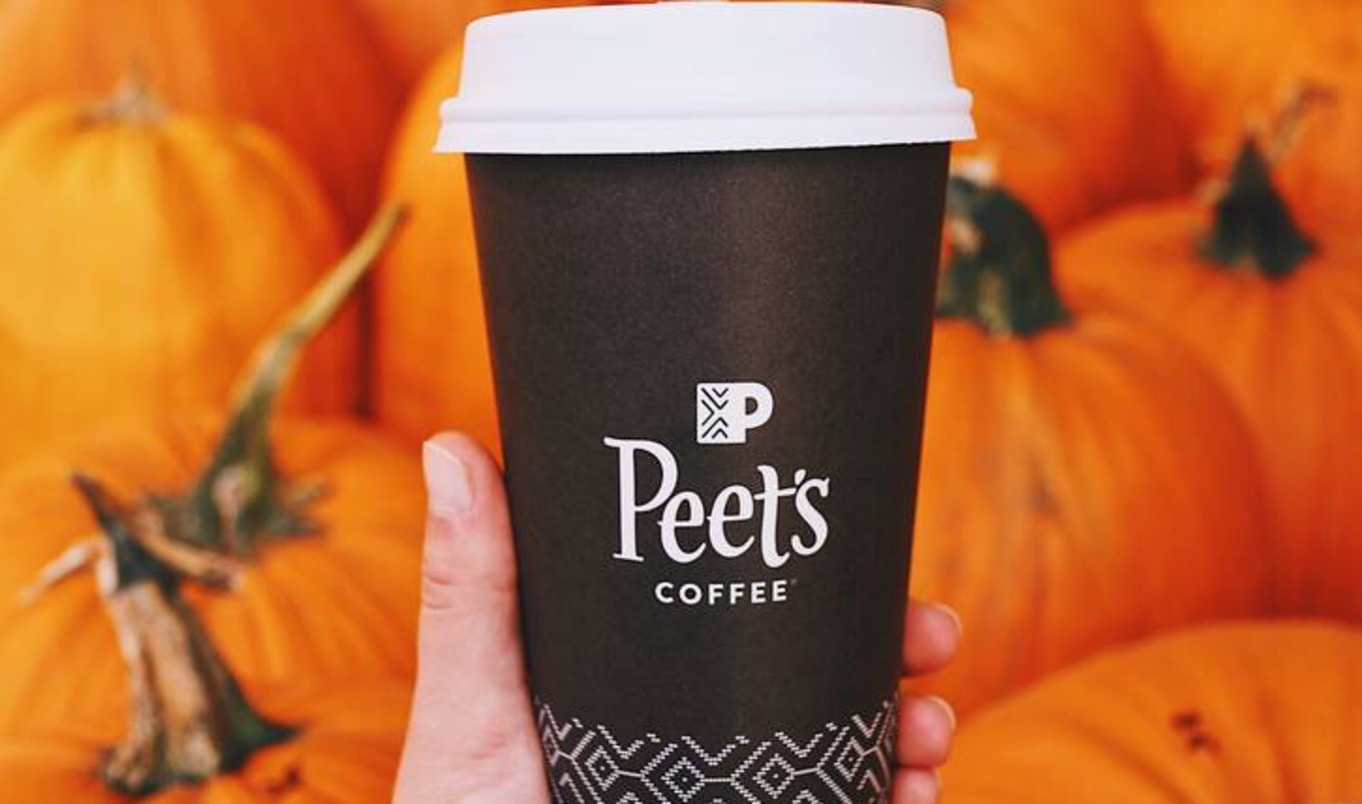 From warming holiday spices to decadent dark chocolate peppermint mochas, we're getting our vegan cozy on at this vegan-friendly coffee chain.
December 9, 2019
---
Peet's Coffee is a behemoth in its own right, but it often gets overlooked during the holidays thanks to a certain Seattle-based chain. When compared, however, Peet's is by far the more vegan-friendly of the two—the company was one of the early adopters of almond milk (years before Starbucks caught on) and it also offers an array of vegan baked goods and vegan-friendly pumpkin lattes. The next time you're craving a cozy cup to accompany your Christmas lights stroll, stop into Peet's for one of these six cheery holiday beverages—and a vegan peanut butter cookie.
1. Peppermint Mocha (and Hot Chocolate)
No worries about dairy in the chocolate sauce—this decadent drink is completely vegan when ordered with plant milk. The chain offers the Pacifica Barista brand of soy, almond, and oat milk, and each foams beautifully for a thick, full-bodied beverage. While the company discontinued the vegan coconut whip in 2019 (please bring it back, we'll order it, we swear!), you can ask for extra foam to replicate that quintessential hot cocoa topping.
2. Citrus and Spice Latte
This unorthodox flavor pairing might just be your new favorite holiday beverage. It's slightly sweet and even a bit floral with pleasant lingering notes of warm holiday spices such as cinnamon, clove, nutmeg, and ginger. For those who prefer a lighter, more subtle beverage that smells amazing, order this latte for your next caffeine fix.
3. Dark Chocolate Orange Mocha
Tired of peppermint everything? Switch it up with this citrusy chocolate espresso beverage. The chocolate flavor is bold—it's not cloyingly sweet like many mochas are—but the orange notes balance the deep chocolaty taste for a complex yet delicious sip. Just be warned—if you're taking this along during the evening hours, you might want to order decaf. It's strong!
4. Holiday Spice Latte
This is Christmas in a cup. After just a few short years, Starbucks discontinued its holiday spice flat white, but disappointed fans can find comfort at Peet's. The beverage combines the familiar flavors of the season—cinnamon, ginger, clove, and nutmeg—with a strong shot of espresso and your choice of plant milk. If any seasonal beverage would bring Santa Claus to town, this is it.
5. Pumpkin Latte
Partake in the PSL craze with pride—the Peet's version of this cult classic holiday drink is vegan when ordered with plant milk. Unlike the Starbucks variety, this super seasonal beverage won't be around through the New Year, so order while you still can.
6. Dark Chocolate Mocha (and Hot Chocolate)
When that tiny chocolate piece from your advent calendar just isn't enough to subdue your chocolate craving, this dark chocolate beverage will prevent you from opening all the little boxes in one day. Unadorned with any competing flavors, this drink is pure chocolate in sippable form. Simply order with your favorite milk alternative and request no whip, but allow your barista to go to town with the dusting of cocoa powder. If you leave this out for Santa, he'll surely drop off everyone's presents in record time.
Tanya Flink is a Digital Editor at VegNews as well as a writer and fitness enthusiast living in Orange County, CA.