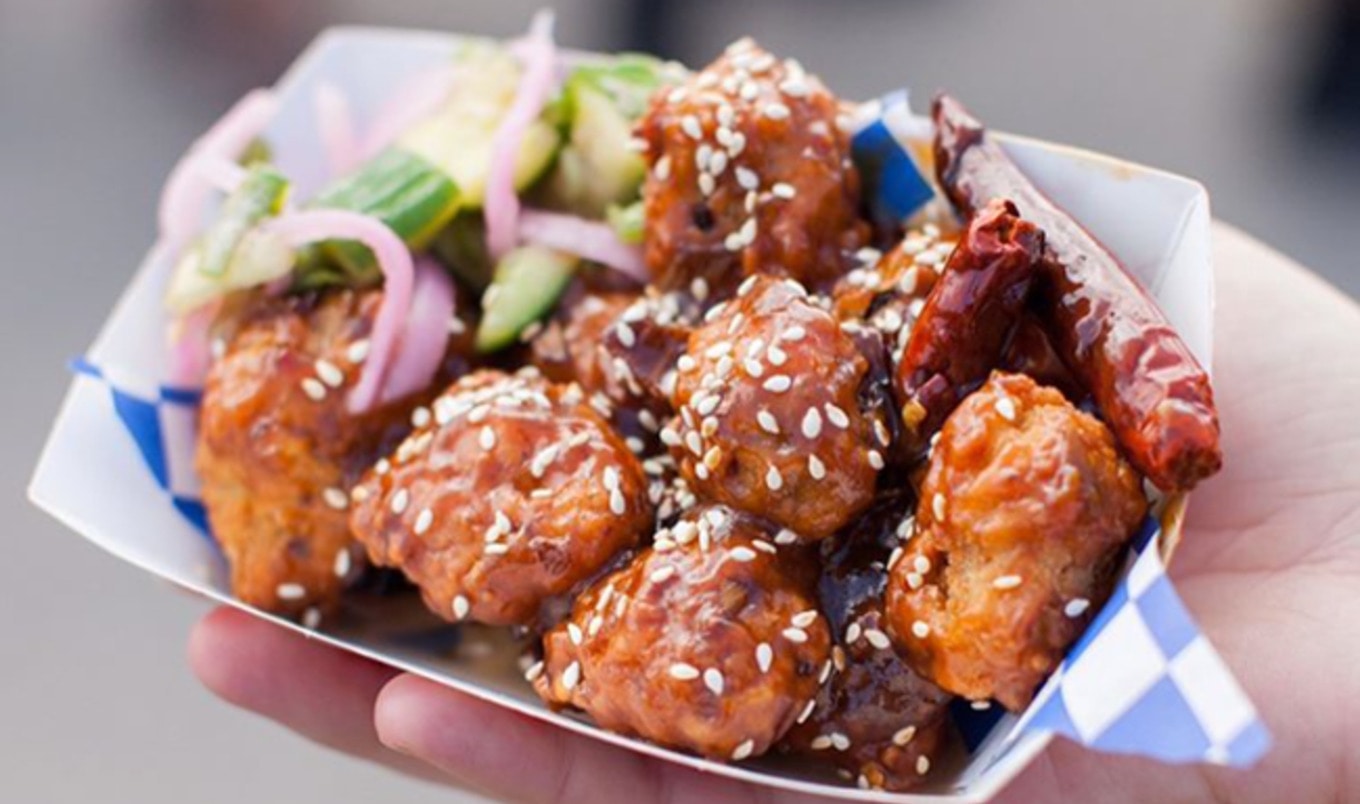 End the summer with one of the season's hottest parties.
August 30, 2017
---
On September 1 and 2, The Federal Bar in North Hollywood will host an end-of-summer block party called "Vegan Street Fair Nights." Capped at 1,500 attendees per evening, the second annual event offers participants the entertainment trifecta of food, fun, and good vibes in an intimate, non-stressful environment, founder Jessica Schoech says. More specifically, attendees will experience a live '80s cover band, games, a beer garden, and exclusive vegan food offerings from 14 vendors curated by Instagramer VeganFatKid (aka, Tim Moore). We've had our fair share of vegan festivals, so we sat down with the founders to discover what makes Vegan Street Fair Nights a unique plant-based experience.
VegNews: Just what is Vegan Street Fair Nights?
Jessica Schoech: Vegan Street Fair Nights (VSF) is the epitome of what a summer block party should be: really good music, really good vibe, great food, and a place for people to get together and have a good time and dance.
VN: How is VSF different from other vegan festivals?
TM: It's a private party at night. No one does nighttime. VSF also solves the problems that were inherent in the bigger festivals. We enjoy going to street fairs and festivals, but there's complications when there's 30,000 people—it's a lot of waiting in line. You can walk into VSF nights, not eat anything, and have a good time. You can't say that about many vegan festivals.
VN: What does the ticket price get you?
JS: You get 14 vendors curated by VeganFatKid, plus a live band (Flashpants), and games like foosball and beer pong. Part of the ticket price also goes to Chilis on Wheels, which is a nonprofit that organizes vegan food distribution for the homeless and hungry.
VN: Let's talk about line up. How did you select the vendors?
TM: It's just like music—we want to bring you some of the greatest hits, and then they're gonna drop some of their new tracks. Also, we don't just invite vegan vendors. I think it's very important that we make an active decision to include, invite, and inspire non-vegan vendors to participate to see how awesome our community is, how diverse our community is, how it's not a bunch of hippies with djembes on the Westside eating kale salads. [These vendors] get to come and experience this and hopefully take it back to their brick-and-mortars and add more vegan options to their menus.
VN: How do you get the most out of the event?
JS: Get the passport. There is one where you get a $4 item from every vendor, or a $10 full plate from each vendor. I would split the $10 with a friend. I am always frustrated at other events because I can't eat it all, but with the passport I can eat all the vegan things. Also, bring tupperware.
VN: What are you looking forward to most?
JS: S&M Vegan, Chacha Kombucha, and Cocobella Creamery kombucha floats, and, honestly, the vibe. This sounds cheesy, but there is a palpable community energy that I am so excited for.
VN: Putting this event together is a massive undertaking. Why do you do it?
JS: It's my calling. I was a bartender and cheerleader—bringing people together is something I'm really drawn to. Also, I want as many people to understand that vegan food is just as amazing as non-vegan food. It's a way to plant seeds. People can have their non-vegan food veganized and still feel fulfilled and happy. We don't want to be preachy—we just do it our way. Our way is about the fun of it. Our way is to show that veganism is cool.
TM: I'm looking forward to hanging out with the people. We have the best crowd. We really do. I'm always amazed. Last year, VSF Nights had the best crowd because no one's agitated, stressed, tired, and hangry. Everyone's just like, "This is awesome!" And the vendors, the ones that sold out early, joined the party. They all stayed to join the party.
Tanya Flink is a certified Master Personal Trainer based in Orange County, CA and host of The Vegan Potluck podcast.