When it's bitterly cold, the prospect of a salad for dinner sounds just about as appealing as juicing in January. Why does this universal health kick begin in the coldest part of the winter, when all our bodies want is to cozy up to substantial, bubbling, carb-heavy meals (preferably served out of a casserole dish)? We know one thing for sure: hot salad is not the answer, but there are certain salads that incorporate hot elements and sturdy grains to make cool veggies more appetizing in the winter. These seven winter salads will keep your health goals on track and provide a bit of belly-warming at mealtime.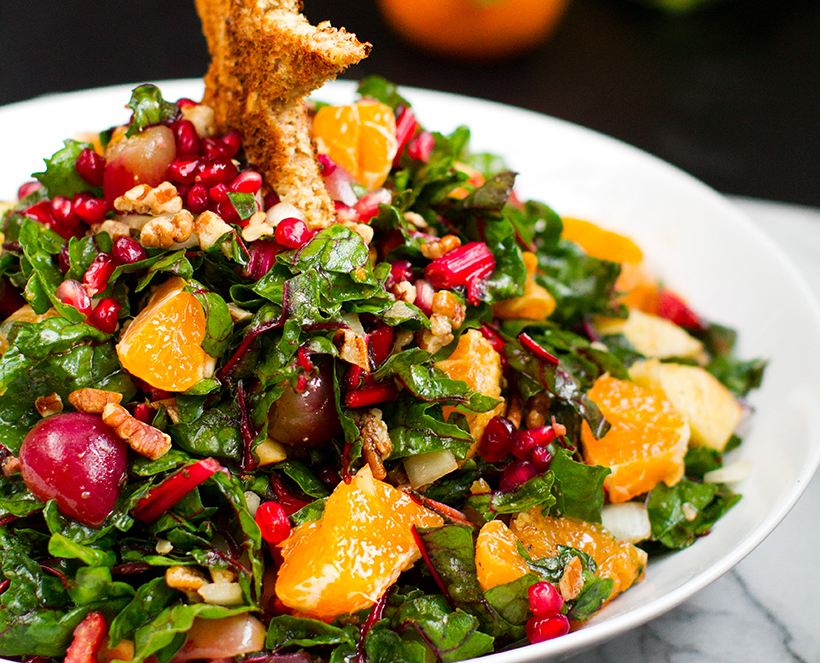 1. Christmas Tree Salad by Healthy Happy Life
This fruity green salad is still appropriate after the holidays. The mix blends ribboned rainbow chard with a sweet medley of diced apples, oranges, red grapes, and pomegranate seeds for a tart pop of flavor. A handful of toasted pecans offer delectable crunch and the citrusy, slightly spicy apple cider and maple dressing blankets these components in delicious harmony. Serve this salad as a hefty side or throw in a handful of garbanzo beans for a more substantial meal.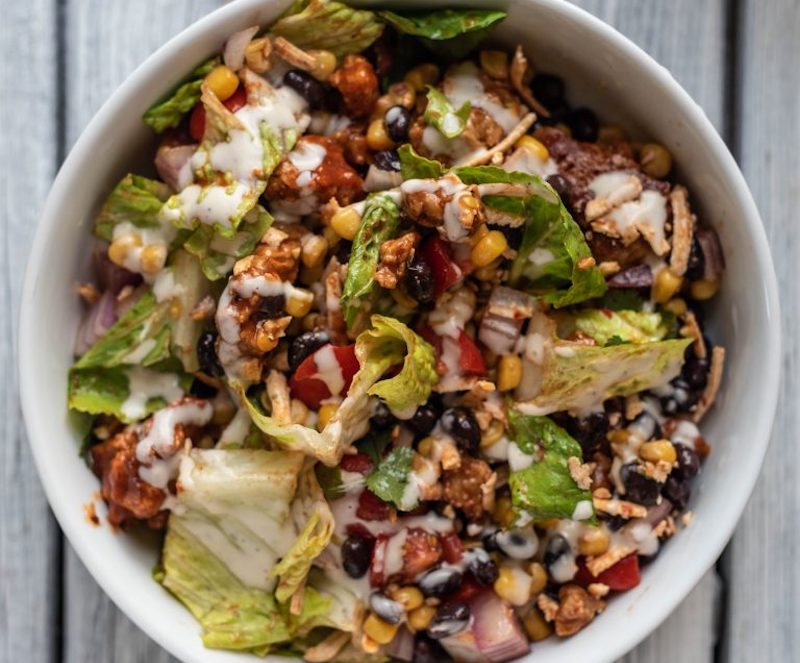 2. BBQ Seitan Salad by The Nut-Free Vegan
Usher in the taste of summer during the dead of winter with this easy vegan spin on the classic barbecue chicken salad. The hot barbecue-slathered seitan serves two purposes: it provides a much-craved hot element to contrast the cool lettuce, and it adds stick-to-your-ribs sustenance to your bowl of greens and beans. You can opt for barbecue-basted seitan as this recipe calls for or use your favorite vegan meat alternative (Field Roast's buffalo wings would be amazing on top of this salad).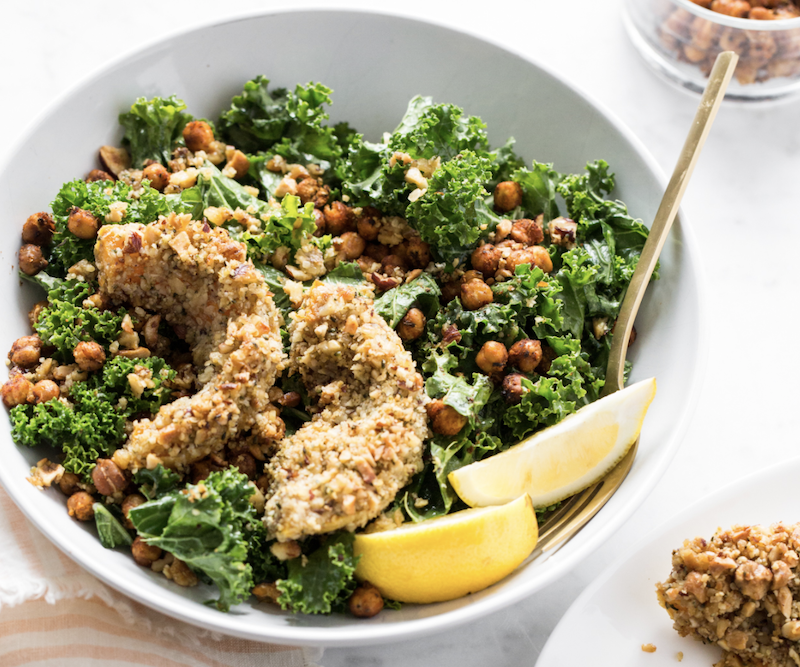 3. Nutty Crusted Butternut Squash Bowl with 10-Spiced Chickpeas by Oh She Glows
This salad is sturdy. It's also crunchy, creamy, spicy, and nutty all in one. The maple tahini dressing is enough to make you crave kale. Add the spiced chickpeas on top and thick slices of nut-crusted butternut squash, and you've got a meal to get you through the harshest of winter evenings.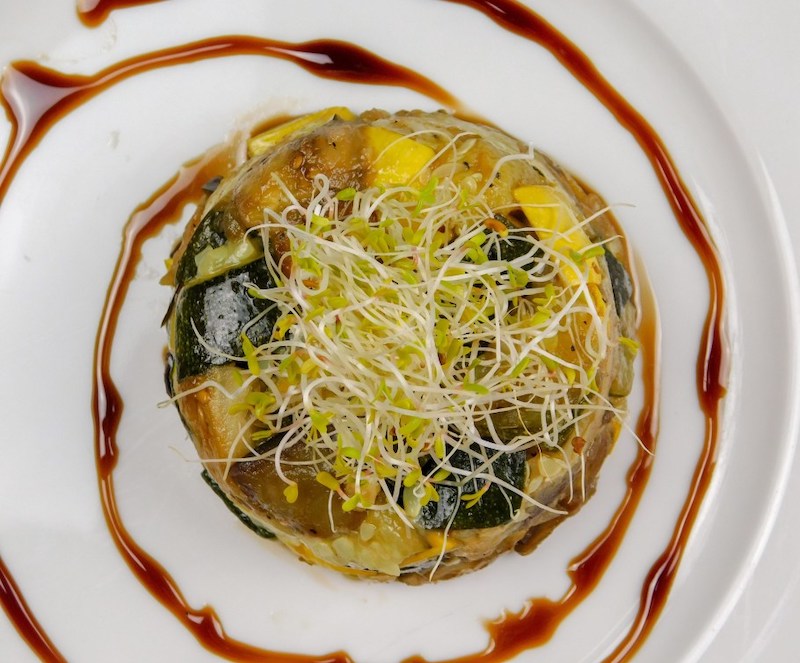 4. Roasted Balsamic Glazed Vegetable Salad by the Vegan Rhino
If you're looking to impress someone (or treat yourself), this is the salad to make. It's a lettuce-free salad made with balsamic-glazed, roasted winter veggies stacked together into an impressive tower and topped with alfalfa sprouts. Granted, if you're not concerned about taking a photo for social media, this salad tastes just as good when hurriedly spooned into a giant mound on your plate.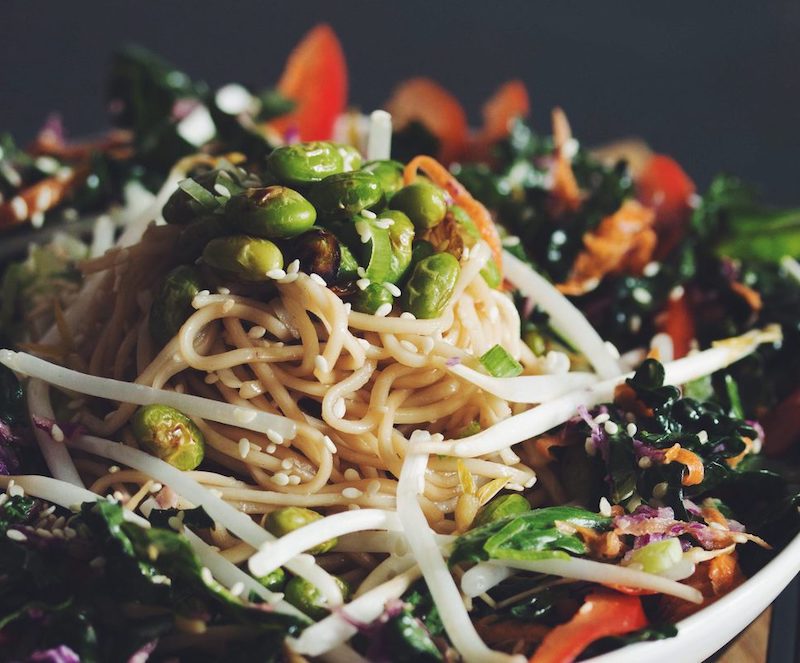 5. Asian Noodle Salad with Edamame & Sweet Ginger Dressing by hot for food
Yes, noodles can be a salad. This kale-infused creation will remind you of your favorite takeout—without the post-meal food coma. It's packed with nutrients and antioxidants, and the crunchy veggies contrast nicely with the chewy, slurpable chow mein noodles.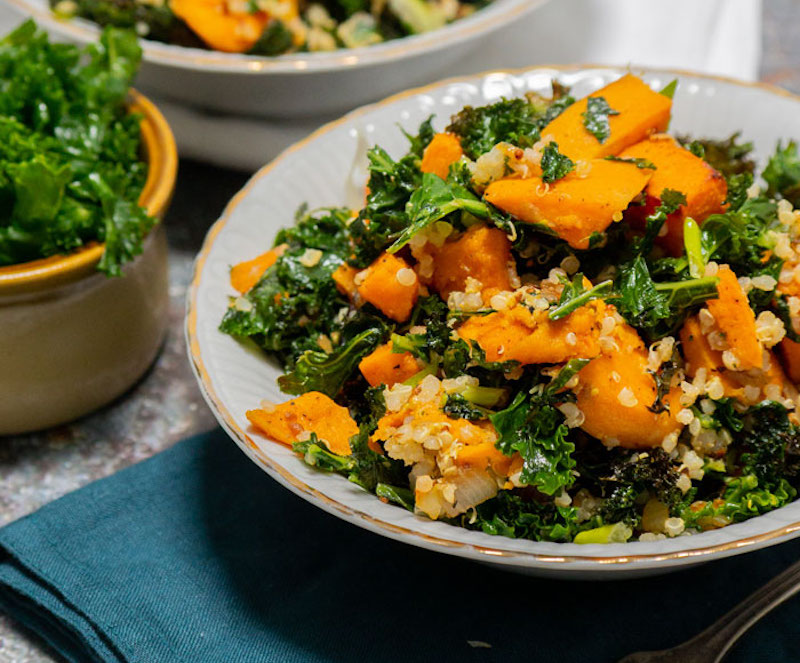 6. Sweet Potato Quinoa Salad by The Edgy Veg
For some reason, grain bowls seem so much more comforting than salads, but truly they're one and the same. When you whip up this salad, make extra sweet potatoes and quinoa, because once you have the basic components, you can throw this recipe together in minutes. It's also extremely versatile and delicious served either hot or cold. To make this even more substantial, add marinated tempeh.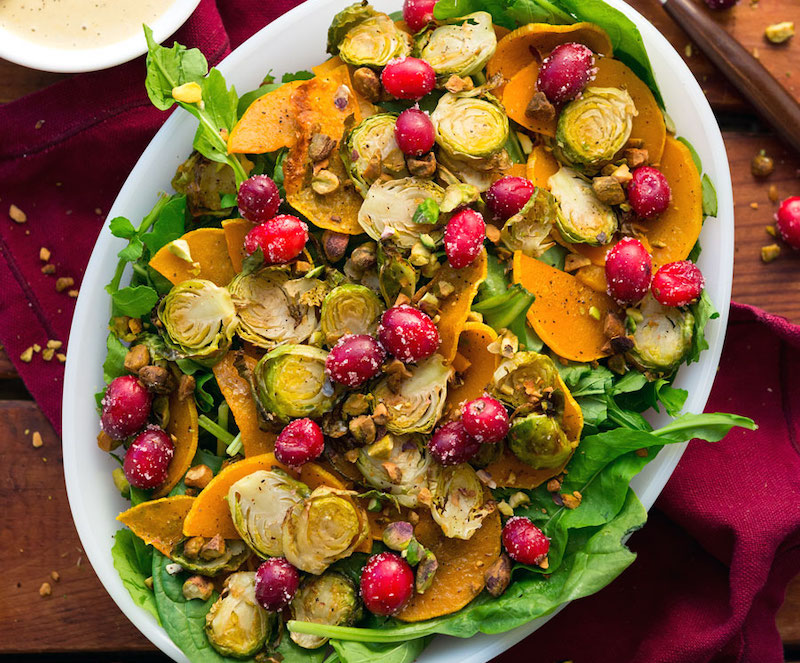 7. Brussels Sprout Butternut Squash Salad by Vegan Yack Attack
The holidays are extremely Brussels sprout heavy, but if you still haven't had your fill, add this festive salad to your January meal rotation. The candied cranberries provide a burst of tartness atop a bed of roasted Brussels, spinach, and sticky-sweet butternut squash slices.
Tanya Flink is a Digital Editor at VegNews as well as a writer and fitness enthusiast living in Orange County, CA.