Cuisine from different cultures can break up the monotony of your go-to dinner routine. It can reignite a love for food and awaken your taste buds to entirely new flavors. But new foods can also be intimidating. A menu can be full of dishes you've never heard of before, made with ingredients you can't pronounce, and who knows what hidden animal products could be lurking in these tantalizing dishes? Before you scurry back to the familiarity of your routine, take note of these eight vegan-friendly cuisines. If you're lucky, you might discover your new favorite food.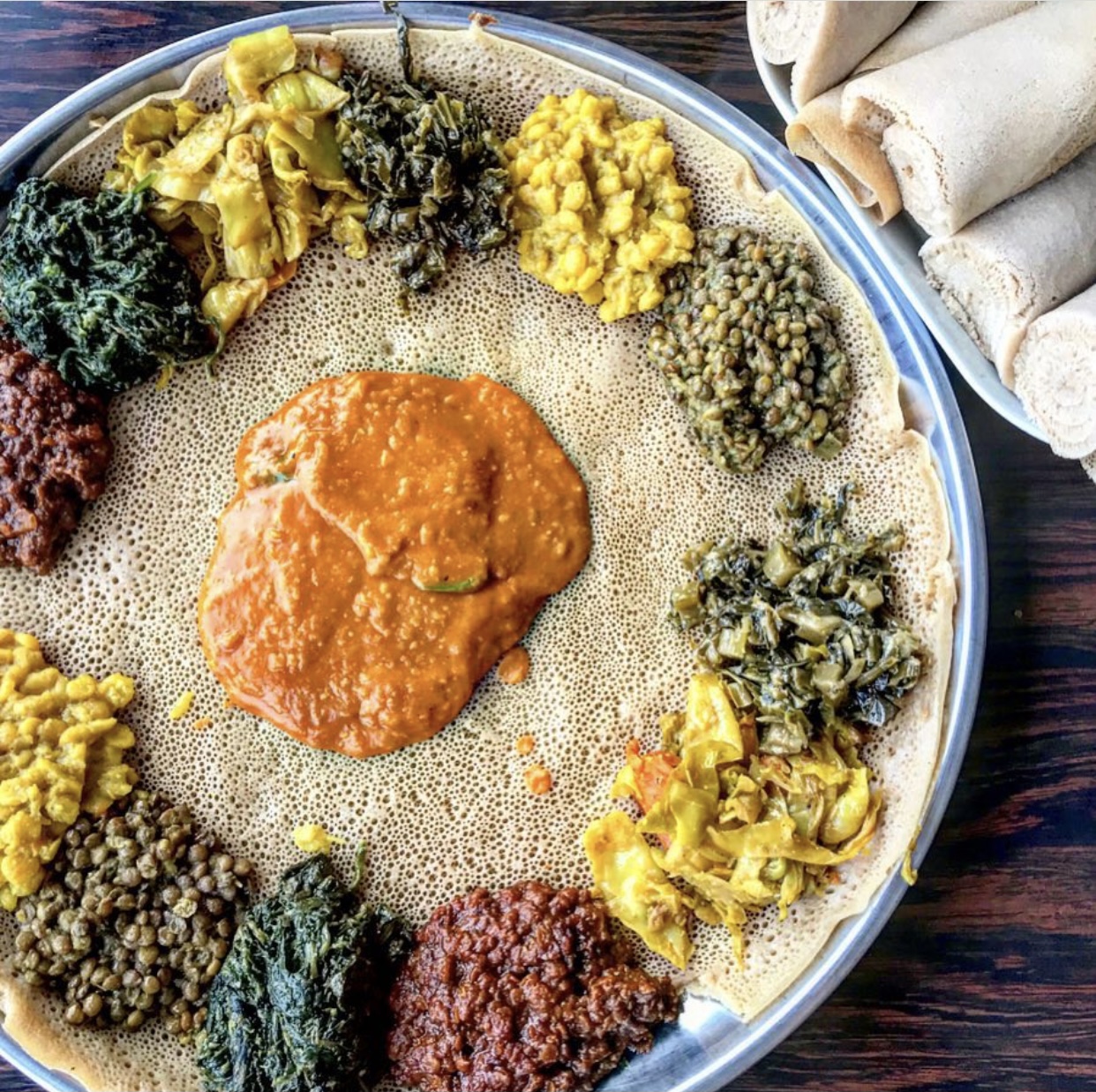 @tastycurls
1. Ethiopian
If you're looking for a culinary adventure, start with Ethiopian. The food is rich, flavorful, and relatively healthy. Most dishes resemble a stew-like consistency and are always accompanied by injera—a soft, spongy flatbread made from teff flour and served by the basketful. Beyond being incredibly addictive, the injera serves a practical purpose: it is your utensil. You use it to scoop up your main entree. Like many of the culture's traditional dishes, injera is already vegan. Other vegan-friendly options include Atakilt Wat (potatoes, carrots, and cabbage), Misir Wot (red lentil stew), Gomen (stewed collard greens), Fasolia (stewed green beans), Kik Alicha (split pea stew) and more. Try it at home: make Vegan Richa's Atakilt Wat and Gluten-Free Injera.
Ordering-out tip: Don't just try one dish; sample them all! Ethiopian restaurants offer a vegetarian (accidentally vegan) combo platter that lets you try most if not all of the veggie offerings. Don't worry; it always comes with plenty of injera!

Vegan Richa

2. South Indian
Hold the ghee and meat, and bring on the rice and dosas! Southern Indian food is far less reliant on animal products compared with Northern India, making it easier for vegans to dine worry-free. Regional staples include sambar (tamarind-spiced lentil and vegetable stew), dosas (a crepe-like flatbread served either stuffed or plain), Idli (fermented and steamed rice and lentil cake), and various curries and chutneys. Whip up some sambar in less than an hour with Vegan Richa's Instant Pot Eggplant Sambar recipe.
Ordering-out tip: While South Indian food is lighter in dairy products compared to the North, some cheese, eggs, and cream are used in certain dishes. Avoid items with paneer (cheese) and confirm with your server that the curry and flatbread you're ordering is dairy-free.
May I Have That Recipe

3. Mediterranean
Wellness practitioners and diet gurus have touted the benefits of a Mediterranean diet for years, but why? Because it's mostly plant-based! There's nothing like a mezze platter of roasted peppers, charred eggplant, creamy hummus, briny olives, refreshing tabouli, cucumber salad, and warm, fluffy pita bread. A glass of vegan wine doesn't hurt, either. Make yourself a fully loaded falafel pita sandwich with the works by following this recipe. It's a Mediterranean street food classic!
Ordering-out tip: Double check with your server to ensure the falafel and pita are egg and dairy-free.


Sweet Simple Vegan
4. Mexican
Beans. Veggies. Rice. Salsa. Guac. What more can anyone ask for, other than a hand-pressed corn tortilla, of course? Luckily, all of these foods are vegan. From Mexican-inspired fast-casual concepts like Chipotle, to family-owned sit-down establishments, Mexican food is generally a safe space for vegans. In fact, the Latinx culture is helping to push the plant-based movement forward. In Southern California, Latinx communities are veganizing their traditional foods and establishing pop-up businesses and panaderias (bakeries). Skip the line at Chipotle; make Sweet Simple Vegan's Freezer-Friendly Breakfast Burritos!
Ordering-out tip: Some beans and tortillas may be made with lard, though this practice is becoming more of a rarity. Rice may also be made with chicken stock. Ask your server to ensure these items are animal-free.

Sura Korean BBQ & Tofu House
5. Korean
"Vegan" may not be the first word most associate with Korean cuisine, but many traditionally meat-heavy restaurants are opening up to the idea. More Korean restaurants are now offering vegan versions of their classic veggie dishes, such as tofu stew, mandu (steamed dumplings), japchae (stir-fried sweet potato noodles), bibimbap (crispy rice and veggie bowl), and banchan (traditional Korean small side dishes ranging from kimchi, pickled daikon, mung bean, and stewed potatoes). Also, there's rice. Perfectly-cooked, unadulterated rice to cool down chili paste-infused kimchi. Experience vegan Korean food at home with The Vegan Korean's Soon Tofu Stew recipe.
Ordering-out tip: Look for a vegan section n the menu. If absent, ask your server to be sure the dish you want does not include bonito flakes, fish sauce, or anchovies.

Pura Vita
6. Southern Italian
True Italian food is a far cry from the meat and dairy-heavy dishes presented in most Americanized Italian restaurants. Further, Italian food is extremely diverse, each region varying widely from the next. For vegan-friendly fare, head south. These humble classics are produce-forward and often completely plant-based. Look for Ciambotta (vegetable stew), Pasta e Fagioli (pasta & beans), Minestra (cabbage, leafy greens, white beans), and Roasted Red Pepper Antipasto. Make this simple ciambotta tonight and serve with a generous hunk of crusty bread and vegan wine.
Ordering-out tip: American restaurants have a tendency to add cheese to almost every Italian dish. Politely tell your server to hold the cheese, please!


Burma Love
7. Burmese
The unique and plant-focused cuisine of Burma is an extremely underrated cuisine. Those who have experienced it have sung its praises and are always hungry for more. The food reflects Asian cuisine, from its tofu-based soups, fibrous salads, noodles, and samosas, but with a very distinct Burmese flair. Perhaps the most highly regarded dish is the Tea Leaf Salad. The base is fermented tea leaves tossed with nuts, cabbage, tomato, and other bits like ginger, sesame seeds, and mung beans, coated in an oil-based dressing. The strong flavor of the tea leaves is mellowed out by the additional ingredients, making for a unique dish unparalleled by other cuisines. Other vegan-friendly Burmese options include Shan Tofu Soup, Shan Tofu Salad, Pennywort Salad, and veggie-stuffed fried dough balls, similar to samoas. Note: Burmese tofu is made from chickpeas, giving it a more dense texture and interesting flavor. Make a huge batch for yourself and stockpile leftovers in the freezer with Mary's Test Kitchen recipe.
Ordering-out tip: Many Burmese dishes are made with chili paste, so be warned: they can be hot!

@drkathyyeo
8. Chinese Hot Pot
For those who can eat their weight in vegetables, hot pot is something you need to add to your rotation. The concept is simple: choose your protein, broth, sauce, and white or brown rice. The vegan option typically includes two large plates of raw veggies (most include tofu, napa cabbage, baby corn, mushrooms, kabocha squash, broccoli, carrots, and onions), plus a huge bowl of seasoned broth to cook them in, various dipping sauces, and a generous portion of steamed rice. It's simple yet incredibly delicious and satisfying. This type of interactive cuisine is a bit difficult to replicate at home, unless you commit and purchase a hot plate. If you're up for it, follow Madeline Lu's guide for everything you need, from equipment to recipes.
Ordering-out tip: Hot pot dishes are known for containing fish sauce. Double check with your server to ensure the broth and sauces are fish-free.
Tanya Flink is a writer and journalist living in Orange County, CA.