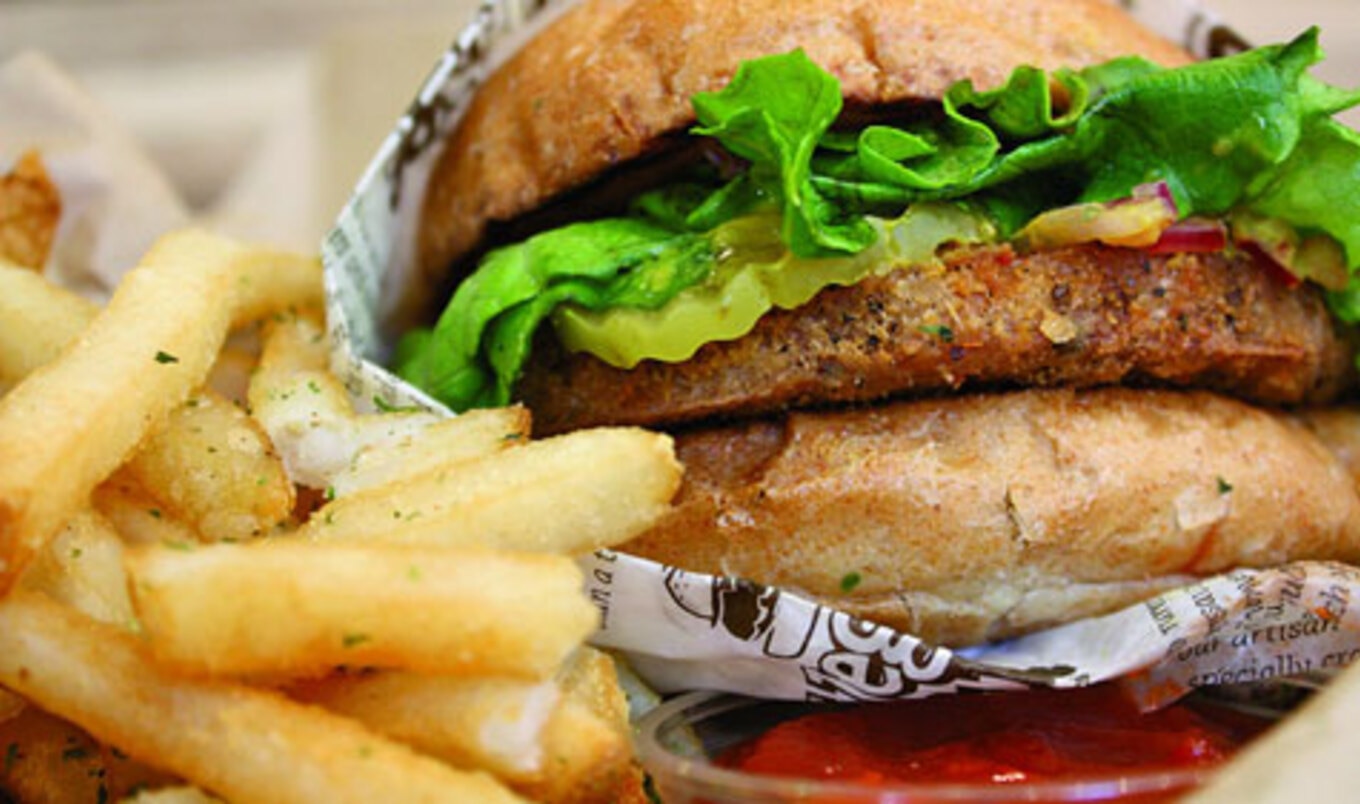 Somewhere between writing news stories, design meetings, and copyediting, an intern's gotta eat.
July 27, 2016
---
Not too long ago, a typical midday meal consisted of a few pre-packaged rolls of browning, days-old avocado-cucumber sushi from my college's convenience store, plus a bag of Chex Mix from a vending machine—some of the only plant-based food I could find at my Inland Empire university. But now, I've found myself in an editorial assistant position at an all-vegan company in a city with countless animal-free eats. This is my life. This is my food diary.
 
Monday
After a morning pitch meeting, I head to the staff kitchen for a bowl of cornflakes with slivered almonds and the new pea protein-based milk Ripple that we're reviewing for an upcoming issue. It's Monday, so I treat myself to vanilla flavor.
 
For lunch, I venture to nearby Sidewalk Juice to use the gift card I received for writing the top web story on VegNews.com last week. A vegan protein bar and a Blueberry Almond—made with almond milk, blueberries, banana, almond butter, and ice—call my name.
 
After work, my coworker Anna and I head to the dynamite burger restaurant VeganBurg in San Francisco's Haight-Ashbury neighborhood. She gets the Avocado Beetroot Burger topped with Singaporean bacon, while I opt for the crispy, chicken-esque Mustang Relish burger with tangy mustard, red onions, and melted vegan cheese. We both tear into the seaweed-sprinkled fries and finish off our meals with dairy-free vanilla soft-serve cones.
 
Tuesday
After last night's burgers, I prepared some overnight oats with peaches, strawberries, bananas, almond butter, and chocolate granola for breakfast. I take the Mason jar to work and dig in at my desk.
 
Surprise! One of my stories was the most-visited online piece in June, so I receive another gift card—this time to Gracias Madre, an all-vegan Mexican restaurant in the Mission. I order the Bowl Uno, which comes with tempeh chorizo, black beans, guacamole, brown rice, and pico de gallo on romaine and topped with nacho cashew cheese and pepitas.
 
A late night at the office and a few after-work errands means I'm too pooped to cook, so I bake a heaping helping of frozen French fries, dress them in nutritional yeast and black pepper, unwind with the Real Housewives, and swear I'll eat better tomorrow.
 
Wednesday
All hope for redeeming the previous night's French-fried dinner is dashed when our resident recipe tester delivers the enormous brunch spread to be featured in our upcoming September + October Food Issue. The team gathers around the table to stuff our faces … I mean, thoughtfully review the berries-and-cream stuffed French toast, chorizo waffles with Sriracha maple syrup and avocado crema, cheesy chive biscuits and bacon gravy, and butterscotch banana-almond butter parfaits. I thank the universe.
 
Clearly I'm stuffed from my next-level breakfast, so I sail through the lunch hour, working away at my computer. A handful of roasted chickpeas from the office kitchen gets me through the 3 o'clock hour.
 
I pay for skipping lunch with an audibly rumbling stomach on the train home to Berkeley. I text my omnivore roommate to see if she wants to grab burritos at the Wednesday-night Taqueria La Venganza pop-up at The Butcher's Son vegan delicatessen. She goes for the yuba-based carne asada burrito and a beer, while I wolf down an order of tlacoyos and an agua fresca.
 
Thursday
Before work, I pick up some apples, a gigantic dimpled orange, and an absolutely perfect avocado—cradled and protected fiercely on the train ride into San Francisco. An apple and a slice of avocado toast with probably too much nutritional yeast and my favorite chile-lime seasoning Tajín keep me happy all morning long.
 
For lunch, I dig into the office freezer, where an extra Tofurky barbecue chicken pizza from last issue's barbecue taste test stares me down. I resist and go for a bag of steamed vegetables, which I douse in balsamic vinegar and another handful of nutritional yeast. My giant orange accompanies the feast.
 
Right before everyone leaves for the day, another Food Issue recipe gets dropped off for our consideration. Just a casual two-tiered banana cake covered in peanut butter-buttercream frosting, thick dark chocolate ganache, coconut bacon, peanuts, and caramelized bananas. We set down our bags, dig in, and purposefully try to find fault to force a re-test. Later, I get home and promptly eat a bowl of kale.
 
Friday
An avocado gets sprinkled with almost everything in the VegNews pantry—sea salt, cumin, mustard powder, chili powder, and Italian seasoning—before being drizzled with oil and then baked. Leftover coconut bacon from the peanut butter-banana cake rounds out my morning meal.
 
For lunch, I use the rest of my Gracias Madre gift card for yet another rendezvous with coconut bacon, this time in the form of a BLT wrap with avocado, chipotle aioli, pico de gallo, and greens in a whole wheat tortilla.
 
A short work day means I make it home to Berkeley before my favorite juice shop closes. I reason that my beet-banana-ginger-turmeric smoothie will help offset my dinner plans. Later, I meet a friend at Hella Vegan Eats in Oakland. We split my Potsticker Burrito (filled with veggie-stuffed potstickers, pickled daikon and carrots, brown rice, organic greens, and housemade hoisin) and his Xá Xíu Fries (hand-cut Kennebec potatoes topped with Xá Xíu-prepared seitan, mint, cilantro, basil, pickled daikon, carrots, and garlic chips). Both dishes get avocado added, and both vegans leave full, happy, and in plant-based carb heaven—after taking along Mango Raspberry doughnuts, of course.
 
Richard Bowie is an editorial assistant at VegNews who understands that "just because it's vegan doesn't mean it's healthy" … and wants it all anyway.