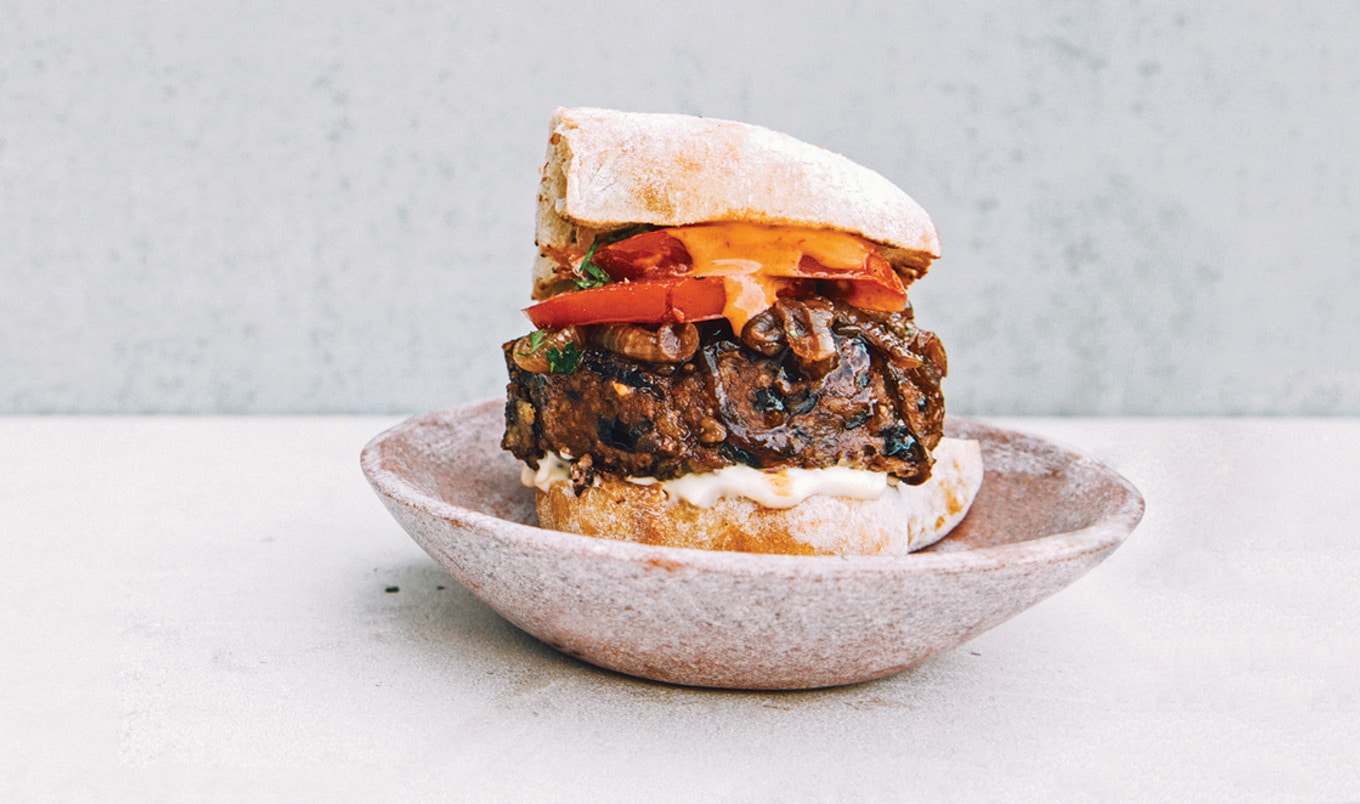 Beefy, saucy, and with a touch of heat—this is your new favorite summer veggie burger.
May 28, 2023
The standard black bean burger gets a kick of heat and a slathering of down home flavor in this recipe from Nina Olsson's Veggie Burger Atelier.
What you need:
For the burgers:
1⅓ cups drained and rinsed canned black beans, mashed
2 cloves garlic
¾ cup sliced mushrooms
2 tablespoons olive oil or vegetable oil
¾ teaspoon salt, plus more to taste
3½ tablespoons walnuts, ground
2 cups panko or regular bread crumbs
¼ cup cooked brown rice
2 tablespoons nutritional yeast
1 tablespoon mustard
1 tablespoon balsamic vinegar
1 teaspoon ancho chile powder
1 teaspoon mild chili powder
¼ teaspoon freshly ground black pepper
4 buns, toasted
For the toppings:
½ cup barbecue sauce
4 slices vegan cheese
Caramelized onions
What you do:
1. For the burgers, preheat oven to 425 degrees. Line a rimmed baking sheet with parchment paper. Spread black beans, garlic, and mushrooms on prepared sheet. Drizzle with oil and sprinkle with salt. Roast for 20 minutes, turning over halfway through. Remove from oven, mash garlic with a fork and chop mushrooms. Transfer to a large bowl, add remaining burger ingredients, and mix well.
2. In a food processor, pulse black bean mixture in batches until texture is rough, crumbly, and sticky. Taste and adjust seasonings with more salt and pepper if needed. Refrigerate for 15 to 30 minutes, or up to 24 hours covered.
3. Divide mixture into 4 equal portions and shape each into a patty. Season to taste with salt and pepper. Place patties onto grill and grill for about 2 minutes per side until browned. Alternatively, cook patties in a skillet or grill pan over medium-high heat.
4. Remove patties from grill and assemble on buns with the toppings. Serve immediately.
For more recipes like this, check out: