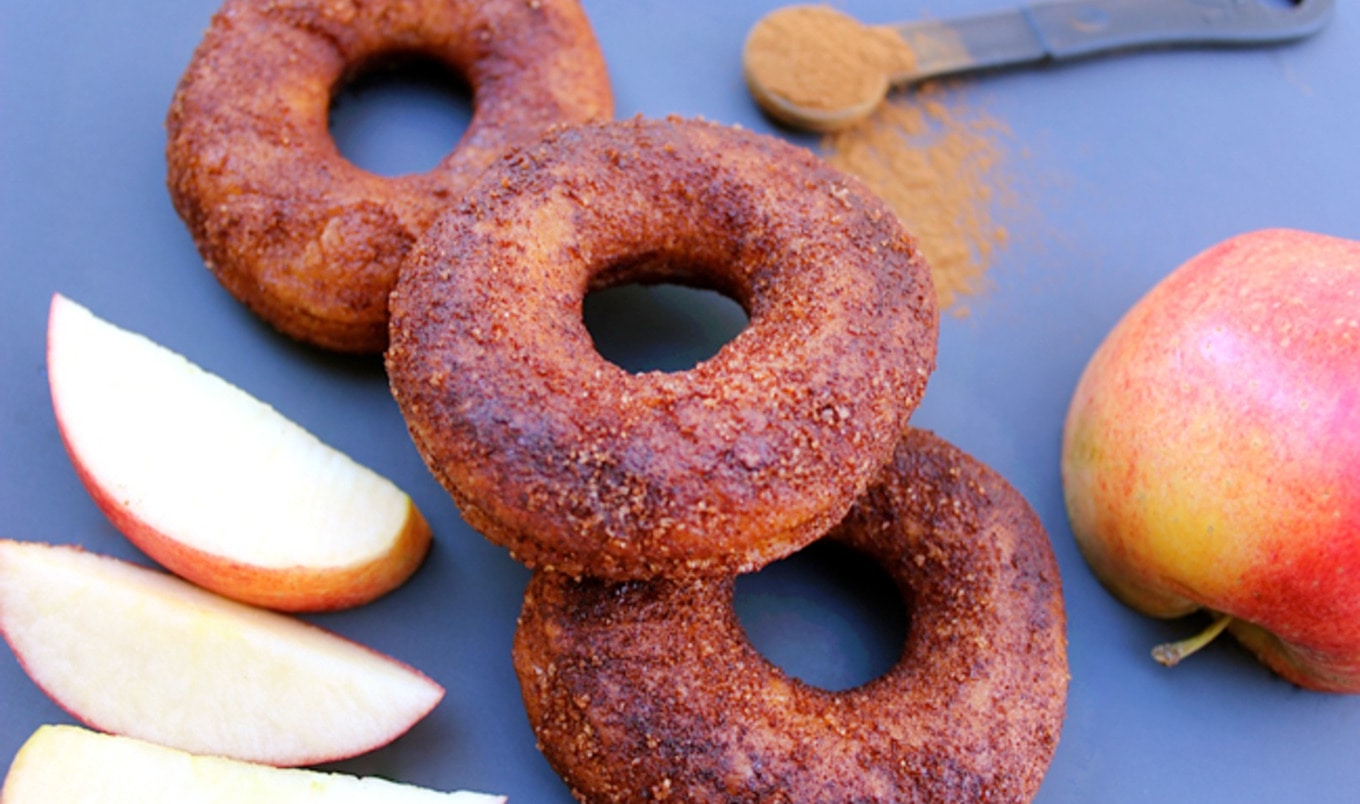 These aromatic, fall-inspired apple cider doughnuts require no mixer or other special equipment.
November 6, 2023
Apple season is here, which means it's time to put your jug of local apple cider to use. To accomplish this, we've created fluffy, cinnamon-sugar-coated doughnuts packed with flavor thanks to the inclusion of apple cider vinegar, apple cider, and applesauce. Even better? These delectable treats are easy to prepare, even for first-time doughnut makers, and can be enjoyed for breakfast or as a special autumn treat. Dunking in warm apple cider is highly recommended!
What you need:
For the doughnut dough:
1¼ cups apple cider
2¼ teaspoons active dry yeast
4½ cups canola oil, plus more for oiling bowl and parchment paper
¼ cup plus 2 tablespoons unsweetened applesauce
¼ cup cane sugar
1 tablespoon apple cider vinegar
1 teaspoon salt
½ teaspoon ground cinnamon
4 cups all purpose flour, plus more for rolling out dough
For the cinnamon sugar coating:
½ cup cane sugar
2 tablespoons ground cinnamon
What you do:
For the dough, into a small saucepan, heat cider over medium heat until it reaches approximately 115 degrees. Remove from heat and add yeast, whisking gently to combine. Let sit for approximately five minutes (until yeast is foamy). While the yeast is activating, into a large bowl, whisk oil, applesauce, sugar, vinegar, salt, and cinnamon. Whisk in apple cider/yeast mixture.
Whisk in 2 cups flour into wet ingredients. Add the last 2 cups of flour, and mix with a wooden spoon (dough will be thick). If any flour is left on the bottom of the bowl, knead it in with your hands. Knead the dough gently for 1 minute on a floured surface. Into a large, well-oiled bowl, place dough and cover with plastic wrap. Turn your oven to 350 degrees and place bowl on top of oven (a warm place will help dough to rise). Let dough rise for approximately 90 minutes, or until doubled in size. While dough is rising, cut approximately 22 four-inch squares of parchment paper and oil each square using oil and a pastry brush.
Onto a well-floured surface, turn out dough once it has doubled in size. Roll dough to approximately ¼-inch thick. Cut out as many doughnuts as you can with a three-inch doughnut cutter (if you don't have one, use a three-inch glass and a plastic bottle cap). Place each cut doughnut onto a parchment-paper square. Take doughnut scraps and holes and roll back into a dough ball. Repeat rolling and cutting process until all dough is used. Save extra doughnut holes for frying.
Into a large, heavy-bottom pot or Dutch oven, heat 4 cups oil over medium heat, until it reaches 350 degrees. Use a thermometer to check oil's temperature before frying. While your oil heats, into a medium-sized bowl, make cinnamon-sugar coating by combining cinnamon and sugar with a fork. Place several paper towels on a cooling rack.
Once oil is ready, start dropping in doughnuts three at a time (they should float to the top after a few seconds). Fry on each side for approximately 20 seconds, flip, and fry for another 20 seconds.
Using a strainer, remove doughnuts from oil and set on cooling rack. Once doughnuts are cool enough to handle, drop into cinnamon-sugar mixture and roll around until each doughnut is completely coated (if you do this when doughnuts are completely cooled, the cinnamon sugar won't stick). Repeat until all doughnuts are cooked. Doughnuts are best eaten fresh but will keep covered for up to three days.
For the more vegan apple recipes, read: