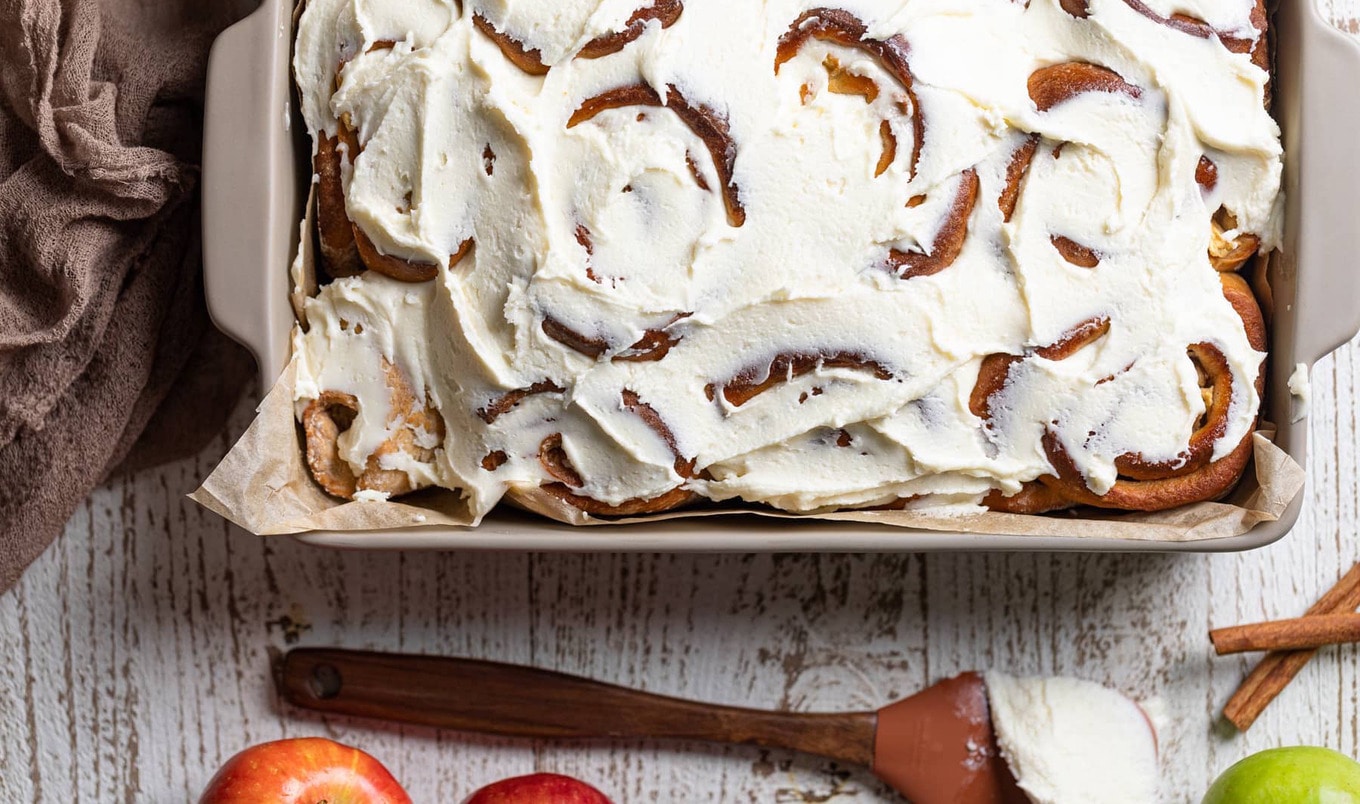 Nothing beats waking up to the sweet, fresh-baked, cinnamon smell of sweet rolls in the morning.
November 21, 2023
These cinnamon rolls from the Orchids + Sweet Tea blog get an extra boost of seasonal flavor thanks to sweet cinnamon apple pie filling and a thick maple glaze.
What you need:
For the dough:
1 packet rapid rise yeast
½ cup plus 1 tablespoon brown sugar, divided
¼ cup warm water
1¼ cup almond milk, room temperature
6 tablespoons vegan butter, softened, but not melted
1 teaspoon vanilla extract
3 cups flour, plus more for dusting work surface
2 cups bread flour
1 teaspoon ground cinnamon
½ teaspoon ground nutmeg
¼ teaspoon allspice
⅛ teaspoon ground cloves
⅛ teaspoon ground cardamom
1 teaspoon salt
½ teaspoon olive oil
For the apple filling:
½ cup brown sugar
1 tablespoon ground cinnamon
2 medium Gala apples, peeled and diced
3 tablespoons vegan butter, melted, divided
For the maple glaze:
¼ cup vegan butter, softened at room temperature
4 to 5 cups powdered sugar, sifted
¼ cup maple syrup
½ teaspoon vanilla extract
¼ teaspoon ground cinnamon
1 tablespoon almond milk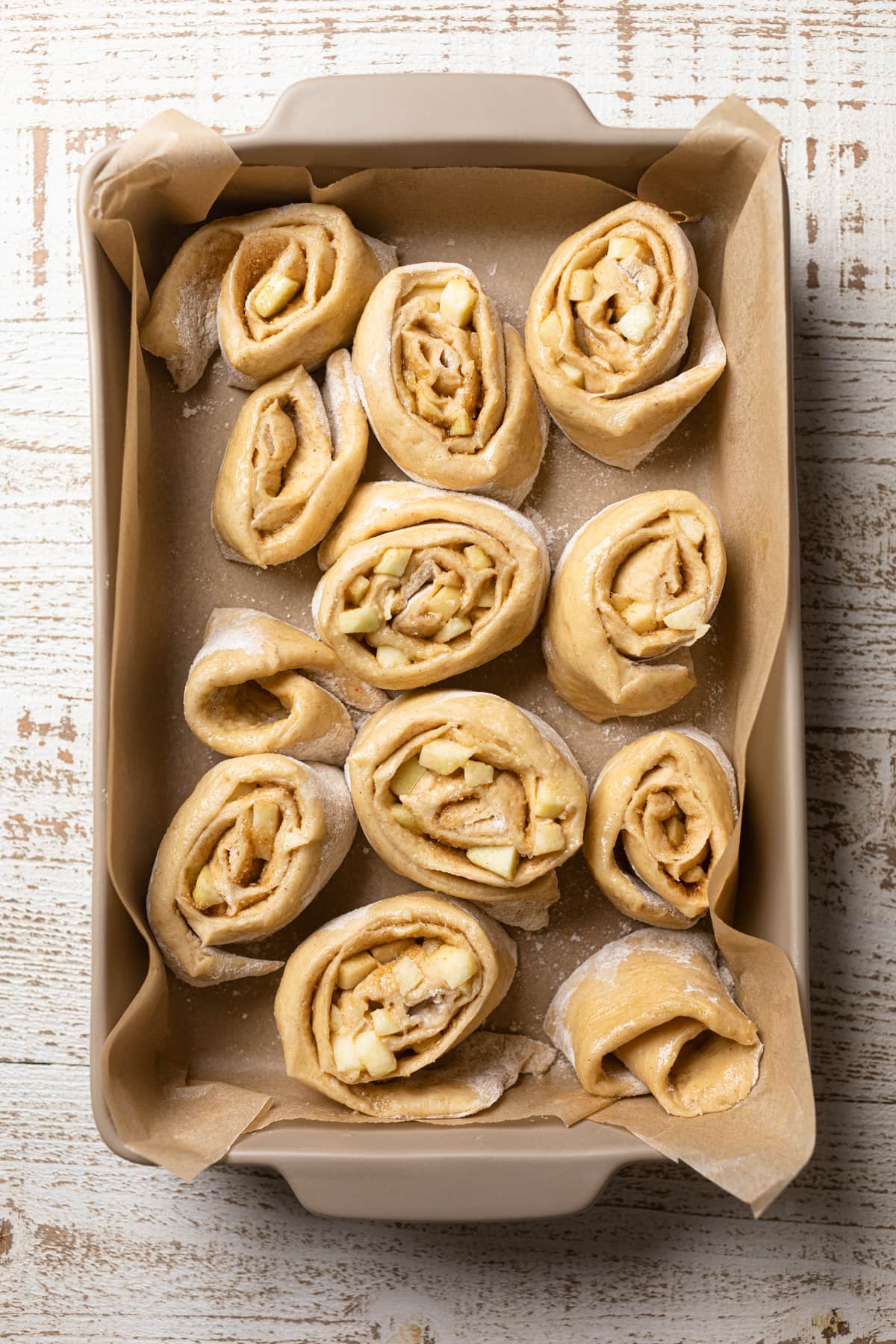 Orchids + Sweet Tea
What you do:
For the dough, in bowl of an electric stand mixer, combine yeast and 1 tablespoon brown sugar and slowly pour in warm water while stirring frequently. Let sit for 10 minutes to allow yeast to activate. Add milk and butter to yeast mixture and whisk until well combined. Add in vanilla and whisk to incorporate.
In a large bowl, whisk flour, bread flour, remaining brown sugar, cinnamon, nutmeg, allspice, cloves, cardamom, and salt and add to wet ingredients. Mix on low-speed until well combined and a dough-like consistency is achieved, about 3 minutes. Change mixer head to a dough hook and knead dough for 5 to 10 minutes on high speed until smooth and elastic and dough springs back when lightly pressed together with 2 fingers.
Lightly grease a large bowl with oil and add dough, gently turning until coated. Cover with a towel and let sit for 1 hour, until doubled in size.
For the apple filling, in a medium bowl, mix cinnamon and brown sugar. Set aside. In a separate bowl, add apples. Set aside. Line a large 9 x 13 baking dish with parchment paper, allowing excess to hang over sides.
Sprinkle a clean surface with flour and place dough onto it. Using a rolling pin, roll into a rectangular shape, approximately 9x14 and ½-inch thick, trimming edges if needed. Brush 5 tablespoons of melted butter onto dough. Evenly sprinkle with brown sugar mixture and diced apples. Tightly roll dough and using a pastry cutter, cut into 1½-inch rolls, placing each roll, cut side down into prepared baking dish. Cover with plastic wrap and place in refrigerator to chill overnight, or for a minimum of 8 hours.
Remove rolls from refrigerator and let sit at room temperature to rise for 1 to 2 hours.
Preheat oven to 375 degrees and brush tops of rolls with remaining 1 tablespoon butter. Bake 35 to 40 minutes.
For the maple glaze, in a large bowl, beat softened butter until creamy and smooth. Add powdered sugar, maple syrup, vanilla, cinnamon, and milk, and beat until smooth.
Remove rolls from oven and wait 30 minutes or until completely cool, before spreading evenly with glaze.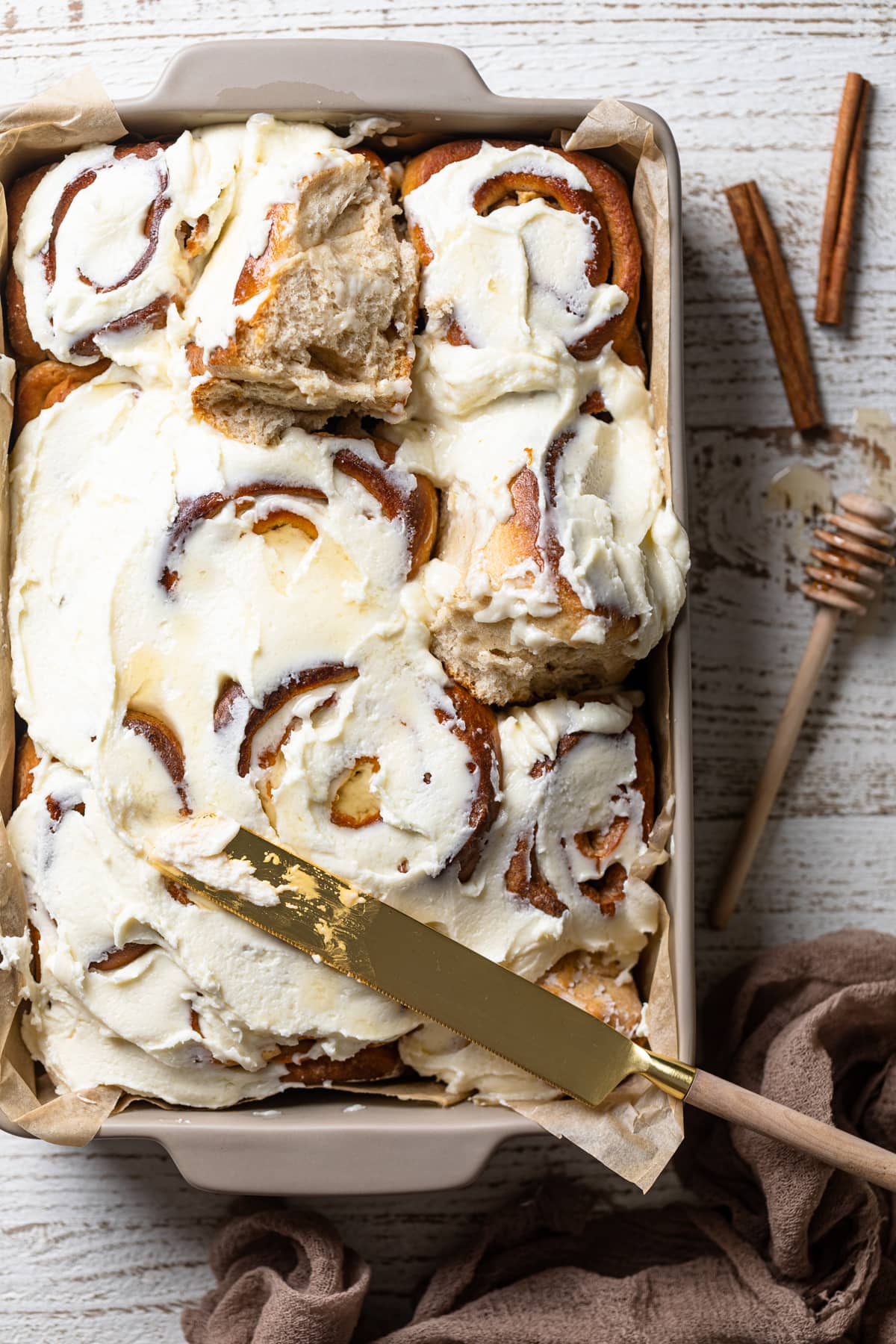 Orchids + Sweet Tea
For more recipes like this, check out: