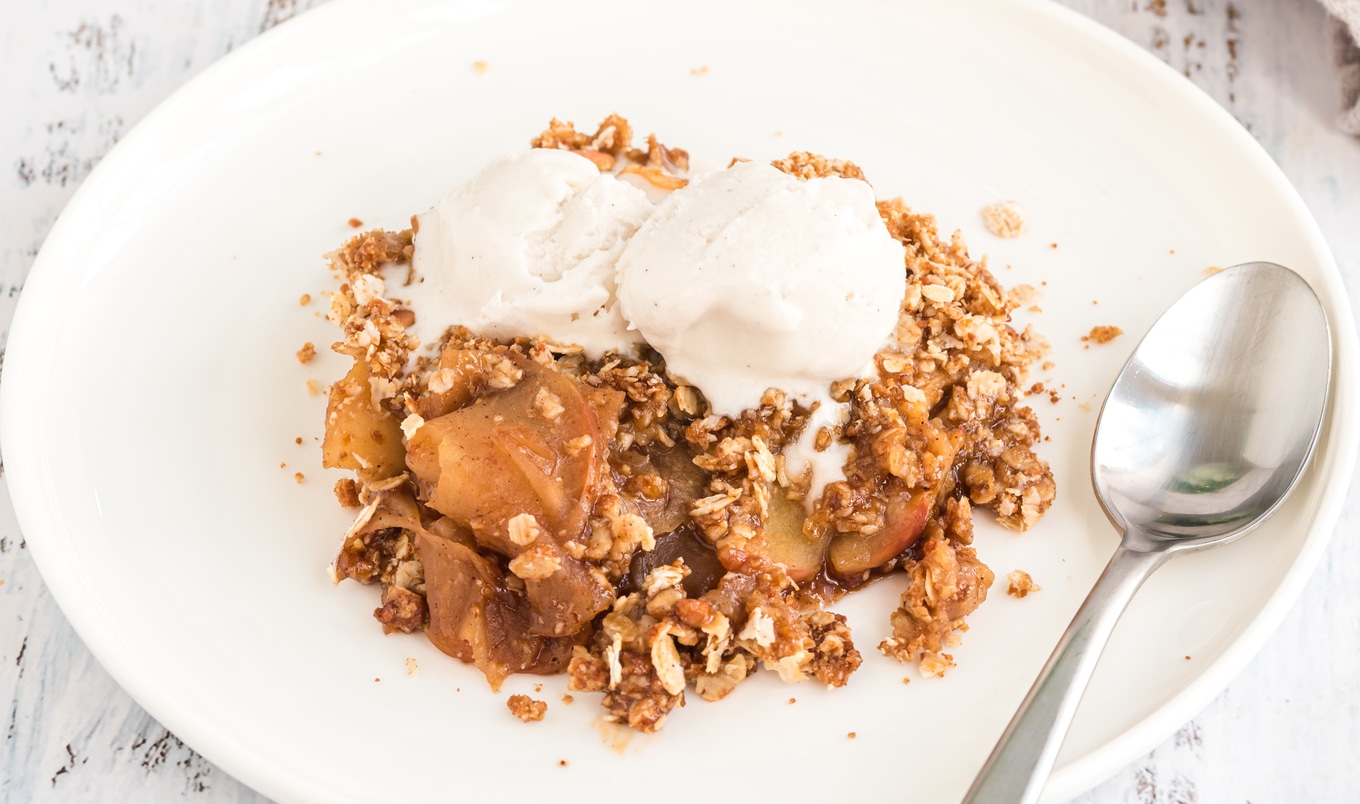 This oil-free dessert is so delicious, you'd never know it's actually pretty healthy.
July 21, 2023
Top this toasty, golden crisp from the Dreena's Kind Kitchen cookbook with scoops of vanilla bean ice cream for a perfectly decadent dessert.
What you need:
For the crisp topping:
¼ cup coconut butter, softened
1½ tablespoons maple syrup
1 cup rolled oats
¼ cup coconut sugar
3 tablespoons oat flour
⅛ teaspoon salt
For the filling:
¼ cup maple syrup
1 tablespoon arrowroot powder
¼ tablespoon water
1½ tablespoons lemon juice
1 teaspoon ground cinnamon
⅛ teaspoon ground nutmeg
⅛ teaspoon salt
5 cups peeled, cored, and thinly sliced apples
4 tablespoons raisins
1½ tablespoons coconut sugar
What you do:
Preheat oven to 350 degrees. Lightly grease a 9-inch glass baking dish.
For the topping, in a mixing bowl, combine coconut butter and maple syrup and stir well. Add oats, coconut sugar, oat flour, and salt, and mix until crumbly.
For the filling, in a large bowl, whisk maple syrup and arrowroot. Add water, lemon juice, cinnamon, nutmeg, and salt, and whisk again. Stir in sliced apples and raisins, and toss to coat.
Sprinkle coconut sugar into bottom of baking dish. Distribute apple filling in baking dish, pouring juices over top. Add topping, distributing evenly over apples. Bake for 30 to 35 minutes, until apples are soft, using a sharp knife to pierce through apples to test for doneness at 30 minutes. Remove from oven and let cool slightly before serving.
For more recipes like this, check out: