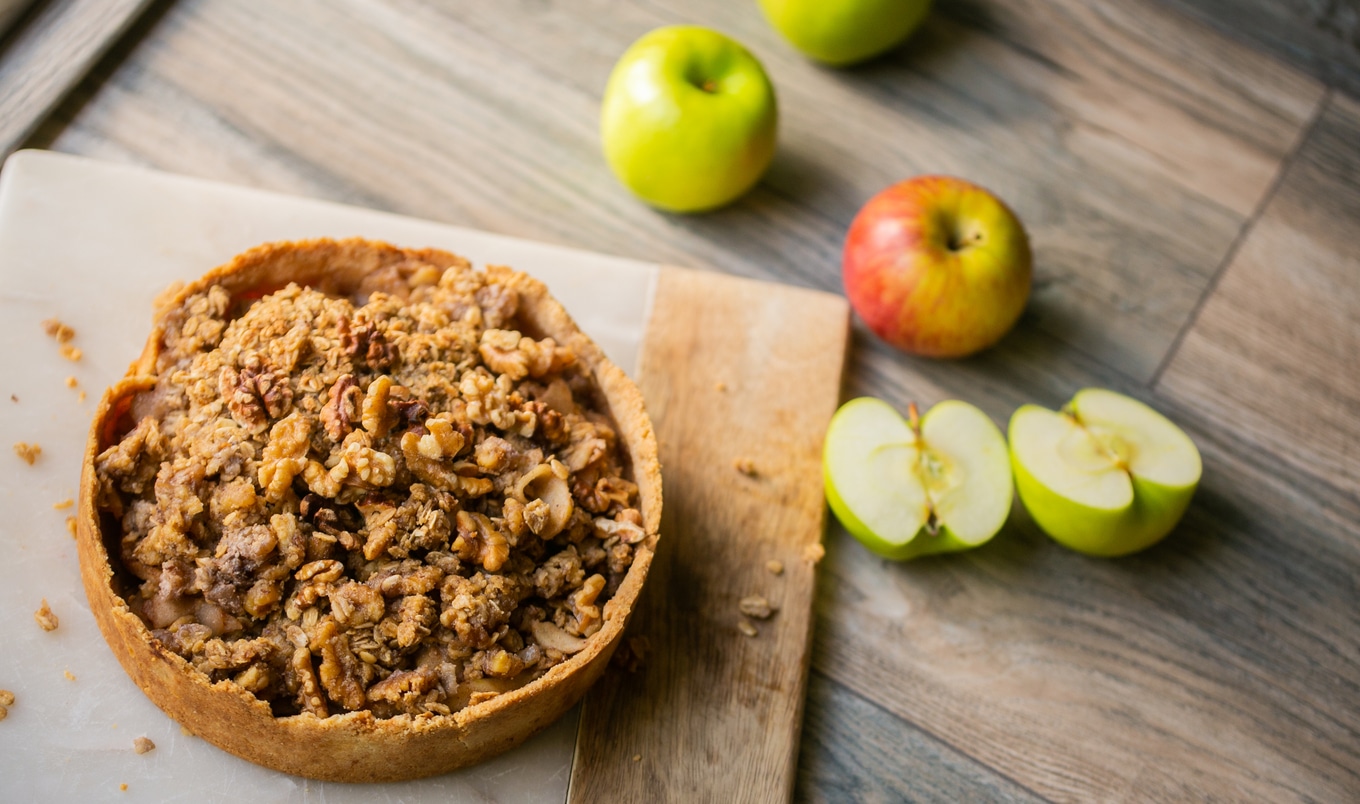 Granny Smith apples bring their signature tarty sweetness to this oat-walnut crumble-topped apple pie.
November 8, 2023
Nothing says fall like apple pie! Fill your home with the heavenly scent of buttery apple goodness with this simple gluten-free recipe from the Healthy Living Through a Plant-Based Diet: A Trilogy Sanctuary Cookbook.
What you need:
For the pie crust:
2 cups almond flour
¼ cup arrowroot starch
3 tablespoons coconut oil, melted
1 tablespoon maple syrup
¼ teaspoon salt
For the apple filling:
1 tablespoon ground cinnamon
½ teaspoon nutmeg
⅓ cup maple syrup
2 tablespoons lemon juice
10 granny smith apples, peeled, cored, and thinly sliced
For the pie topping:
⅔ cup rolled oats
¾ cup raw walnuts, roughly chopped
¼ cup almond flour
½ cup maple syrup
1 teaspoon ground flax
What you do:
For the pie crust, preheat oven to 375 degrees. Into a medium bowl, add almond flour, arrowroot, and salt. Stir to combine. Stir in coconut oil and maple syrup until crumbly, but sticks together when pressed. Add a tablespoon of water if mixture is still too dry. Using hands, press into a parchment paper-lined, 9-inch round pie dish. Prick bottom and sides of crust with a fork. Place in freezer for 5 minutes.
For the apple filling, into a large bowl, place cinnamon, nutmeg, maple syrup, and lemon juice and mix well. Add apple slices and toss until coated.
Remove crust from freezer. Starting around edge of crust, add filling, working in circles to center. Keep adding layers until all apples are used, adding some extra in center to make a slightly rounded top.
For the pie topping, into a large bowl, add all ingredients. Mix until evenly incorporated.
Spread topping evenly over pie. Place in oven and bake for 30 to 35 minutes until top starts to turn golden brown. Let cool for at least 20 minutes before serving.
For more vegan recipes like this, read: