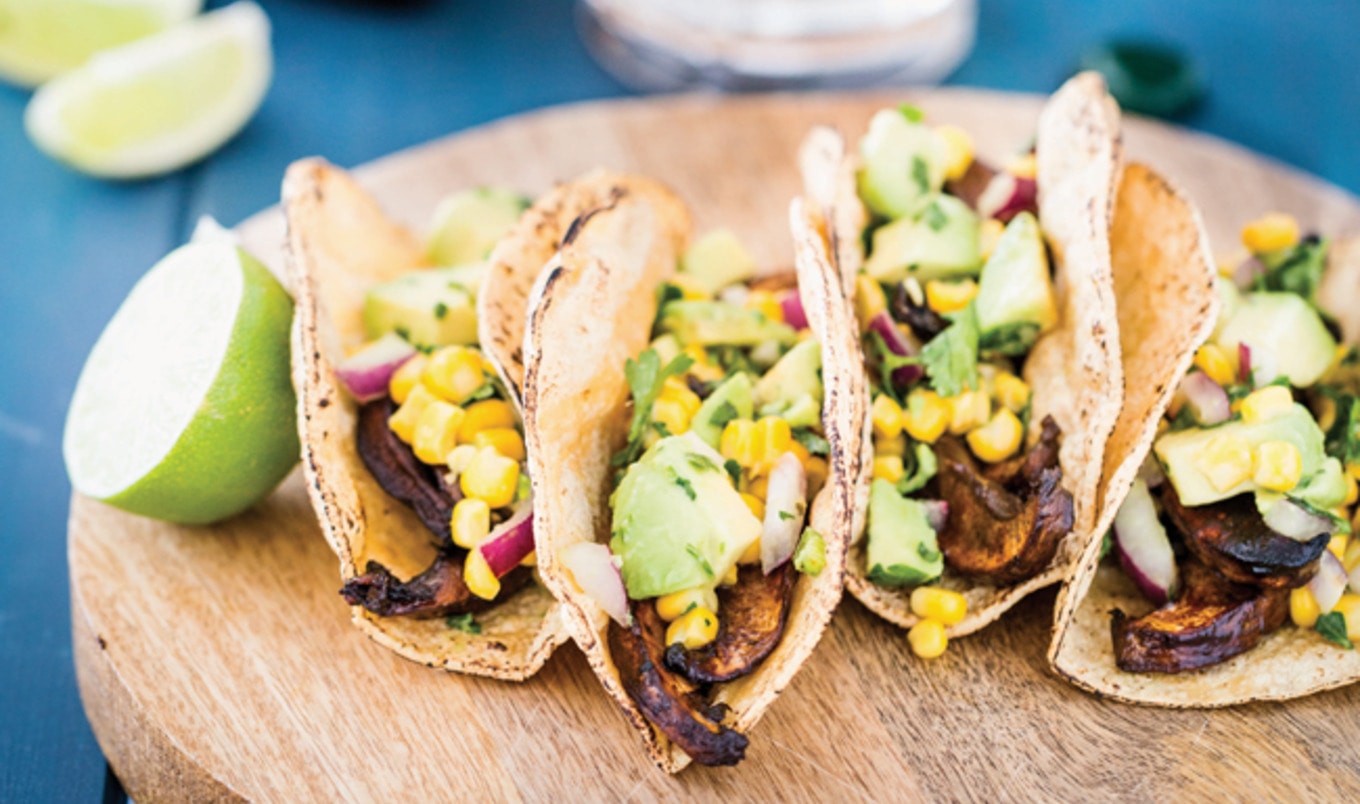 Beer-marinated portabellos and creamy avocado salsa come together for one helluva meatless taco.
May 3, 2021
If you're anything like us, these flavorful and easy-to-make tacos—from Kristy Turner's But My Family Would Never Eat Vegan—are sure to become fast summer favorites.
What you need:
For the beer-marinated portabellos:
1½ cups vegan pale or blonde ale
Juice of 1 lime
1 teaspoon ground cumin
½ teaspoon garlic powder
4 portabello mushrooms, stemmed, gills scraped, cut into 1-inch slices
Sunflower oil, for cooking
6 to 8 corn tortillas (or small flour tortillas)
For the avocado-corn Salsa:
2 avocados, pitted, peeled, and diced
1 cup corn kernels
1 cup chopped fresh cilantro
½ cup chopped red onion
2 tablespoons lime juice
1 tablespoon chopped jalapeño
Salt to taste
What you do:
1. Into a shallow baking dish, combine beer, lime juice, cumin, and garlic powder. Add portobello slices and toss to coat. Marinate for 30 minutes, tossing every 10 minutes.
2. While portobello mushrooms are marinating, into a bowl, combine all salsa ingredients. Cover and chill until ready to use.
3. Over medium heat, heat a large frying pan, (preferably cast iron). Add a few teaspoons oil and once hot, add half of the portabello mushrooms and cook for 10 to 15 minutes, turning every few minutes until tender, slightly charred, and most of the liquid has been absorbed. Transfer to a plate or bowl and cover with aluminum foil. Add more oil as needed to pan and repeat with remaining strips.
4. Over medium heat, heat a griddle or frying pan. Cook tortillas for 30 to 60 seconds on each side, then place on a plate and cover with aluminum foil once heated.
5. To serve, place a few portobello slices in a tortilla and top with avocado-corn salsa.