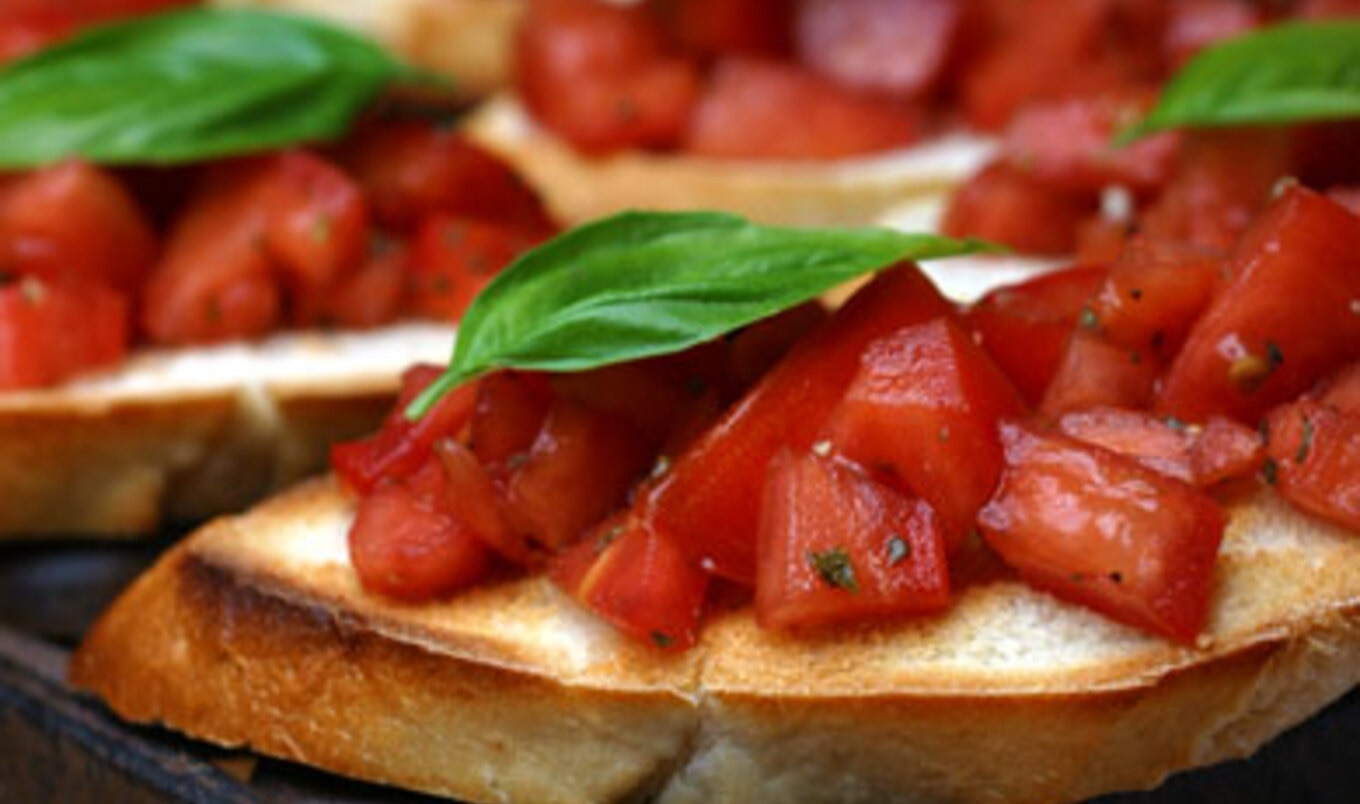 This Italian-inspired hors d'oeuvre is sure to be a hit.
September 7, 2010
If there's anything better than small bites of savory perfection, we don't want to know about it. This appetizer has the tendency to transform into a whole meal, since it's very difficult to stop eating it!

Serves 4
What you need:
3 tablespoons olive oil
1 medium yellow onion, chopped
1 large eggplant, peeled and diced
1 red bell pepper, chopped
2 garlic cloves, minced
One 14-ounce can tomatoes, drained and chopped
Salt and freshly ground black pepper
2 tablespoons capers
1 tablespoon red wine vinegar
2 teaspoons sugar
1 tablespoon minced fresh parsley
8 pieces French bread, sliced 1/2-inch thick
1/4 cup olive oil
What you do:
Heat 1 tablespoon of the oil in a large skillet over medium heat. Add the onion, cover, and cook until soft, about 5 minutes. Remove the lid. Add 1 more tablespoon of the oil and stir in the eggplant. Cook, stirring occasionally until the eggplant begins to soften. Add the bell pepper, garlic, tomatoes, and salt and pepper to taste. Cook until the vegetables soften, but still hold some shape, about 15 minutes. Stir in the capers, vinegar, sugar, and parsley. Taste to adjust seasoning.
Transfer to a bowl and cool to room temperature. If not serving right away, refrigerate, but bring back to room temperature before serving.
Preheat oven to 400 degrees. Lightly brush one side of the bread slices with olive oil and place on a baking sheet. Bake until lightly browned, about 3 minutes. Remove from oven, spread the caponata onto the bread slices, and serve at once.