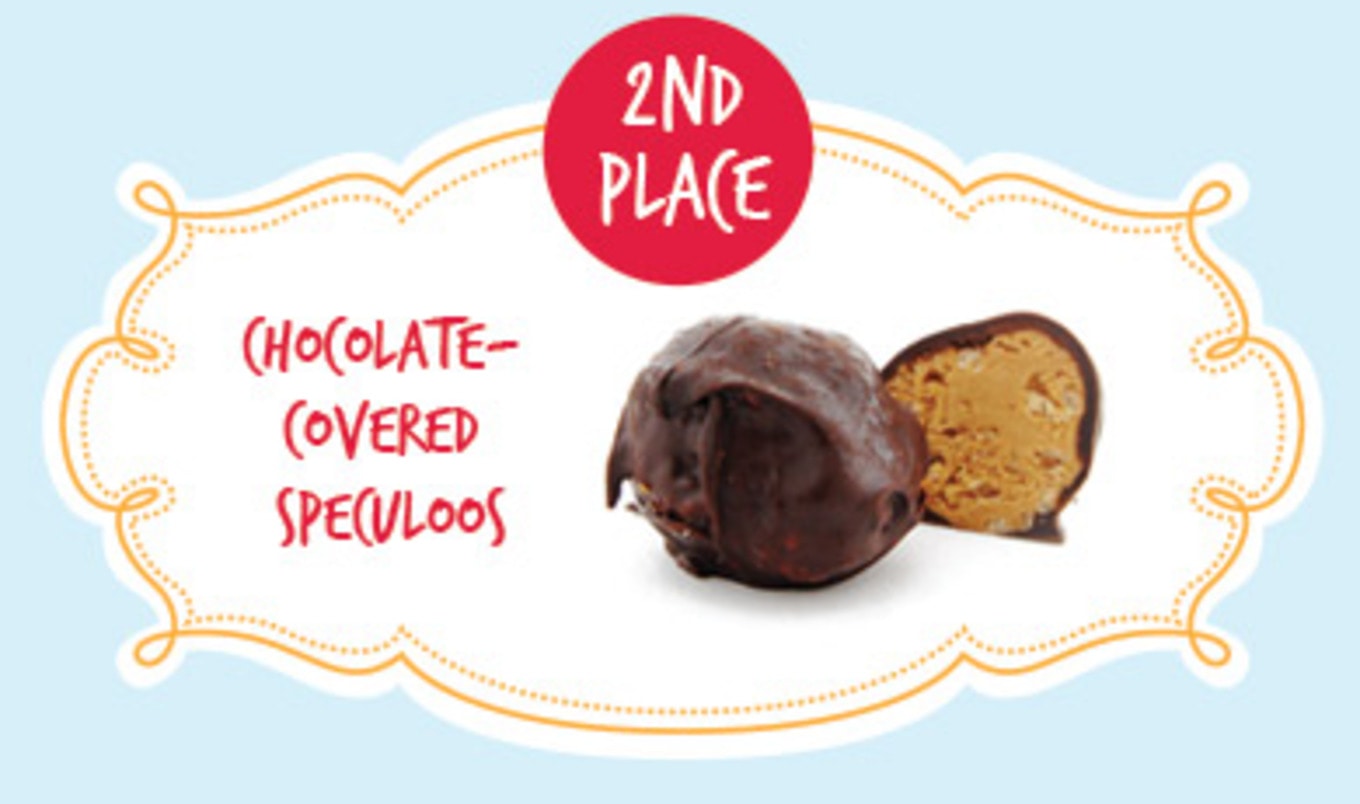 What do you get when you combine crisp rice cereal, cookie-butter spread, and dark chocolate? This perfect pairing that tastes like a peanut butter cup combined with a chocolate crunch bar in one bite, and earned second place in the VegNews Holiday Cookie Contest.
December 18, 2012
Makes 18 balls
What you need:
1 11-ounce jar cookie-butter spread (see Chef's Tip)
1/4 cup vegan margarine, softened
1 cup powdered sugar
2 cups crisp rice cereal
1 17-ounce bar dark chocolate, melted
What you do:
1. In a large mixing bowl, combine cookie-butter spread and margarine, stirring well to incorporate. Stir in powdered sugar. Add in cereal.
2. Take 2 tablespoons of mixture and roll into balls. Place onto a large cookie sheet and stick a toothpick into each one. Freeze for at least 20 minutes. 
3. In a glass bowl, melt chocolate in 30-second intervals in microwave or on stove using a double boiler. Dip each frozen ball in melted chocolate. On a cookie sheet lined with aluminum foil, place dipped balls, then place sheet in freezer to set for at least another 20 minutes. Store in an airtight container in refrigerator or freezer until ready to serve. 
Chef's Tip
Never heard of cookie-butter spread? We're huge fans of this accidentally vegan treat that's made of crushed cookies. You can find a jar at Trader Joe's, or search for Lotus' Biscoff Spread online.
For a peanut-butter version of these treats, substitute 2 cups creamy peanut butter for cookie spread and use 2 cups powdered sugar and 3 cups crisp rice cereal.
Check out all of our 2012 VegNews Holiday Cookie Contest Winners!
First Place: Apple Pie Cookies with Maple Cream Filling by Leigh Saluzzi
Third Place: Rocky Road Crinkles by Sandra Kohlmann
Honorable Mention: Chocolate-Covered Peppermint Sandwich Cookies by Cara Reed
Click here for the 2011 VegNews Holiday Cookie Contest Winners.