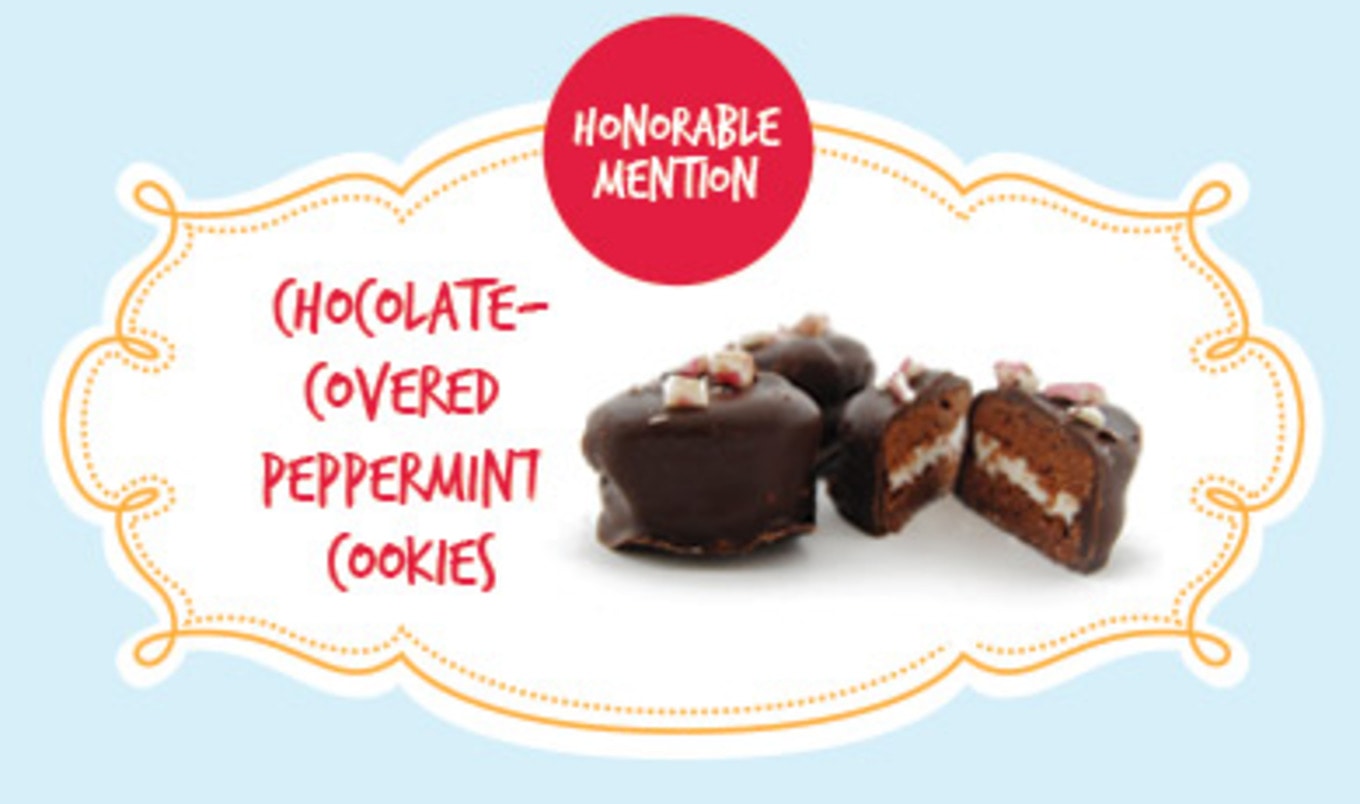 Take a candy cane chocolate sandwich cookie, dip it in melted dark chocolate, and sprinkle with crushed canes and you get gluten-free cookies that will wow just about everyone. VN staffers were so enamored with this decadent treat, we awarded it an honorable mention in our second annual Holiday Cookie Contest.
December 18, 2012
Makes 24 sandwich cookies
What you need:
For the cookies:
1 cup vegan margarine
3/4 cup sugar
1/2 cup powdered sugar
1/4 cup vegan chocolate chips, melted
1 tablespoon egg replacer, dissolved in 2 tablespoons warm water
1 teaspoon vanilla
3/4 cup brown rice flour
3/4 cup sorghum flour
1/4 cup potato starch
1/4 cup arrowroot powder
1/3 cup cocoa powder
1/2 teaspoon salt 
For the filling:
1 cup vegan shortening
1 cup powdered sugar
1/2 teaspoon vanilla
1/2 teaspoon peppermint extract
14 mini-candy canes, crushed and divided 
1 cup melted dark chocolate
What you do:
1. For the cookies, in a large bowl using in an electric mixer, cream margarine, sugar, and powdered sugar for 1 minute. Add melted chocolate chips and mix. Add egg-replacer mixture and vanilla and mix until well combined. 
2. In a medium bowl, add brown rice flour, sorghum flour, potato starch, arrowroot powder, cocoa powder, and salt and mix. Add wet ingredients into dry ingredients and stir with a wooden spoon until a dough forms. Dough should not be sticky. If dough is sticky, add 1 tablespoon flour at a time until dough is no longer sticky.
3. Transfer 1/2 of dough onto a piece of parchment paper. Roll dough into a smooth 6 x 2-inch log. Wrap plastic wrap around dough and chill for 2 hours. Repeat with remaining dough.
4. Preheat oven to 325 degrees. Remove dough from plastic wrap and slice cookies with a sharp knife into 1/2-inch thick slices. Place cookies on two cookie sheets and bake for 15 to 20 minutes. Cool completely on baking sheet.
5. For the filling, with an electric mixer, combine all ingredients except candy canes together until filling is smooth and thick. Fold in two-thirds crushed candy canes.
6. Using a spatula, place filling into a pastry bag. In a circular motion, place filling onto one cookie. Gently place another cookie on top. Dip each cookie sandwich into a bowl of dark chocolate. Place cookies on parchment-lined cookie sheet. Top with remaining crushed candy canes. Chill until chocolate is set.
Chef's Tip
Don't have a pastry bag? Make your own by placing filling into a large plastic sandwich bag and cutting a small slit in one corner of the bag. Gently squeeze bag to pipe filling onto cookies.
Check out all of our 2012 VegNews Holiday Cookie Contest Winners!
First Place: Apple Pie Cookies with Maple Cream Filling by Leigh Saluzzi
Second Place: Chocolate-Covered Speculoos Balls by Jessie Smith
Third Place: Rocky Road Crinkles by Sandra Kohlmann
Click here for the 2011 VegNews Holiday Cookie Contest Winners.