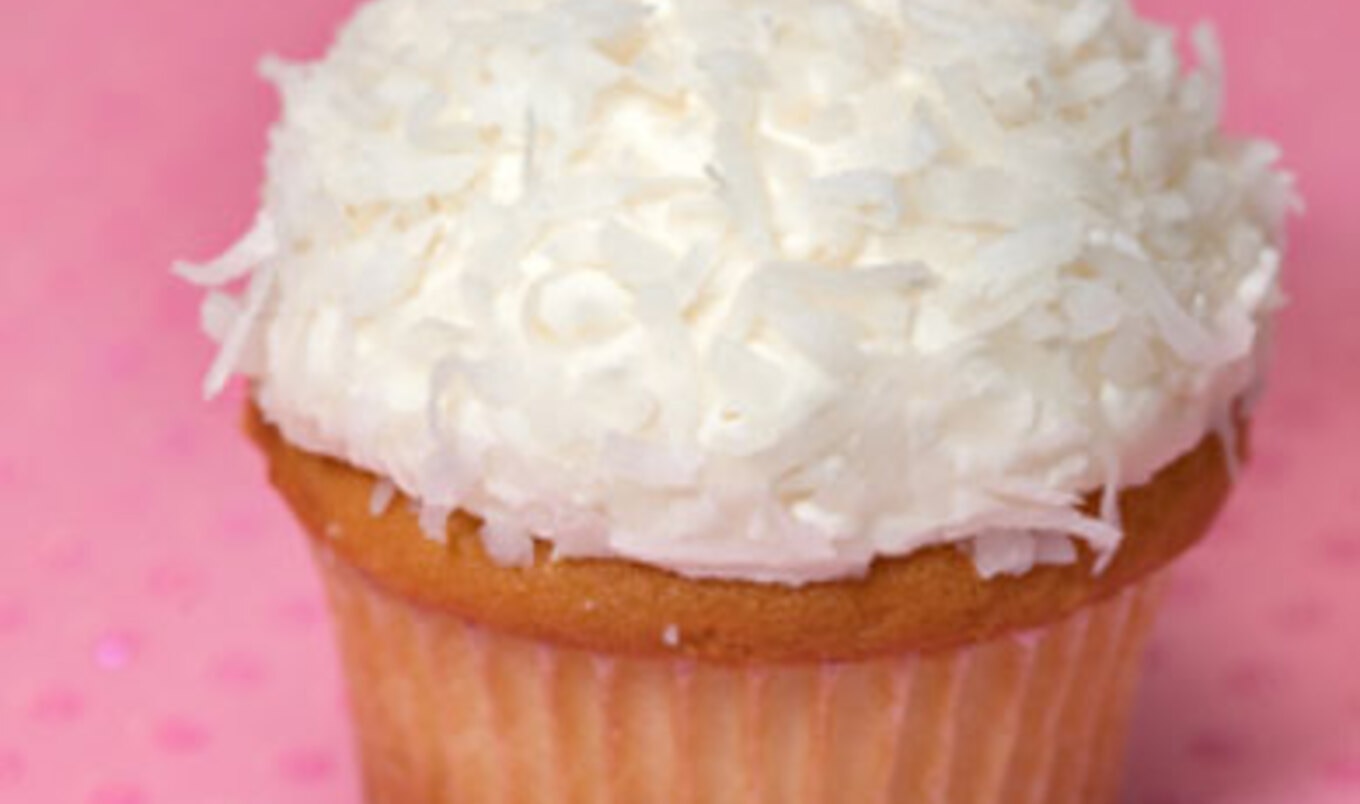 This fluffy, fresh fruit-topped cupcake made its national debut on Food Network's Cupcake Wars when Kim Garr whipped up this recipe as a round-one entry in the cupcake competition.
March 8, 2011
Makes 12 cupcakes

What you need:
1 cup coconut milk
1 teaspoon apple cider vinegar
2 cups all-purpose flour
1 teaspoon baking soda
¼ teaspoon salt
1½ teaspoons egg replacer
2 tablespoons warm water
1 cup evaporated cane sugar
1/3 cup canola oil
1 teaspoon vanilla
½ teaspoon coconut extract
1½ cups kiwi, diced
Vegan Lemon Curd (see recipe)
Fluffy Coconut Frosting (see recipe)
What you do:
1. Preheat oven to 350 degrees. Line a cupcake pan with 12 liners.
2. In a large bowl, whisk together coconut milk and vinegar. Set mixture aside to curdle. In a medium bowl, whisk together flour, baking soda, and salt together. Set aside.
3. In a small bowl, whisk together egg replacer with warm water. Add sugar, oil, vanilla, and coconut extract to coconut milk mixture and whisk. Add in flour mixture to egg replacer mixture, and mix until combined. Fold diced kiwi into batter.
4. Fill cupcake liners 2/3 full. Bake cupcakes for 15 to 18 minutes, and cool completely before filling and frosting.
5. To assemble cupcakes, scoop 1½ teaspoons out of center of each cupcake with melon baller. Fill each hole with 1 to 1½ teaspoons of lemon curd.
6. Place coconut frosting in a pastry bag fitted with star-shaped tip. Pipe onto filled cupcakes. Garnish with a half slice of kiwi and sprinkling of shredded coconut.