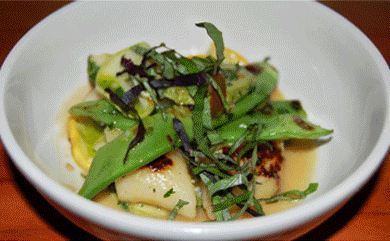 To celebrate VegNews' 12th anniversary, VegNews' co-founder Colleen Holland shares her 12 most memorable vegan meals.
July 24, 2012
---
Twelve years ago this month, Colleen Holland and Joseph Connelly debuted the very first issue of VegNews. Launched as a 28-page black-and-white newspaper with a mission of unifying the vegetarian movement, what followed is years of late-night meals, skipped meals, and, thankfully, hundreds of superb meals. Over the past 12 years, Colleen has had the opportunity to dine at vegetarian restaurants around the world (all in the name of research, of course), and, here, she shares her top 12 unforgettable meals.
1. Brunch at The Stanford Inn
For those who know me, my love affair with California's vegan coastal getaway is no secret. For years, I have waxed poetic on its luxurious rooms, breathtaking views, impeccable service, and, of course, the dynamite vegan cuisine. Since my first visit in 2001, I have enjoyed many meals at the boutique Mendocino resort overlooking the Pacific Ocean, but nothing brings me more joy than its heavenly brunch. I always start with a flute of fresh-squeezed organic orange juice (mimosas optional) and a warm blueberry scone, and then tuck into the Stanford Citrus Polenta (grilled lemon polenta cakes, braised greens, and cashew cream sauce), Garden Scramble (seasoned tofu with sautéed garden vegetables and sweet potato fries), or the Stanford Inn Florentine (homemade English muffin topped with marinated tempeh, steamed spinach, and the inn's signature Hollandaise sauce). Add in the soothing instrumental music and gorgeous dining room setting, and there's no place I'd rather be.

2. Southern Comfort Night at Millennium Restaurant
I am fortunate to live in a city with a world-class vegan restaurant, and I try never to take it for granted. Whether meeting a friend for after-work appetizers and fancy cocktails or lingering for hours over a multi-course meal, Millennium continues to push vegan cuisine forward in a way few do. But it's the annual crazy night of down-home cookin' that may be the most memorable for me, especially since it's become a beloved VegNews staff tradition. For one night a year, tortes, roulades, and soufflés take a back seat to burger bars, deep-fried pickles, and ice cream sundaes. Beer is served by the bucket, Bluegrass fills the dining room, and servers don overalls and pigtails. If you are ever in San Francisco for this special night (held every May), don't miss it.
3. Epic Meal at Candle 79
My dear friends Bart Potenza and Joy Pierson have elevated vegan cuisine to new heights with their three restaurants in New York City. But Candle 79, their second eatery, will always hold a special plate in my heart. I love slipping into one of the comortable banquettes and starting a meal that will last for hours. I have nowhere to go, I am (hopefully) with people I love, and all I want to do is savor every bite of every last dish. Two years ago, I experienced one of these epic meals at Candle, and enjoyed a tasting menu of nearly a dozen of their most popular menu items including vegan nachos, house-made ravioli, Asian dumplings, Seitan Chimichurri, Seitan Piccata, grilled potato cakes, and, the grande finale, vegan cannoli. Let's just say that life doesn't get much better than this.
4. My First Meal at The Veggie Grill
Friends had been raving about this new all-vegan restaurant in Los Angeles called The Veggie Grill, and I had no idea what to expect. Vegan fast food? Grilled vegetables? A diner? Nothing prepared me for the chic interior, incredible service, and phenomenal food at the chain, which now boasts 10 locations. I'll never forget that first bite of the Santa Fe Crispy Chickin' Sandwich (battered chickin' with lettuce, tomato, avocado, and spicy mayo), All Hail Kale salad (marinated kale and red cabbage, corn salsa, and agave-roasted walnuts tossed in a ginger-papaya vinaigrette), and Sweetheart Fries (crispy sweet potato fries with chipotle ranch dressing). I don't know how they do it, but they're nailing it—and coming to a city near you.

5. Writer Dinner at Portobello
At the 2012 Vida Vegan Con blogger conference in Portland, OR, VN staffers flew up for a weekend of educational lectures, hobnobbing with fellow vegans, and eating. And because Portland is such a great vegan food city, we did just that—all weekend long. But our meal at Portobello Vegan Trattoria—to honor VegNews writers and columnists—exceeded my wildest expectations. Chef Aaron Adams created a multi-course menu for our 14 guests, with such mind-blowing gastronomies as fresh melon drizzled with aged balsamic vinegar, a trio of chilled soups (spicy cucumber, tomato consomme, and grape-almond gazpacho), a charcuterie plate (cashew cheese, beet tartare, and mushroom rillette), seared potato gnocchi, a portobello mushroom roast with creamy polenta, a lemon cream and strawberry tart, and platters of housemade Italian cookies. Viva Portobello.
6. Ice Cream Sundae at Lula's Sweet Apothecary
Does ice cream constitute a meal? In my book it does, especially at New York's famed dairy-free parlor, Lula's Sweet Apothecary. Vegan egg creams, floats, and banana splits will rock your world, but it was the classic ice cream sundae that shook mine. An old-fashioned sundae glass was filled with cake batter soft-serve, chocolate peanut butter ice cream, hot fudge sauce, pecan pralines, and coconut whipped cream. Yes, these are the things dreams are made of.
7. Sri Lankan Fusion at Malabar
Santa Cruz has become my home away from home in recent years, not only become my mom now lives there but also because the vegan food scene is hard to beat. Comfort food, health food, raw food, ethnic food, and everything in between await in this quaint seaside city 75 miles south of San Francisco. But it is also home to what may be one of the best vegetarian restaurants in the country: Malabar. Run by a Sri Lankan family who still live part-time in their native Indian Ocean nation, these people know food (and spices), and what they prepare is unlike anything I've ever eaten. Malabar offers a fusion menu, complete with Sri Lankan curries, stuffed flatbreads, tropical salads, and homemade pastas with creamy sauces. Oh, mango almond curry (complete with fresh mango and fried plantains), will you marry me?
8. Brunch at Madeleine Bistro
One of today's pioneering chefs is making waves in the valley of Los Angeles, with such culinary breakthroughs as a vegan chocolate soufflé, a meat-free (and far superior) version of the McDonald's Big Mac, and perfectly aged farmer's cheese. I am not able to indulge in Chef Dave Anderson's food as often as I'd like, but I think about his sumptuous brunch—constantly. The Sunrise cocktail (a combination of fresh-squeezed orange and beet juice), crispy beignets (deep-fried fritters dusted with sugar and served with a fig marmalade), and French Toast Napolean (a stack of battered French toast with organic fruit compote, maple syrup, and whipped cream) are forever etched in my mind.

9. Tasting Menu at Saha
As a vegan, I tend to hit the same restaurants again and again—why mess with a good thing? But sometimes I venture into omni territory and try a new eatery that's rumored to be taking vegan dishes to new heights. When I discovered Saha, an Arabic fusion restaurant run by a Yemenese couple right here in San Francisco, I couldn't resist. Tucked inside a boutique hotel in Lower Nob Hill, it turns out that the owner is the best friend of the owner of a popular vegan restaurant also here in the city, so Saha's chef is well-versed in veganism. Vegan dishes are clearly marked, and the $35 tasting menu offers one of the best deals in town. My menu of choice starts with the Vegan Kibbeh (mushrooms, tomatoes, onion, and parsley in a cracked wheat shell with a saffron sauce), then moves on to the Zahara (wild mushrooms, heirloom carrots, artichokes, and fennel over a farina cake with a ginger-orange sauce), and ends with a warm Slap Ya Mama (roasted fruit, dates, marzipan, and dark chocolate wrapped in toasted phyllo). House-made pita bread and seasoned olive oil is always plentiful, and I love finishing the meal with a cup of hot Arabic mint tea.
10. Buddhist Lunch at Lucky Creation
I first discovered this tiny vegan Chinese eatery in the late '90s when I lived in the neighborhood, and I've been eating its won ton soup and lunch specials ever since. For about $6, you can order a towering plate of vegetables and rice that can easily last two meals, but spice-lovers beware: as a strict Buddhist-run establishment, there are no onions or garlic on premises. The omissions don't bother me, as the food is fresh (everything is made in-house, including the faux meats and dumplings), fast, and delicious. Even after eating here for the last 14 years, I seem to always venture back to my tried-and-true favorite, a plate of stir-fried bok choy and black mushrooms with fluffy steamed rice. Nobody does it better.
11. Soup, Rice, and Salad at Dharma's
Another Santa Cruz-area institution, people can't get enough of the burgers, sandwiches, brunch, desserts, and shakes at Dharma's. Formally called McDharma's—until being sued by a certain fast-food conglomerate—the 30-year-old eatery is beloved by the community and beloved my me. Let's just say that I could eat at Dharma's every single day if I lived in the area. And what would I get? The soup, rice, and salad combination. Every time. I don't know what makes this simple meal so superb, but I've had it dozens of times over the years, and it fuels me for days afterward. Your choice of homemade soup (I always go for the Indian Kitcheree, a yellow lentil dal with fresh ginger and spices) is served with a large scoop of brown rice, a huge organic vegetable salad (complete with beets, cucumbers, sprouts, and sunflower seeds), and a side of Dharma's Lemon Tahini Dressing (aka, the best dressing on the planet). It's out of this world, and it may be the perfect meal.
12. Dosa in Washington Square Park
For years, I'd heard people rave about NY Dosas in New York City, a mobile street cart set up in Washington Square Park selling vegan dosas, idli, roti, samosas, and uttapam. A lover of South Indian cuisine, I finally paid Thiru and his popular stand a visit two years ago, and I haven't stopped thinking about it since. For about $5, I enjoyed a piping hot, freshly made masala dosa (lentil crêpe filled with a spicy potato mixture), hot sambar soup, and a dollop of coconut chutney—all while sitting on a bench in Greenwich Village's famed picturesque park. Thiru, what is it going to take for you to move to San Francisco!?!
VegNews' co-founder Colleen Holland always anticipates her next meal. For more of her favorite vegan food and restaurants, follow Colleen on Facebook here.