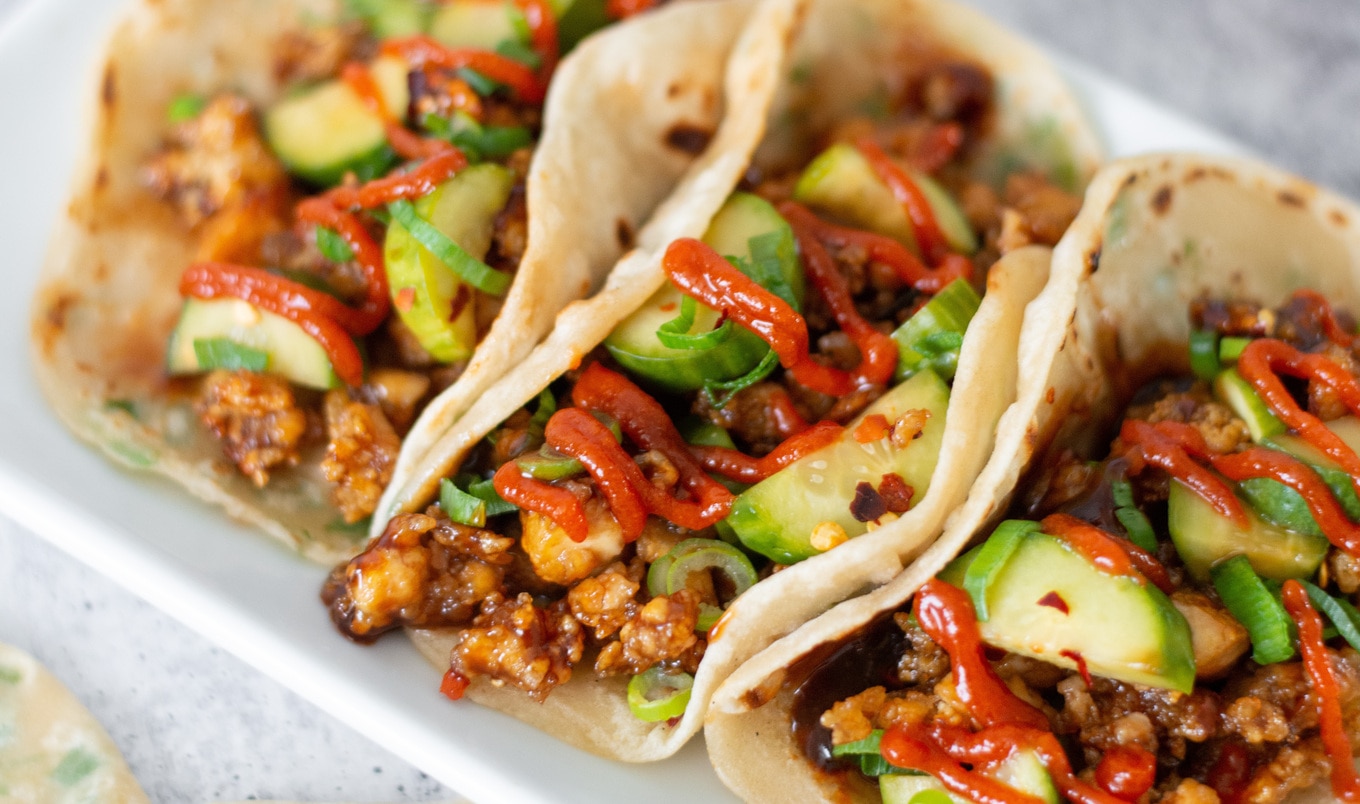 Homemade scallion tortillas get loaded up with perfectly crispy hoisin tofu bits and topped with fresh quick-pickled cucumbers in this tasty recipe.
July 13, 2023
Step up your Taco Tuesday game with these Asian-inspired tacos from Mixed & Measured blogger Riley Yahr. Add avocado, chilies, and sautéed greens for a fiery punch of flavor.
What you need:
For the quick-pickled cucumbers:
1 English cucumber, sliced
1 cup rice wine vinegar
1 teaspoon soy sauce
2 teaspoons cane sugar
¼ teaspoon salt
½ teaspoon red chili flakes
For the Scallion Tortillas:
⅓ cup chopped scallions (the green parts), divided
1½ cups all-purpose four
¾ cup boiling water
¼ cup sesame oil, divided
For the tofu:
1 (16-ounce) block extra-firm tofu, pressed
3 tablespoons cornstarch
¼ cup vegetable oil
½ cup hoisin sauce
What you do:
For the quick-pickled cucumbers, in a medium bowl, combine all ingredients. Let sit in refrigerator while preparing rest of meal.
For the Scallion Tortillas, in a medium bowl, using a wooden spoon, mix together flour and boiling water until a mixture forms. Once cool enough to touch, transfer mixture to a floured work surface and knead for 4 minutes. Form into a ball, wrap loosely in plastic wrap, and let sit for 30 minutes.
After 30 minutes, unwrap dough and place back on floured surface. Roll into a log about 20 inches long and cut into 16 equal pieces (about 1¼-inch each).
Starting with one piece, cut side up, roll into a disk 3 inches in diameter. Add 1 teaspoon chopped scallions on top, then fold sides of disk into middle, securing scallions inside. Using a rolling pin, roll dough out into a 5-inch tortilla. Add more flour to surface and rolling pin if necessary to prevent sticking. Dust off any excess flour on tortilla, then oil each side with ½ teaspoon sesame oil and set aside. Repeat again until all dough is used up.
In a skillet over medium-high heat, warm two tablespoons of sesame oil. Fry each tortilla for 45 seconds on each side, until both sides are golden brown.
For the tofu, slice block into equal ½-inch pieces and add to a medium bowl. Crumble into small pieces, add cornstarch and toss to coat.
In a large skillet over medium-high heat, warm oil. Add crumbled tofu and fry for 10 minutes, stirring occasionally, until crispy. Turn heat off and mix in hoisin sauce. Assemble tacos with tofu and serve topped with quick-pickled cucumbers.
For more vegan recipes, read: