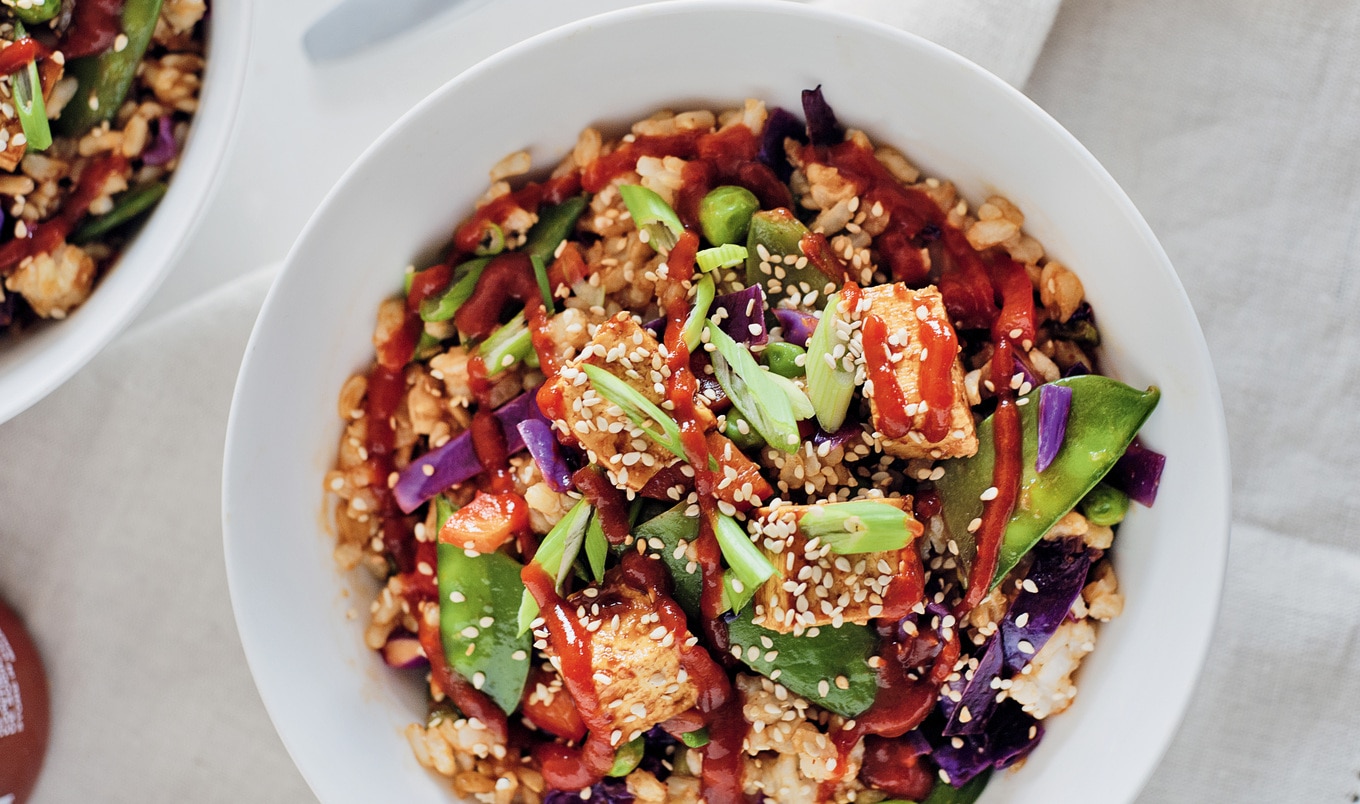 Throw away your carry-out menus, and make this easy homemade fried rice bowl instead.
July 9, 2023
Use your leftover rice in this simple, delicious, vegetable-loaded recipe from The Meatless Monday Family Cookbook. This staple dish is kid-friendly and will please even the pickiest of eaters.
What you need:
For the tofu:
1 (14-ounce) package extra-firm tofu, drained
2 tablespoons tamari
1 tablespoon apple cider vinegar
1 tablespoon olive oil
1 tablespoon maple syrup
1 tablespoon Dijon mustard
⅛ teaspoon salt
⅛ teaspoon pepper
For the rice bowl:
3 tablespoons tamari
¼ cup hoisin sauce
3 tablespoons rice wine vinegar
3 cloves garlic, minced
2 teaspoons ground ginger
1 teaspoon sriracha
1 tablespoon peanut oil
1 cup chopped cabbage
½ red bell pepper, seeded and diced
1 cup snow peas, halved
3 scallions, diced
½ cup peas
4 cups cooked brown rice
For garnish:
1 teaspoon sesame oil
3 tablespoons white sesame seeds
What you do:
For the tofu, press for 20 minutes, then cut into bite-size cubes. In a shallow bowl, place tofu cubes. In a separate medium bowl, whisk together tamari, vinegar, oil, maple syrup, mustard, salt, and pepper. Pour over tofu and toss well to ensure all cubes are covered. Refrigerate for 20 minutes, tossing again after 10 minutes.
Preheat oven to 375 degrees. Line a rimmed baking sheet with parchment paper. Remove tofu from marinade and place in a single layer on prepared baking sheet. Bake for 25 minutes, flipping every 10 minutes until golden brown, crispy on edges, and chewy in center. Immediately sprinkle with salt and pepper while still hot.
In a small bowl, whisk tamari, hoisin, vinegar, garlic, ginger, and sriracha, and set aside. In a skillet over medium-high heat, warm oil and add cabbage, bell pepper, and snow peas. Cook for 3 minutes, stirring frequently, until vegetables start to soften. Add scallions and peas and cook for 1 minute while stirring. Add sauce to vegetables and stir to coat. Add rice and stir until evenly coated in sauce. Cook for 4 minutes to heat through.
To serve, divide fried rice among 6 bowls. Top with tofu, a few dashes of sriracha, sesame oil, and sesame seeds.
For more recipes like this, check out: