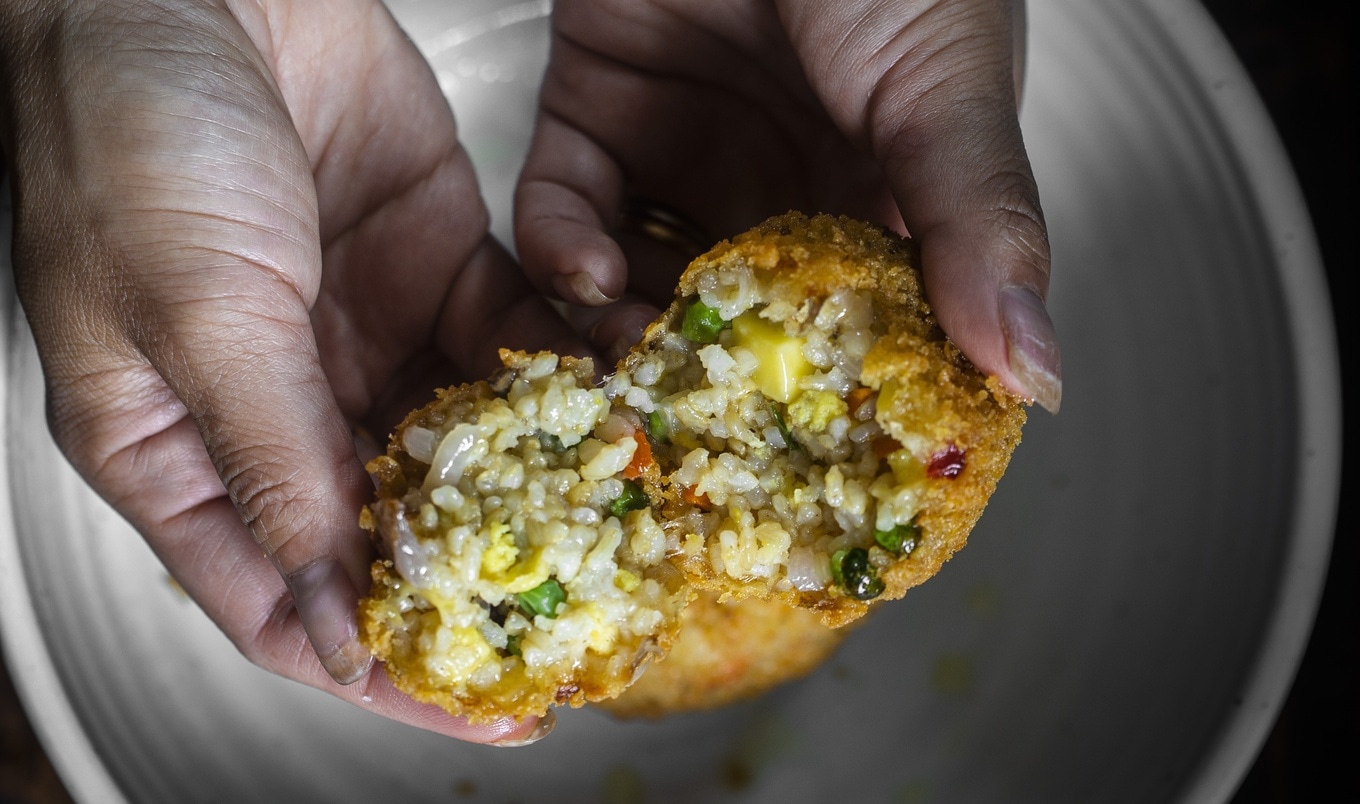 This traditionally Roman recipe gets a Korean makeover with vegetable fried rice and vegan egg.
June 26, 2023
A veganized version of the salty, cheesy, Korean-style egg omelette known as gyerranmari gets chopped and added to fried rice in this delicious, golden-brown, fried-to-perfection recipe from The Korean Vegan cookbook.
What you need:
For the gyerranmari:
1 tablespoon olive oil
¾ cup liquid vegan egg, divided
1 teaspoon salt, divided
1 slice vegan cheese, cut in half and divided
1 sheet nori, cut in half and divided
For the rice balls:
Vegetable oil, for frying
3 cups cooked rice
2 cloves garlic, minced
¼ red onion, finely diced
1 carrot, diced
½ cup cooked corn kernels
½ cup cooked peas
Gyerranmarri, chopped
3 teaspoons salt, divided
1 teaspoon black pepper
1 teaspoon sesame oil
2 tablespoons potato starch
½ cup vegan milk
1 cup panko bread crumbs
1 slice vegan cheese, torn into 7 pieces
What you do:
For the gyerranmari, to a small pan over medium-high heat, add oil. Add ½ cup of liquid egg, ½ teaspoon of salt, a half slice of cheese, followed by half sheet of nori. When egg is halfway cooked, roll like a crepe, and remove from pan. Add remaining liquid egg and repeat with remaining salt, cheese, and nori. Remove from heat.
For the rice balls, in a large skillet over high heat, warm 1 tablespoon of vegetable oil until very hot. Add rice and fry until beginning to brown 4 to 5 minutes. Remove from pan.
Add 1 teaspoon more vegetable oil to pan, then add garlic, red onion, carrot, corn, peas, gyerranmari, 1 teaspoon of salt, and pepper to pan and cook until onions start to become translucent, 2 to 3 minutes. Return rice to pan, mix everything together, and cook for an additional 1 to 2 minutes.
Set rice aside and let cool before refrigerating for at least 4 hours.
Place three shallow bowls on a work surface. In one, mix together potato starch and 1 teaspoon of salt. In second, add milk. In third, add panko and remaining salt.
Spoon 2 to 3 tablespoons of rice into palm of hand, add 1 piece of vegan cheese to center of rice, and using both hands, shape rice into an oval, about size and shape of a large egg.
Once shaped, coat rice ball first in potato starch. Tap off any excess starch before dipping in milk. Next, coat with panko by rolling gently. Set rice ball aside on a baking sheet. Repeat for remainder of rice.
Pour 4 inches of vegetable oil into a medium pot. Warm oil to about 350 degrees. Working in batches, being careful not to overcrowd pot, gently drop rice balls into oil. Cook for about 2 minutes and then flip and cook for an additional 2 minutes. Remove from oil with a slotted spoon and set on wire rack to drain any excess oil.
For more recipes like this, check out: