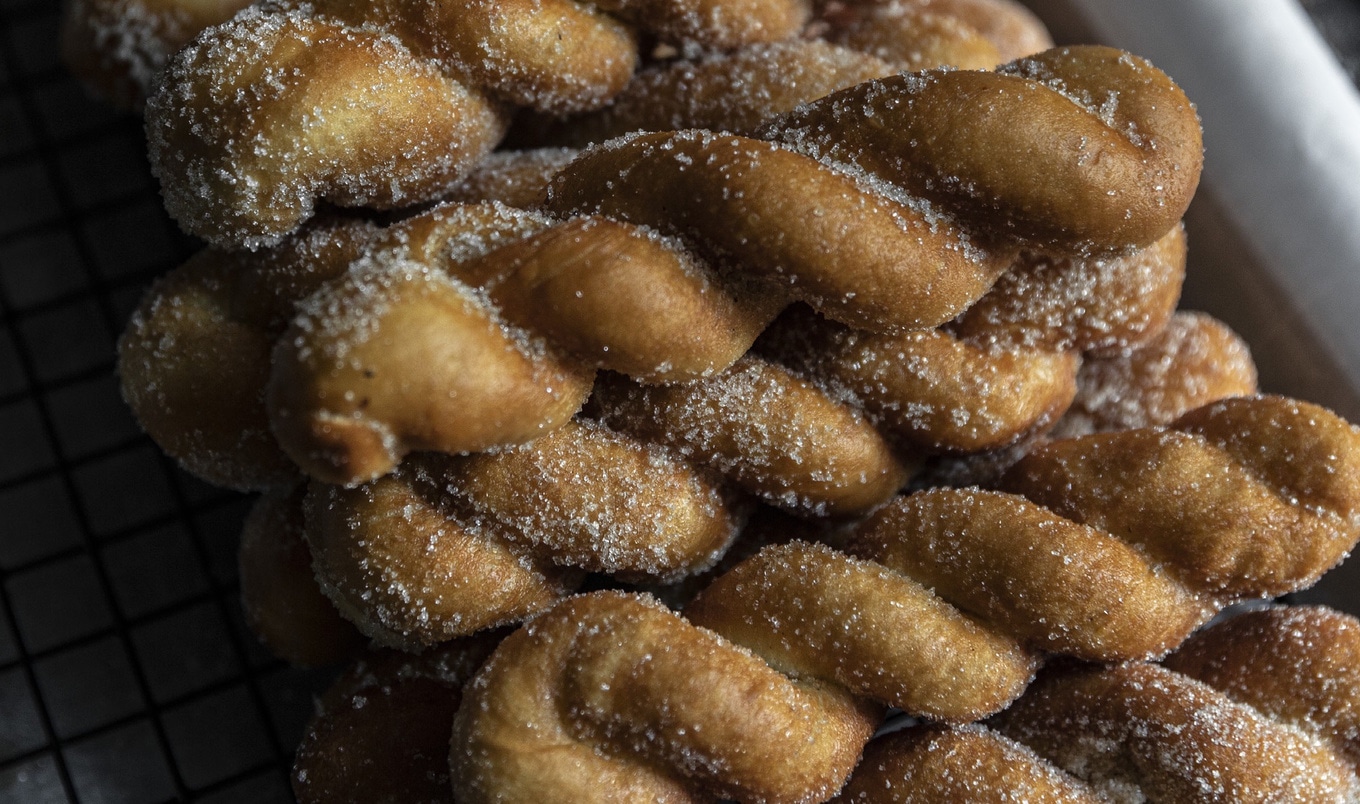 These mildly sweet, fluffy, twisted doughnuts are fried to perfection and best eaten while warm.
October 25, 2021
Kick off a slow weekend morning with a batch of these hot-from-the-fryer, cinnamon sugar-dusted doughnuts from The Korean Vegan cookbook.
What you need:
2¼ teaspoons active dry yeast
2 tablespoons plus ¼ cup sugar, divided
1 cup soy milk, warmed to between 100 to 110 degrees
3 cups bread flour
¼ teaspoon salt
2 tablespoons vegan butter, melted
3 tablespoons aquafaba
Vegetable oil, for frying
2 tablespoons ground cinnamon
What you do:
In a small bowl, combine yeast, 2 tablespoons of sugar, and milk. Set aside until mixture foams, about 10 minutes.
In a stand mixer fitted with dough hook, combine flour and salt. Add yeast mixture, melted butter, and aquafaba. Mix on low until a sticky dough forms. Continue kneading dough at medium speed for an additional 8 minutes.
Shape dough into a ball and place into a clean bowl. Cover bowl and set in a warm location until dough has doubled in size, at least 1 hour.
Punch dough to release gas and reshape into a ball. Cover bowl and let dough rise until doubled in size, an additional 40 to 45 minutes.
Divide dough into 16 equal portions. Working with one portion at a time, create a small ball between hands. Then roll ball into a 12-to 14-inch-long rope, adding flour to work surface if dough is sticking. The rope should be thinner in middle than at ends.
Place right palm over right end of rope and left palm over left end of rope. Gently roll right hand up and left hand down, to create tension in rope. Be careful not to break by rolling too much. Bring ends up and join them—tension in rope will naturally cause dough to twist into a braid. Seal ends and set aside. Repeat for remaining pieces of dough.
Cover twisted dough for about 10 minutes with a light kitchen towel until slightly puffy. Flip over and let sit covered for another 10 minutes.
Pour 4 inches of vegetable oil into a large pot and warm over medium-high heat to about 350 degrees.
Working in batches (add only one at a time if pot is small), gently add shaped pieces of dough to oil and cook until golden brown, about 2 minutes per side. Remove from oil and let cool on a wire rack.
In a paper bag (not a plastic bag), combine remaining ¼ cup sugar and cinnamon. While doughnut is still warm, not hot, add to brown bag and shake gently. Remove from bag.
Photo credit: Joanne Molinaro