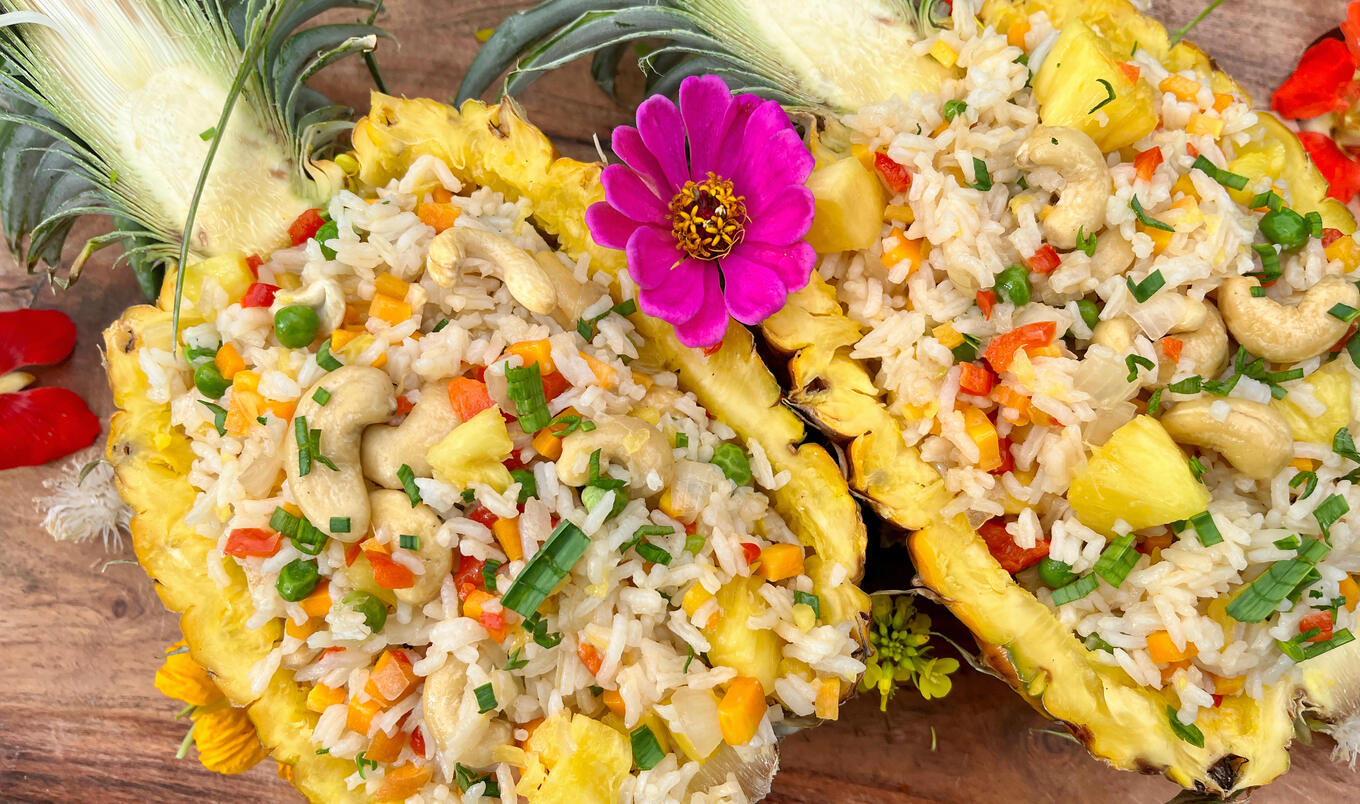 Transform fresh pineapple and leftover rice into a tasty side dish with a serious wow factor thanks to homemade vegan eggs.
June 12, 2023
This vibrant recipe combines the richness of cashews, the tropical sweetness of pineapple, and the aromatic flavors of fried rice, all with a plant-based twist. This recipe by vegan blogger Deborah Gleason uses homemade chickpea eggs to really match the classic fried rice experience.
What you need:
For the vegan eggs:
1 tablespoon avocado oil
½ cup water
⅓ cup chickpea flour
2 tablespoons pea protein
2 tablespoons nutritional yeast
½ teaspoon ground turmeric
¼ teaspoon black salt (kala namak)
For the fried rice:
1 tablespoon avocado oil
½ cup yellow onion, finely chopped
½ cup red bell pepper, finely chopped
½ cup carrot, finely chopped
2 cloves garlic, minced
1 teaspoon freshly grated ginger
4 cups cooked rice
2 cups pineapple, chopped, pineapple skins reserved for serving bowls
½ cup frozen peas
½ cup raw cashews
3 green onions, finely chopped
3 tablespoons soy sauce
1 teaspoon toasted sesame oil
2 vegan eggs
What you do:
For the vegan eggs, in a skillet over medium heat, add 1 tablespoon oil. In a mixing bowl, mix all ingredients. Pour into heated pan. Let cook for about 5 minutes and then flip and cook for two more minutes, remove from heat, and allow to cool before cutting into small pieces.
For the fried rice, in a large skillet over medium heat, warm 1 tablespoon avocado oil. Sauté onion, bell pepper, carrot, garlic, and ginger for 2 to 3 minutes. Add rice, pineapple, peas, cashews, green onions, soy sauce, sesame oil, and eggs and cook for about 10 minutes, stirring occasionally to avoid sticking.
Let cool for two minutes, then serve in reserved pineapple skins.
For more recipes like this, check out: