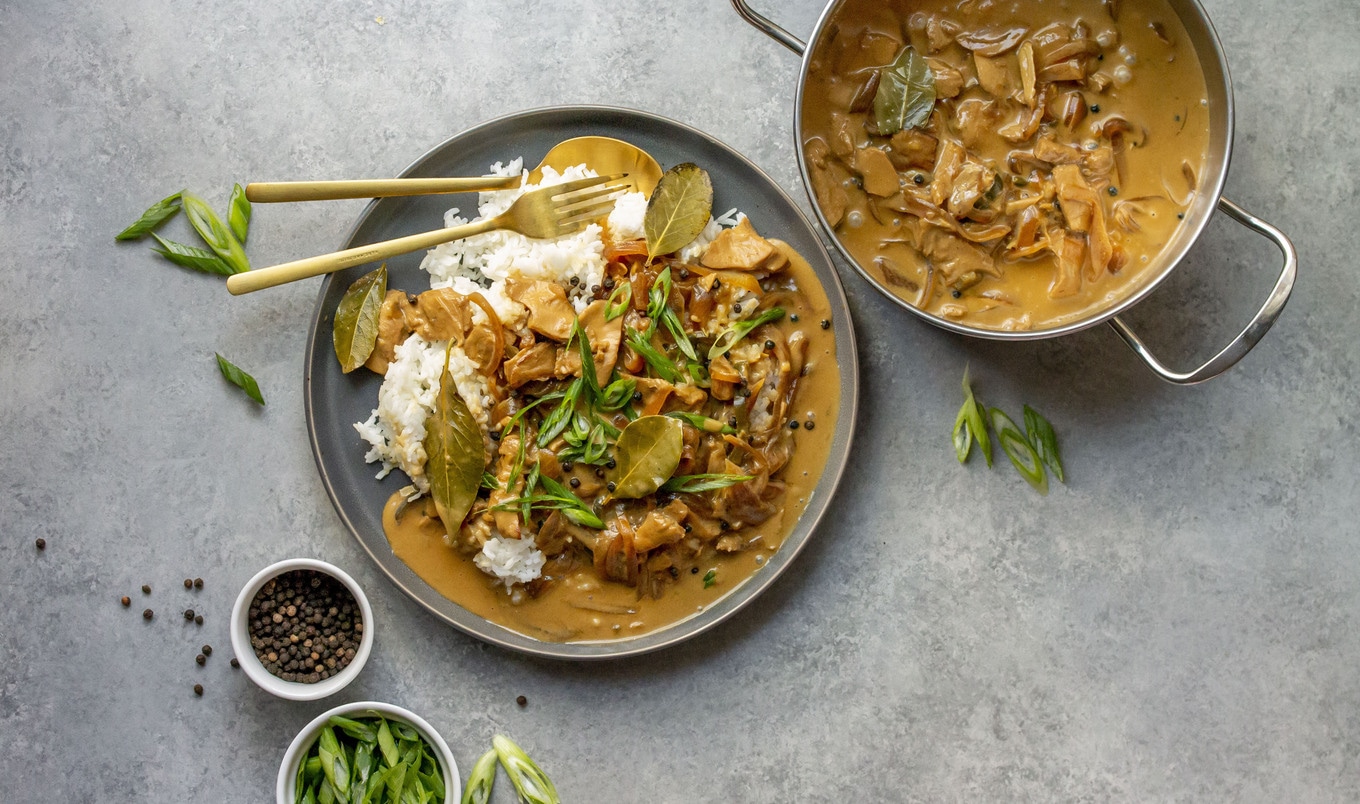 Use your favorite tender vegan chicken strips in this zesty, savory stew for a warming and comforting weeknight meal.
June 15, 2021
Fiery jalapeño and whole peppercorns mingle with rich coconut milk for a perfect balance of heat and creamy coolness in this nourishing dish from the Make It Vegan cookbook.
What you need:
3 tablespoons olive oil
1 medium yellow onion, thinly sliced
1 large jalapeño pepper, thinly sliced
8 ounces vegan chicken strips
1½ teaspoons black peppercorns
15 cloves garlic, smashed with side of a knife
1 (13.5-ounce) can full-fat coconut milk
¾ cup white vinegar
½ cup low-sodium soy sauce
½ cup vegetable broth
½ cup hoisin sauce
6 bay leaves
Cooked white or brown rice, for serving
Sliced green onions, for garnish
What you do:
In a sauté pan over medium-high heat, warm oil until shimmering. Add onion, jalapeño, chicken strips, and peppercorns and cook, stirring occasionally, until onion is translucent and chicken strips are slightly crisped on edges, 5 to 6 minutes. Reduce heat to medium-low and add smashed garlic. Continue to cook, stirring occasionally, until garlic is fragrant.
Add coconut milk, vinegar, tamari, broth, hoisin sauce, and bay leaves. Stir to combine and let mixture come to a boil. Once at a boil, reduce heat to low and simmer, stirring occasionally, for 30 minutes, until sauce has thickened slightly.
Into four serving dishes, add rice and ladle sauce and chicken over top. Garnish with green onions.
Photo credit: Ashley Hankins