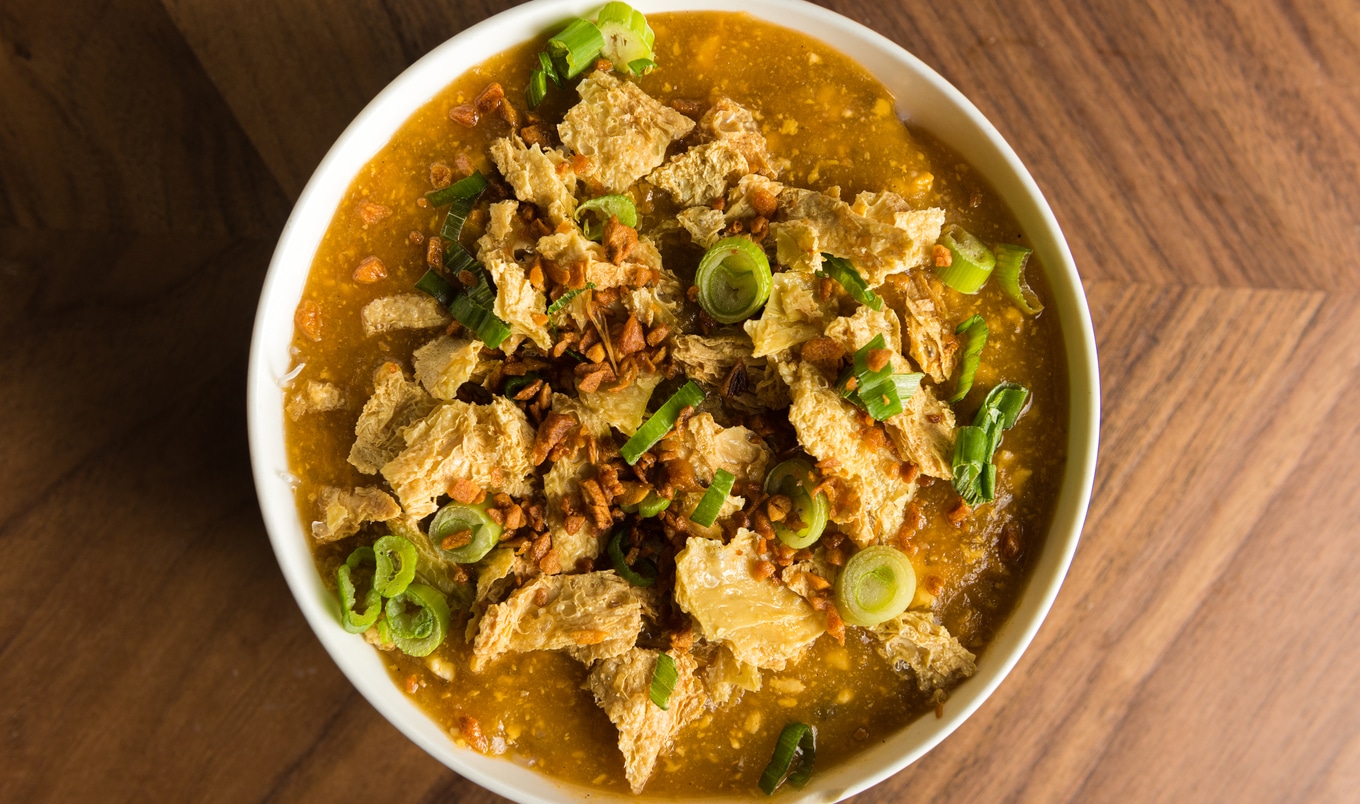 Traditionally made with shrimp or pork, this plant-based recipe swaps out the meat for tofu and umami-laden mushroom bouillon.
April 30, 2022
This classic Filipinx dish is made of a base of thin, chewy rice noodles covered in a rich, meaty gravy and gets a plant-based makeover from Chef Reina Montenegro—of the San Francisco Bay Area's all-vegan Filipinx eatery Chef Reina.
What you need:
5 cups vegetable stock
1 sheet nori
6½ cups water, divided
1 (8-ounce) package rice noodles, soaked in water
¼ cup neutral-tasting oil
1 tablespoon annatto seeds
1 head garlic, peeled and minced
1 tablespoon mushroom bouillon
1 (14-ounce) block firm tofu
¼ cup cornstarch
½ teaspoon salt
¼ teaspoon black pepper
What you do:
In a large bowl, add vegetable stock and 1 sheet of nori. Stir and set aside for 10 minutes.
In a large pot over medium heat, bring 6 cups of water to a boil. Add noodles and cook for 1 minute. Drain well.
In a small pan over low heat, add oil. Add annatto seeds and cook, stirring regularly for 1 to 2 minutes, or until oil turns orange. Remove from pan and set aside.
In a large pot over low heat, warm prepared annatto oil. Add garlic and cook until lightly browned and crisp. Add stock and bouillon and bring to a boil. Crumble tofu into pot.
In a bowl, combine cornstarch and remaining water. Whisking vigorously, slowly add to pot. Bring to a boil, lower heat to simmer, and cook 5 to 8 minutes, or until thickened. Stir in salt and pepper and serve warm.
Photo credit: Chef Reina Montenegro