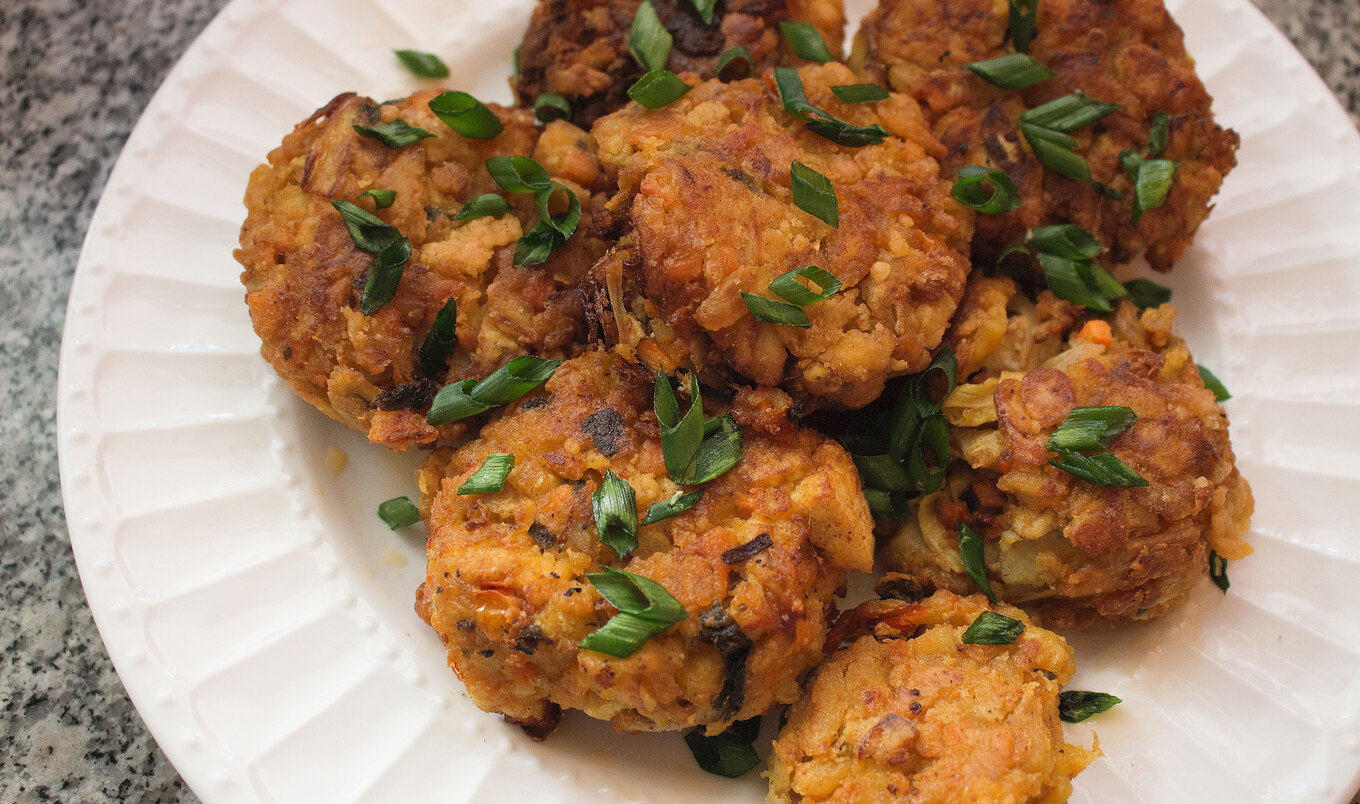 This humble vegan stuffed crab is a celebratory dish for Filipinx immigrants and uses meaty artichoke hearts and jackfruit to replicate the flaky texture.
October 25, 2020
Relleno means "stuffed" in Tagalog and Spanish and Crab Relleno is similar to crab cakes, but also utilizes ingredients such as tomatoes, carrots, potatoes, and more. Filipinxs usually serve this dish in a crab shell, hence "stuffed crab," but in this vegan version from blogger Astig Vegan the patties are fried up to golden perfection and are best when enjoyed with rice and ketchup.
What you need:
Oil, for cooking
3 cloves of garlic, peeled, crushed, and minced
1 yellow onion, peeled and chopped
1 medium tomato, chopped
1 red potato, peeled and minced
1 carrot, peeled and minced
½ teaspoon salt
½ teaspoon black salt (or kala namak)
1 tablespoon wakame flakes
1 cup crumbled firm tofu
1 cup thinly sliced artichoke hearts
1 (14-ounce) can unripe jackfruit, hard parts removed and shredded
½ teaspoon white pepper
¼ teaspoon Old Bay seasoning
1 tablespoon nutritional yeast
½ cup chickpea flour
2 tablespoons cornstarch
What you do:
In a medium-sized pan over medium heat, pour enough oil to cover bottom of pan. Once oil is hot, add garlic, onions, tomatoes, and cook until onions become soft and translucent.
Add potatoes, carrots, salt, black salt, and seaweed. Lower heat and cover pan. Cook for another 3 minutes or until potatoes have softened.
Uncover pan and mix in tofu, artichoke hearts, and jackfruit. Season with white pepper, Old Bay seasoning, and nutritional yeast. Mix well and cook for another minute. Turn off heat and let cool.
In a medium bowl, combine chickpea flour and cornstarch. Once artichoke and jackfruit have cooled, scoop ½ cup of mixture and place on flour mixture. Using hands, mix to lightly coat, then gently squeeze together to form a patty. Repeat steps for remaining mixture.
Once all patties are formed, heat a large pan over high heat and pour one inch deep oil. Once oil is hot, gently place patties and fry on both sides for about 2 minutes or until dark golden. Turn off heat and serve hot.