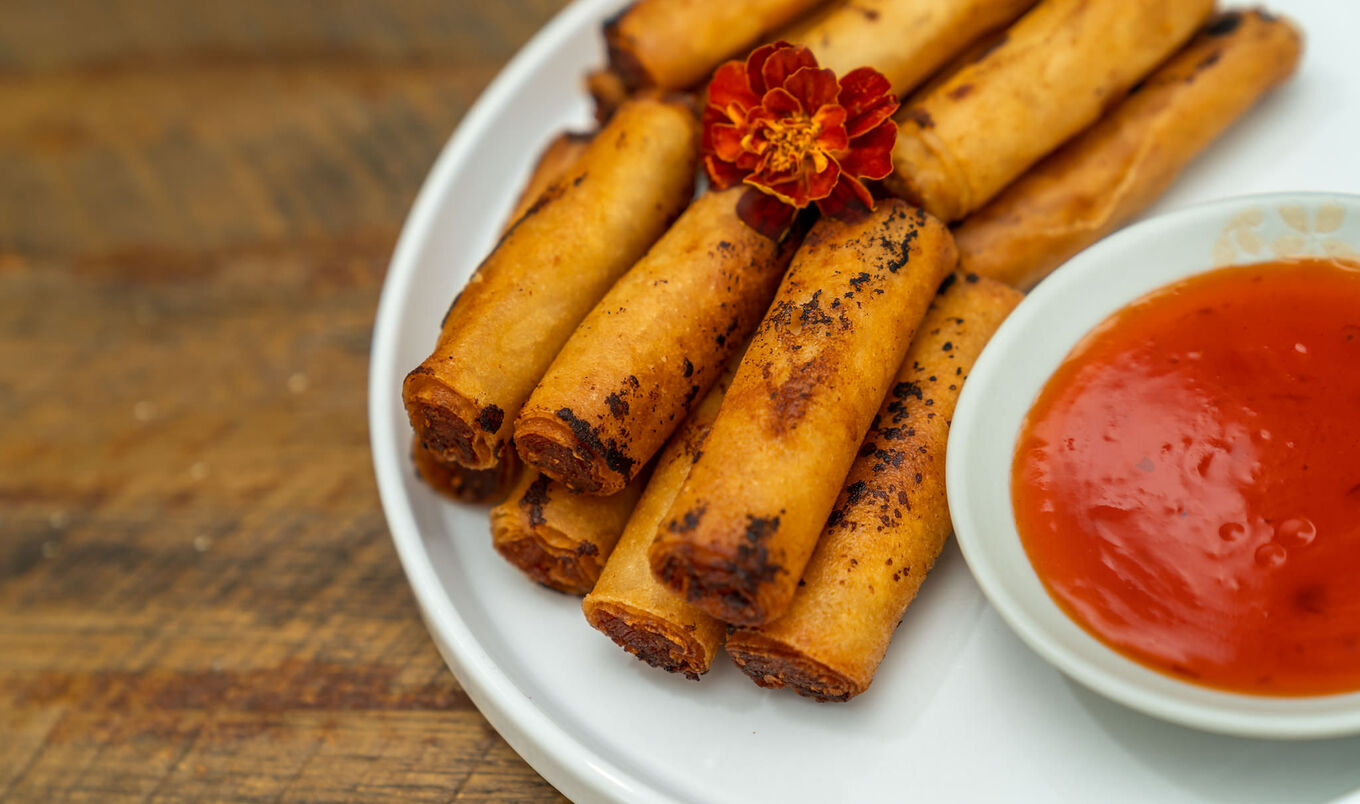 Bold salty, sweet, and sour flavors are expertly blended in this traditional Filipinx recipe.
December 28, 2022
These golden-fried Filipinx spring rolls from Chef Reina Montenegro, of the San Francisco Bay Area's all-vegan Filipinx eatery Chef Reina, are made of a paper-thin pastry wrapped around a savory vegetable filling.
What you need:
For the lumpia:
2 tablespoons sunflower oil
4 garlic cloves, finely chopped
1 medium onion, finely chopped
1 cup julienned carrots
1 cup julienned green beans
1 cup cubed jicama
2 cups shredded green cabbage
2 cups bean sprouts
3 tablespoons soy sauce
1 tablespoon vegetarian oyster sauce
1 teaspoon mushroom powder
1 teaspoon salt
½ teaspoon black pepper
Lumpia or spring roll wrappers
2½ cups canola oil for deep frying
For the dipping sauce:
1 cup soy sauce
¼ cup white vinegar
1 teaspoon garlic, minced
1 tablespoon onion, diced
¼ teaspoon red pepper flakes
What you do:
For the lumpia, in a deep-walled pan over medium heat, warm oil. Sauté garlic and onion until aromatic, about 1 minute. Add carrots, green beans, jicama, cabbage, and bean sprouts and cook for about 3 minutes. Add soy sauce, vegetarian oyster sauce, and mushroom powder and cook for five more minutes. Stir in salt and pepper. Remove from heat, place in a strainer to drain, and allow to cool completely.
To assemble place about 2 tablespoons of prepared vegetable filling in one corner of wrapper. Roll corner with filling towards middle. Fold sides inward to seal, then continue to roll until there are about 2 inches left of wrapper. Using finger, brush edges with a little water then seal completely.
In a deep pan, warm oil for frying until hot, about 350 degrees. In batches of three or four, avoiding overcrowding, fry lumpia for about 3 to 5 minutes or until medium brown in color.
Place in a paper towel-lined colander to drain excess oil.
For the dipping sauce, in a medium bowl, whisk all ingredients until combined. Serve hot lumpia with dipping sauce.