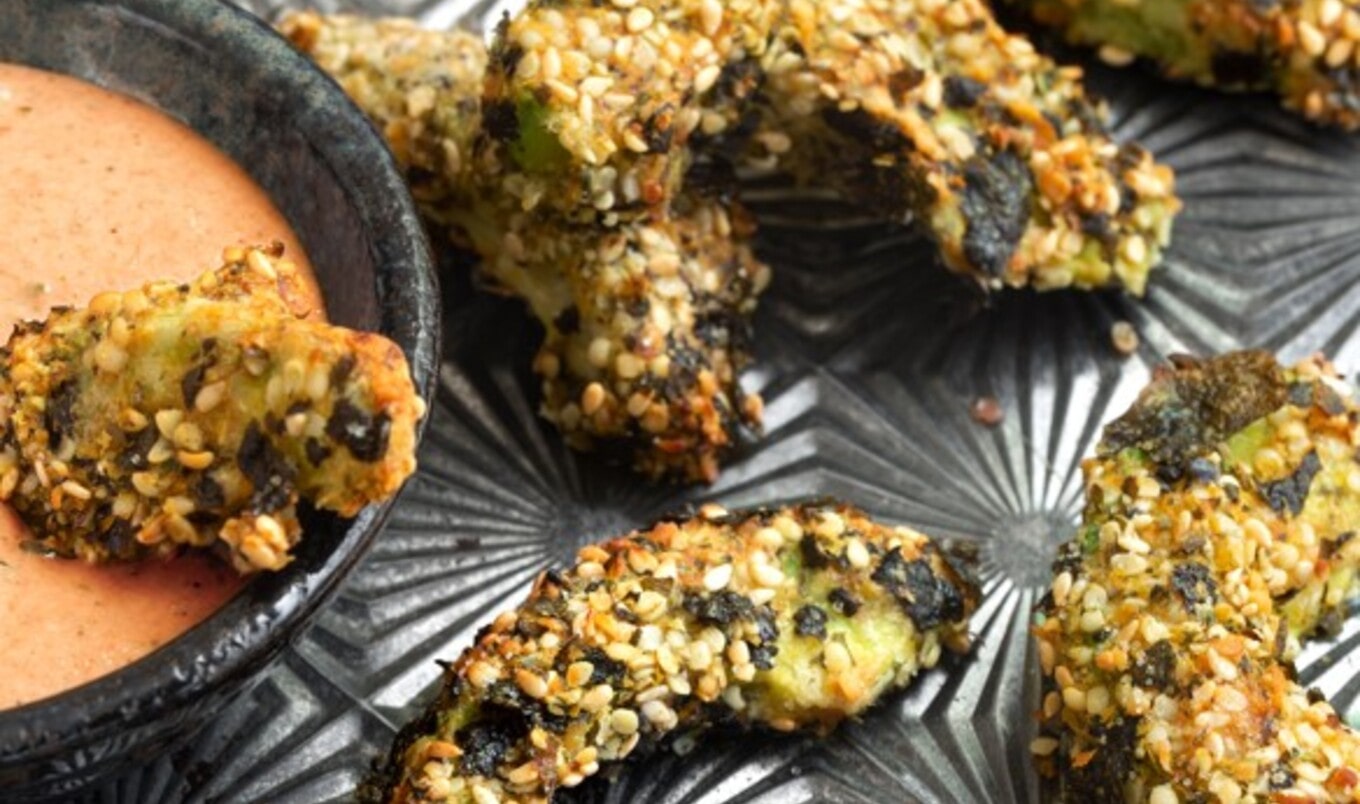 Furikake, rather than a heavy batter, coats thick planks of ripe avocado for a satisfying change of pace.
January 12, 2023
These fries from The Everyday Vegan Cheat Sheet cookbook rely entirely on the natural fats of the avocado, without any added oil. Crispy on the outside, they're covered in nutty toasted sesame seeds and satisfyingly salty nori crisps (called furikake in Japan), yet are lusciously creamy on the inside. If you simply must have a dip, try mixing vegan mayonnaise and sriracha for a spicy aioli on the side.
What you need:
For the furikake:
2 sheets toasted nori
¼ cup hemp seeds
2 tablespoons sesame seeds
2 tablespoons nutritional yeast
1 tablespoon dried parsley
¼ teaspoon garlic powder
¼ teaspoon salt
For the avocado fries:
3 tablespoons water
1 tablespoon ground flaxseed
2 small avocado
2 tablespoons rice vinegar
¼ cup tapioca starch
What you do:
For the furikake, into a medium bowl, roughly crumble toasted nori. Add hemp seeds, sesame seeds, nutritional yeast, dried parsley, garlic powder, and salt. Stir well to combine.
For the avocado fries, preheat oven to 450 degrees. Line a baking sheet with parchment paper and set aside.
In a medium bowl, whisk water and flaxseed and let sit 15 minutes to thicken. Meanwhile, pit, peel, and cut avocados into thin wedges, tossing gently with vinegar to prevent browning.
In a small bowl, place avocado wedges and toss with tapioca starch. Shake off any excess before placing in flaxseed mixture, doing a few pieces at a time. Coat completely before finally tossing pieces with furikake. Press lightly to make sure it adheres, covering the entire exterior.
Transfer avocado wedges to baking sheet, repeating as necessary until all pieces are coated. Bake 12 to 15 minutes, or until crisp and golden brown all over. Serve hot.