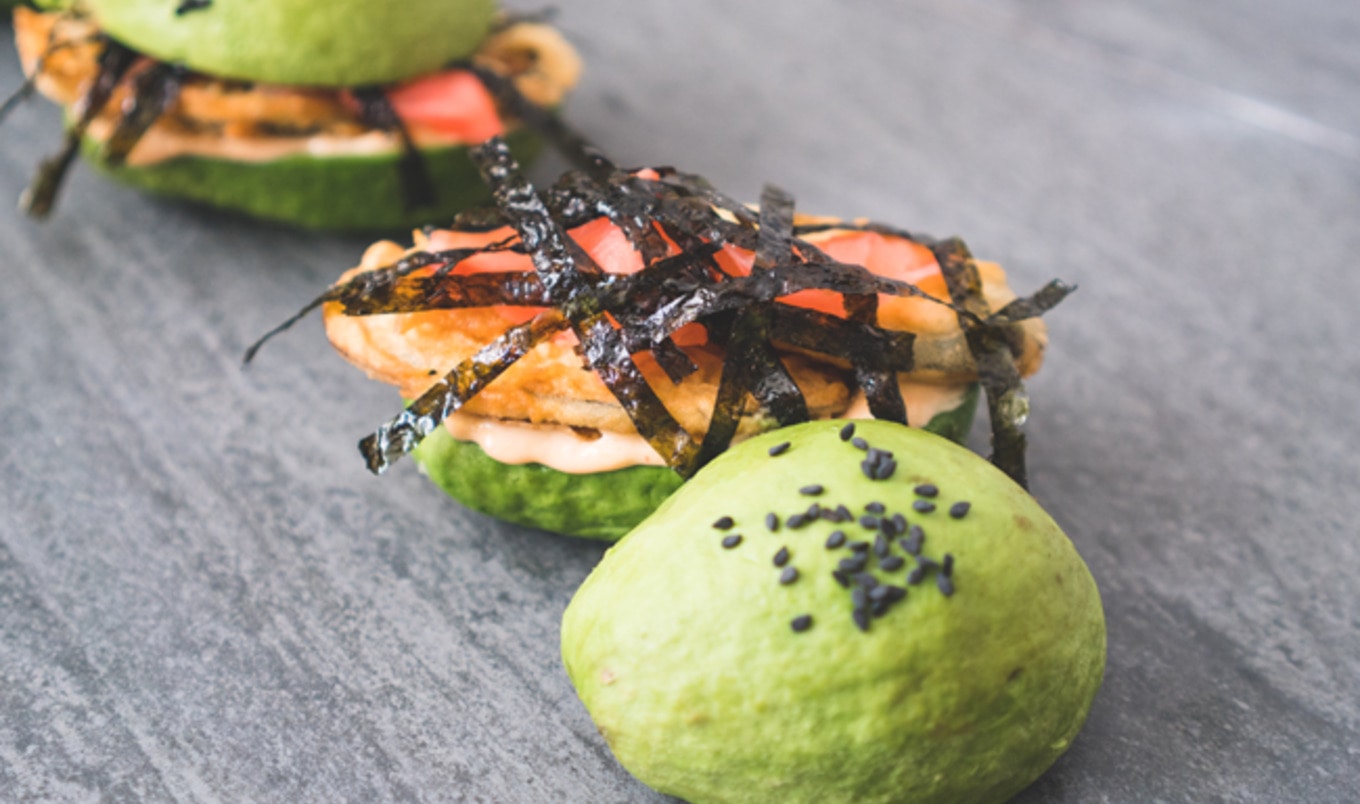 You're just a few buttery avocados away from your new favorite meal.
August 10, 2018
Barbecue season might be over, but that's not stopping us from adding a Westernized influence to classic Asian flavors in a not-so-average-burger form. In our fun dish, we're using avocado as the bun, while the sweet and spicy miso mayonnaise, crispy zucchini patty, and salty nori balance this delicious burger. Serve as a playful appetizer at your next potluck, or enjoy as a delicious main on its own.
Serves 4
What you need:
For the spicy miso mayonnaise:
⅓ cup vegan mayonnaise
2 teaspoons Sriracha
1 teaspoon white miso paste
1 pinch cayenne pepper (optional)
For the tempura:
2 cups cake flour
1 cup ice water
3 cups canola oil
1 zucchini, sliced into ¼- inch pieces
For the burger toppings:
4 avocados, peeled, halved, and pitted
1 tablespoon black sesame seeds
2 tablespoons pickled ginger
Nori strips
What you do:
1. For the miso mayonnaise, into a bowl, combine mayonnaise, Sriracha, and miso paste and whisk. Set aside.
2. For the tempura zucchini patty, into a mixing bowl, place one cup flour. Into another bowl, whisk ice water and remaining flour until smooth.
3. Into a large wok or pot, pour oil 2 inches deep and heat until it is 350 degrees, then dip zucchini slices into dry flour, remove excess flour, and dip once more into the tempura batter bowl.
4. For the burger, place 4 zucchini pieces into the wok or pot and fry, making sure not to overcrowd each batch. Fry for approximately 3 minutes, or until crispy and golden. Transfer to rack to cool and dry.
5. Spread a thick layer of miso mayo onto each half of the avocado bun, and top with zucchini tempura patty, pickled ginger, and nori strips. Sprinkle sesame seeds on top and serve.
Photo courtesy of Sara Stevens