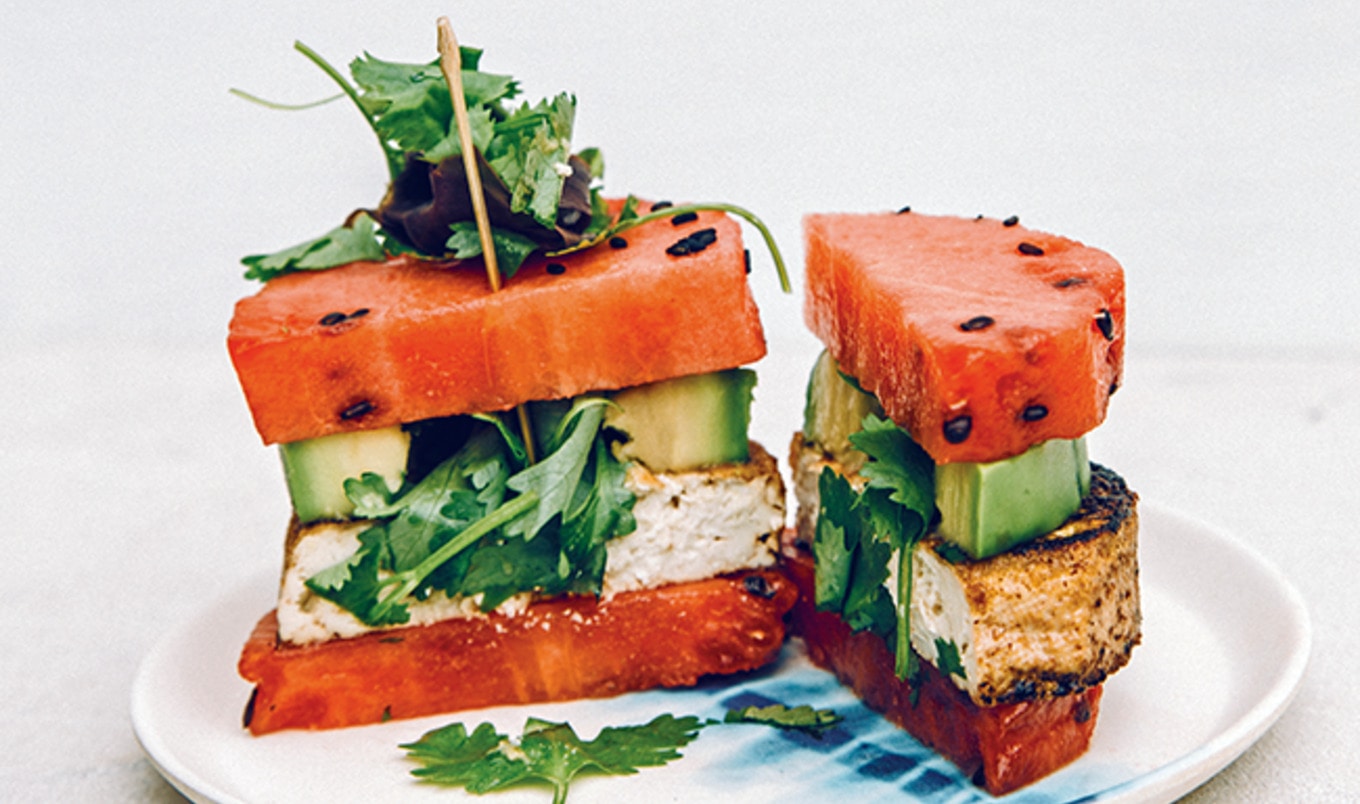 Poke-marinated watermelon make the perfect summertime buns.
July 1, 2023
Can't decide between a juicy burger or a fresh bowl of vegan poke on a hot summer day? Now you don't have to, thanks to this recipe from Nina Olsson's Veggie Burger Atelier.
What you need:
For the poke sauce:
6 tablespoons plus 2 teaspoons rice vinegar
¼ cup soy sauce or tamari
2 tablespoons toasted sesame oil
2 tablespoons fresh lime juice
½ watermelon
For the tofu:
1 block firm tofu, sliced crosswise in about ½-inch thick slices
2 tablespoons vegetable oil, for frying
Salt and freshly ground black pepper, to taste
2 tablespoons soy sauce or tamari sauce
For the toppings:
2 large avocados, cut in rounds
1 cup plus 2 tablespoons fresh cilantro, chopped
Pickled wakame
2 scallions, finely diced
Black sesame seeds
What you do:
1. For the poke sauce, into a small bowl, whisk vinegar, soy sauce, sesame oil, and lime juice.
2. Cut the watermelon into ½-inch thick slices and remove the rind. Using a round cookie cutter about 2 inches wide, cut out 8 rounds from the slices. Carefully place rounds in a zip-top plastic bag and add vinegar mixture. Seal the bag and refrigerate to marinate for 30 minutes.
3. Using the same size cookie cutters, cut 4 rounds from the tofu slices. Heat a skillet to medium-high heat and add oil. Fry the tofu on both sides for five minutes or until golden. Season with salt and pepper to taste, and drizzle with soy sauce.
4. To assemble burgers, remove watermelon rounds from refrigerator and drain. Layer tofu, avocado, cilantro, pickled wakame, and scallions between the watermelon rounds, and garnish with black sesame seeds.
For more recipes like this, check out: