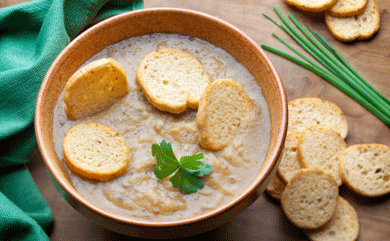 Hearty lentils and fresh vegetables combine with fragrant herbs to create a culinary delight for the senses.
February 5, 2012
The diminutive green French lentil has a firm texture that holds its shape when cooked. A warm, toasted baguette makes an ideal accompaniment.
Serves 4
What you need:
1 tablespoon olive oil
1 yellow onion, chopped
1 carrot, chopped
1 celery stalk, chopped
3 garlic cloves
2 tablespoons dry sherry or white wine
1 cup French lentils
1 14.5-ounce can petite diced tomatoes, undrained
2 teaspoons herbes de Provence
1 teaspoon salt
1/4 teaspoon freshly ground black pepper
5 cups vegetable broth
4 cups baby spinach
What you do:
In a large pot over medium heat, heat olive oil. Add onion, carrot, celery, and garlic. Cover and cook until softened, about 5 minutes. Stir in sherry, then add lentils, tomatoes, herbes de Provence, salt, pepper, and broth.
Bring to a boil, then reduce heat to a simmer. Cover and cook until the lentils are tender, about 45 minutes, adding more broth if needed. Taste and adjust seasonings. About 5 minutes before serving, stir in the spinach. Serve hot.