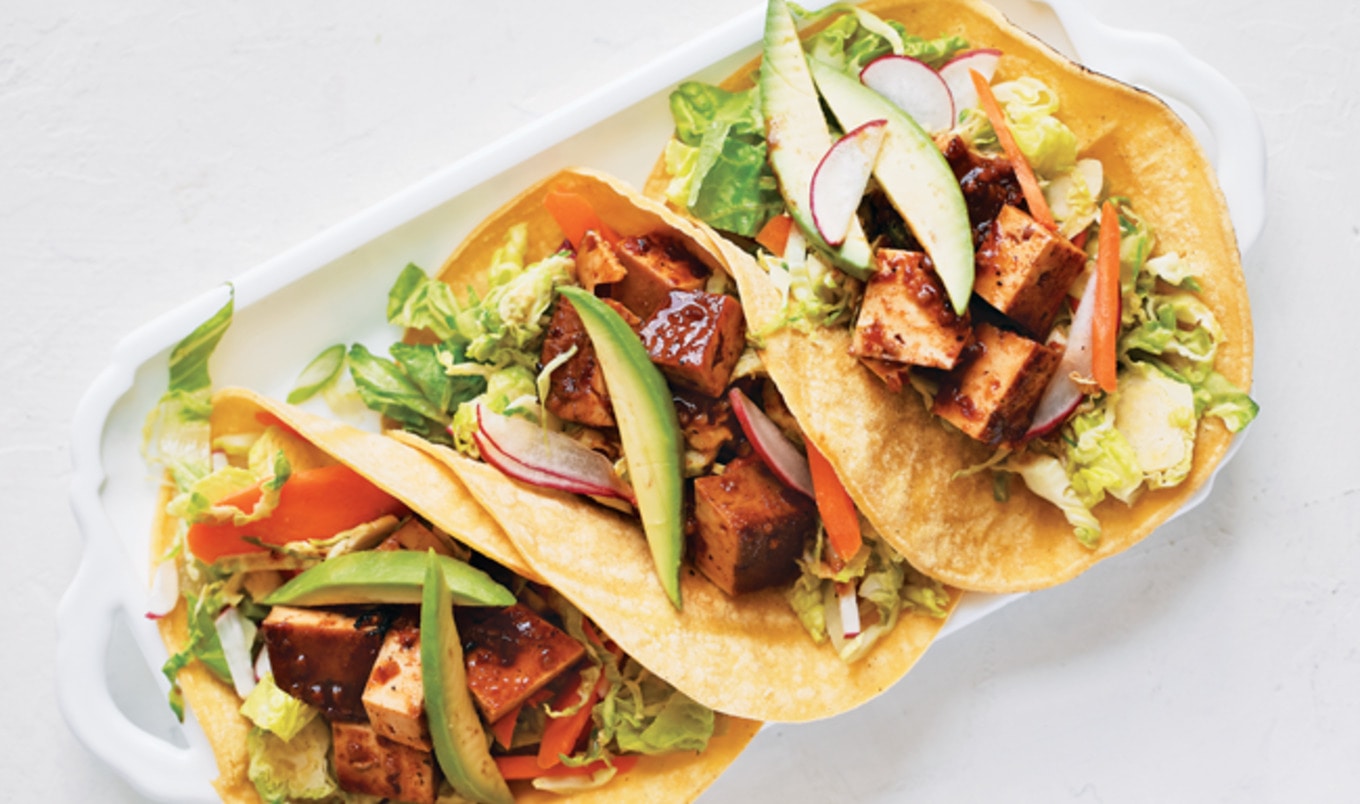 Brussels sprouts, sautéed tofu, avocado, and fresh vegetables make for one mean, green taco.
May 23, 2017
Any night is taco night when you have these wholesome, delicious handheld meals. Made with garlicky Brussels sprouts, crisp-yet-tender tofu, buttery avocado, and fresh, crunchy vegetables, these tacos—from Cassandra Bodzak's Eat With Intention—are a marvel in both textures and flavors. So what are you waiting for—pass the hot sauce!
What you need:
½ cup chopped Brussels sprouts
1 tablespoon Dijon mustard
½ teaspoon garlic powder
½ teaspoon onion powder
Salt and ground black pepper, to taste
Coconut oil cooking spray, for greasing
5 ¼-inch-thick slices tempeh or extra-firm tofu, cut into bite-sized pieces
3 tablespoons barbecue sauce or garlic teriyaki sauce
4 flour tortillas
2 romaine lettuce leaves, shredded
1 medium carrot, shredded
1 avocado, halved, pitted, and sliced
1 shallot, thinly sliced
What you do:
1. In a medium bowl, combine Brussels sprouts, Dijon mustard, garlic powder, onion powder, salt, and pepper and mix well until thoroughly coated.
2. Spray cooking spray on a medium frying pan and gently sauté Brussels sprouts for 5 to 7 minutes, or until lightly browned. Set aside.
3. Heat tempeh or tofu in a nonstick frying pan over medium heat and add barbecue or garlic teriyaki sauce. Stir for 5 minutes, or until heated through and slightly crisp.
4. Place a tortilla in a dry frying pan over medium heat and cook for about 45 seconds on each side, until warm and lightly brown. Repeat with remaining tortillas.
5. Place lettuce in the center of a tortilla, and then add carrots, Brussels sprouts, and tempeh or tofu. Top with slices of avocado and shallots, and then wrap closed.