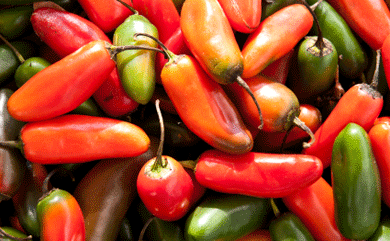 White beans combine with poblano and jalapeño peppers for a delightful, just-spicy-enough chili.
February 19, 2012
Serving this tasty, gluten-free chili over baked sweet potatoes adds complementary, sweet flavor to the dish.
Serves 6
What you need:
1 head garlic, divided
2 tablespoons olive oil, divided
8 medium tomatillos, skins removed, cut into quarters
1 head cauliflower, cut into florets
1 teaspoon salt, divided
3 poblano peppers, de-stemmed and cut into strips
2 jalapeño peppers, de-stemmed and cut into strips
2 yellow onions, cut into 1/4-inch dice
1/2 teaspoon ground cumin
1/2 teaspoon ground oregano
1/4 teaspoon ground thyme
Zest of one lime
1/4 cup tequila
1 15-ounce can cannellini beans, drained and rinsed
6 baked sweet potatoes
1/2 bunch fresh cilantro, for garnish
What you do:
Preheat oven to 425 degrees. Chop top off head of garlic, coat cut side with 1/2 teaspoon olive oil, and tightly wrap in aluminum foil. Bake garlic for one hour. Set aside.
Onto a baking sheet, place tomatillo and cauliflower and lightly coat in 1 tablespoon olive oil. Sprinkle with 1/2 teaspoon salt. Bake for 35 to 45 minutes, or until cauliflower is golden brown and tomatillos are cooked down into a thick sauce. Set aside.
On a baking sheet, toss poblano and jalapeño peppers with 1 teaspoon olive oil and 1/4 teaspoon salt and roast for 30 minutes. Set aside.
While peppers are roasting, in a large saucepan over medium heat, sauté onions in 1-1/2 teaspoons olive oil until softened, approximately 3 to 5 minutes. Add cumin, oregano, thyme, and 1/2 teaspoon salt and stir to combine. Add 3 cloves of roasted garlic, tomatillos, and cauliflower.
Dice roasted peppers into 1/2-inch pieces and add to pot. Add lime zest, tequila, and beans and cook for 5 to 10 minutes or until beans are heated through. Pour over baked sweet potatoes, garnish with cilantro, and serve immediately.