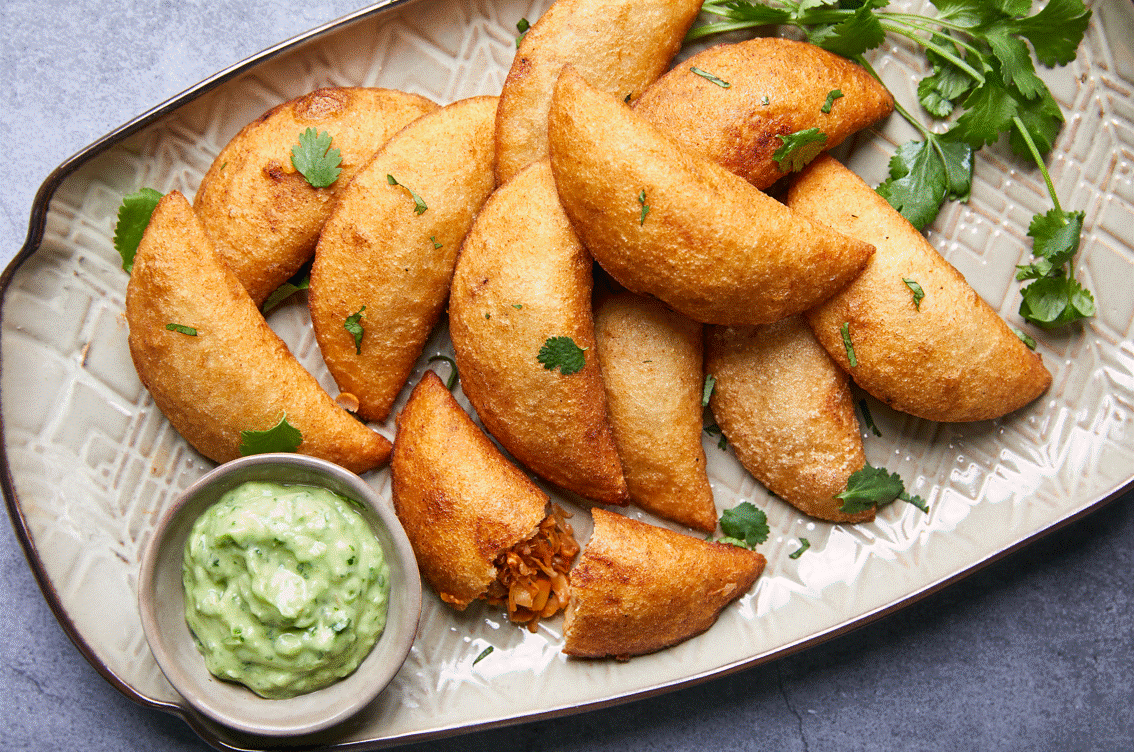 A combination of textures—meaty and soft on the inside and crispy on the outside—make these empanaditas a crowd pleaser.
January 30, 2023
These little pockets of goodness from The Low-Carbon Cookbook & Action Plan book are great for parties. The savory filling has a hint of spice that perfectly complements the dough's sweetness.
What you need:
1 tablespoon olive oil
¼ cup minced shallots
2 large garlic cloves, minced
1 cup finely shredded green jackfruit
½ teaspoon smoked paprika
½ teaspoon ground annatto
¼ teaspoon ground cumin
1 teaspoon coarse salt, divided
¼ teaspoon ground black pepper
1¼ cups water, plus 2 tablespoons, divided
1 tablespoon coconut sugar
1 cup plus 2 tablespoons white corn flour
1 to 1½ cups avocado oil
What you do:
In a medium skillet over medium heat, warm olive oil. Add shallots and sauté for 1 minute. Add garlic and sauté for 30 seconds. Stir in jackfruit. Add paprika, annatto, cumin, ½ teaspoon of salt, and pepper. Cook for 2 minutes, stirring often.
Add 1 to 2 tablespoons of water to deglaze bottom of pan. Turn heat off and cover skillet and allow to rest for at least 5 minutes.
In a large bowl, combine coconut sugar, remaining 1¼ cups of water, and remaining ½ teaspoon of salt. Slowly add corn flour, mixing with a spoon to prevent lumps. Allow to hydrate for 5 minutes. With damp hands, divide dough into 12 evenly sized balls.
Sprinkle a few drops of water on a 6 × 6-inch piece of plastic wrap. Place a ball of dough in center of plastic, and with damp hands, flatten it into a 4-inch circle.
Place 1 tablespoon of jackfruit mixture in upper third of circle. Grab ends of plastic square and fold, using fingers to lightly press dough and close circle into a half-moon shape. Repeat process with remaining balls and place on parchment paper.
In a small saucepan on the stovetop over medium-high heat, warm avocado oil until it reaches 365 degrees. Working in batches, place 2 to 3 empanaditas in saucepan and fry until crispy and golden brown, about 2½ minutes.
Transfer empanaditas to a platter. Serve immediately.
Here at VegNews, we live and breathe the vegan lifestyle, and only recommend products we feel make our lives amazing. Occasionally, articles may include shopping links where we might earn a small commission. In no way does this effect the editorial integrity of VegNews.