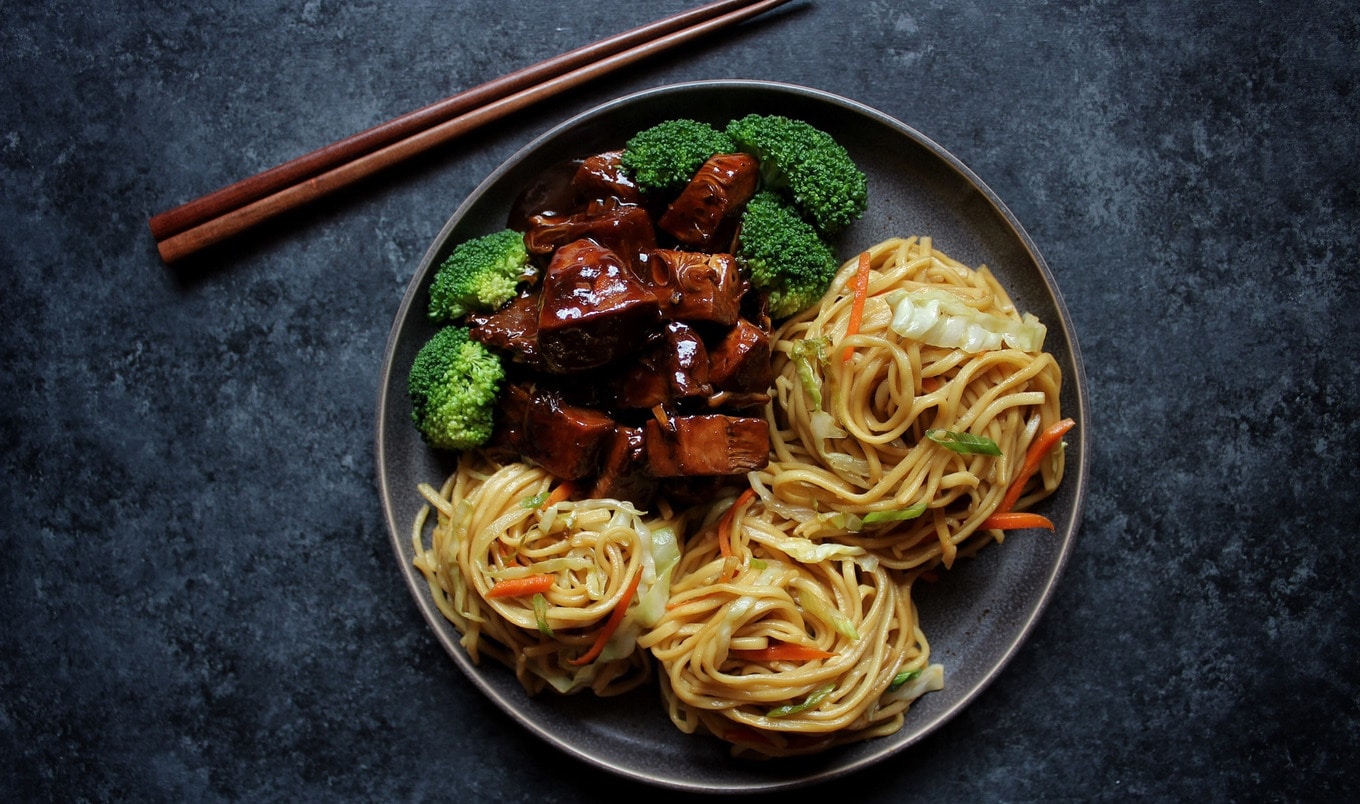 No need to order in—enjoy Chinese-American takeout at home.
March 6, 2023
For a taste of Chinese takeout in your own home, look no further than these vegan takes on the American-Chinese classics Bourbon Chicken and Vegetable Chow Mein by No Eggs or Ham. Seared jackfruit in a thick, sweet and savory (bourbon-free) sauce takes the place of chicken while egg-free wheat noodles replace the standard egg noodles.
What you need:
For the bourbon jackfruit chicken:
⅓ cup tamari
⅓ cup vegetable broth
⅓ cup brown sugar
3 tablespoons ketchup
1 tablespoon rice vinegar
1 large garlic clove, minced
¼ teaspoon chili paste
⅛ teaspoon dried ground ginger
2 tablespoons water
1 tablespoon toasted sesame oil
2 (14-ounce) cans of young jackfruit, drained
¼ teaspoon black pepper
1 tablespoon water
½ tablespoon tapioca starch
For the chow mein:
8 ounces egg-free chow mein noodles
3 tablespoons tamari
2 tablespoons vegetable broth
2 tablespoons brown sugar
½ teaspoon tapioca starch
1½ tablespoons toasted sesame oil
½ cup green cabbage, thinly shredded
1 small carrot, cut into matchstick pieces
2 scallions, sliced
⅛ teaspoon salt
1 large garlic clove, minced
What you do:
1. For the jackfruit, into a blender or food processor, add tamari, broth, sugar, ketchup, vinegar, garlic, chili, ginger, and 2 tablespoons of water. Blend until smooth and set aside.
2. Over medium-high heat, warm a large sauté pan. Once hot, add oil, jackfruit, black pepper, and stir to combine. Allow to cook, without stirring, for 3 minutes until browned on one side. Stir and allow to brown on other side. Add in tamari mixture and bring to a boil, stirring often. Reduce heat to medium-low and simmer uncovered for 15 minutes, stirring occasionally.
3. In a small bowl, whisk together water and starch until smooth. Stir starch mixture into jackfruit and cook for two minutes until sauce has thickened. Cover and keep on low until chow mein is finished, adding a splash of water if sauce becomes too thick.
4. For the chow mien, cook noodles according to package directions. Drain, rinse with cold water, and set aside.
5. In a blender or food processor, add tamari, broth, sugar, and starch. Set aside.
6. Over high heat, warm a large wok or high-walled sauté pan. Once hot, add oil, cabbage, carrot, scallions, and salt, and cook for 3 minutes, stirring frequently. Stir in garlic and cook for another 30 seconds. Add in cooked noodles and tamari mixture and cook for 2 to 3 minutes, until noodles and sauce are heated throughout. Serve with bourbon jackfruit.
Here at VegNews, we live and breathe the vegan lifestyle, and only recommend products we feel make our lives amazing. Occasionally, articles may include shopping links where we might earn a small commission. In no way does this effect the editorial integrity of VegNews.