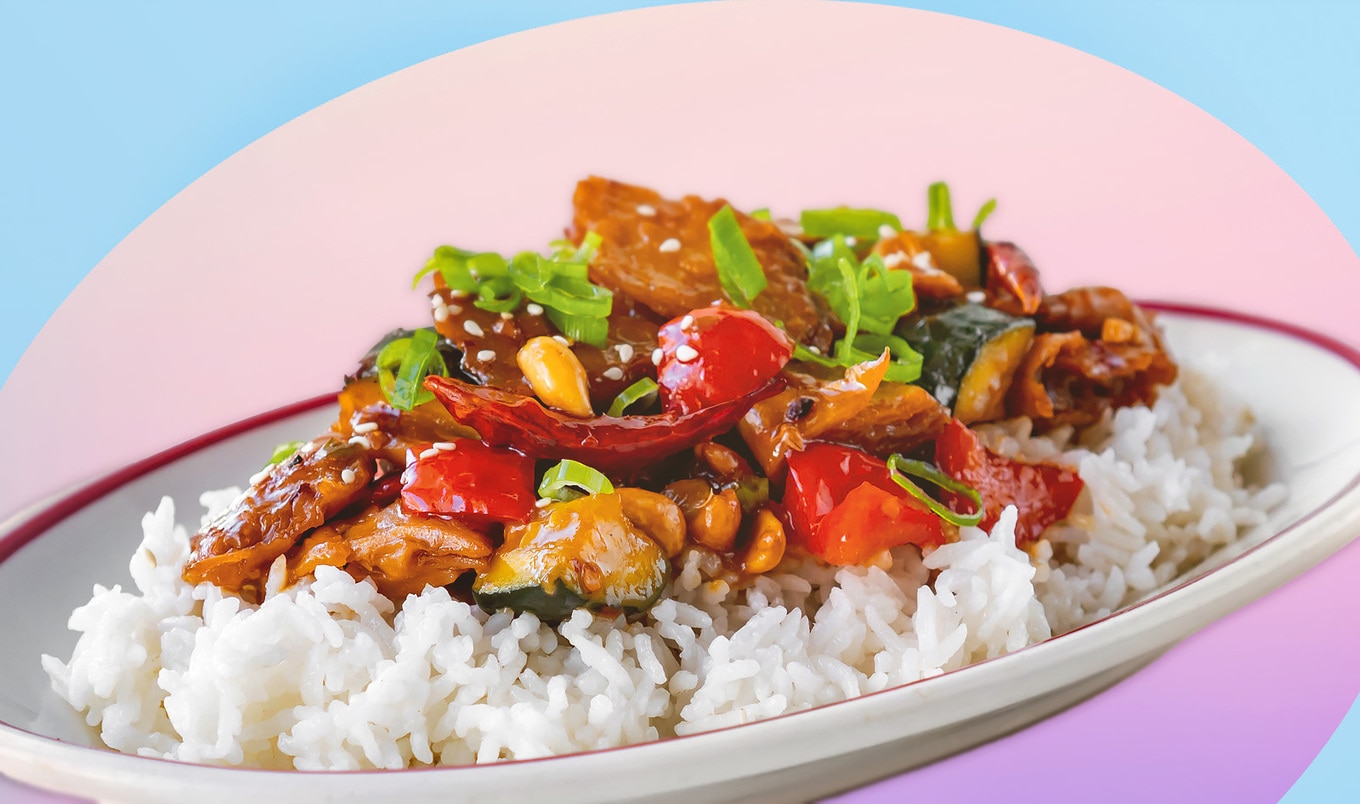 This more aromatic, fresh-and-flavorful take on the classic Chinese take-out dish packs in the heat.
November 13, 2023
There's more to Panda Express than its vegan orange chicken (RIP). Enter this veganized version of the Kung Pao chicken from the Vegan Fast Food cookbook.
What you need:
For the chicken:
1 (1-pound) package vegan chicken, chopped
3 tablespoons soy sauce
2 teaspoons cornstarch
1 tablespoon Shaoxing cooking wine
For the sauce:
¼ cup vegan chicken stock
1 tablespoon rice vinegar
1 tablespoon Shaoxing cooking wine
2 tablespoons soy sauce
1 tablespoon vegan oyster sauce
1 tablespoon black vinegar
2 tablespoons sugar
2 teaspoons cornstarch
For the stir-fry:
2 tablespoons grapeseed oil
1 medium-size zucchini, large diced
1 medium-size red bell pepper, large diced
3 green onions, sliced, plus more for topping
6 dried chiles (Tien Tsin peppers or chile de arbol)
1 teaspoon minced fresh ginger
5 cloves garlic, minced
½ teaspoon ground sichuan pepper
⅓ cup lightly salted roasted peanuts
Cooked rice or noodles, for assembly
Sesame seeds, for topping
What you do:
For the chicken, in a large bowl, add chicken, soy sauce, cornstarch, and wine, toss well and marinate for 20 to 30 minutes.
For the sauce, in a small bowl, combine stock, rice vinegar, wine, soy sauce, oyster sauce, black vinegar, and sugar. Set aside.
For the stir-fry, in a wok over medium-high heat, warm oil. Once hot, add chicken, in batches if necessary, and stir-fry until lightly golden brown. Remove from pan and set aside. Add zucchini and bell pepper and stir-fry for 1 to 2 minutes, or until it begins to soften. Add green onions and dried chiles and stir-fry for 1 minute, then add ginger, garlic, sichuan pepper, and peanuts. Stir-fry for 1 minute making sure not to burn garlic. Add chicken back in.
Quickly add 1 teaspoon of cornstarch to stir-fry sauce and whisk. Add sauce to pan and stir-fry, ensuring sauce coats everything. Cook for 1 minute, add 1 more teaspoon of cornstarch to thicken sauce even more. Remove from heat.
Over 4 serving dishes with rice or noodles, dish out stir-fry. Garnish with green onions and sesame seeds and serve.
For more vegan copycat recipes, read: