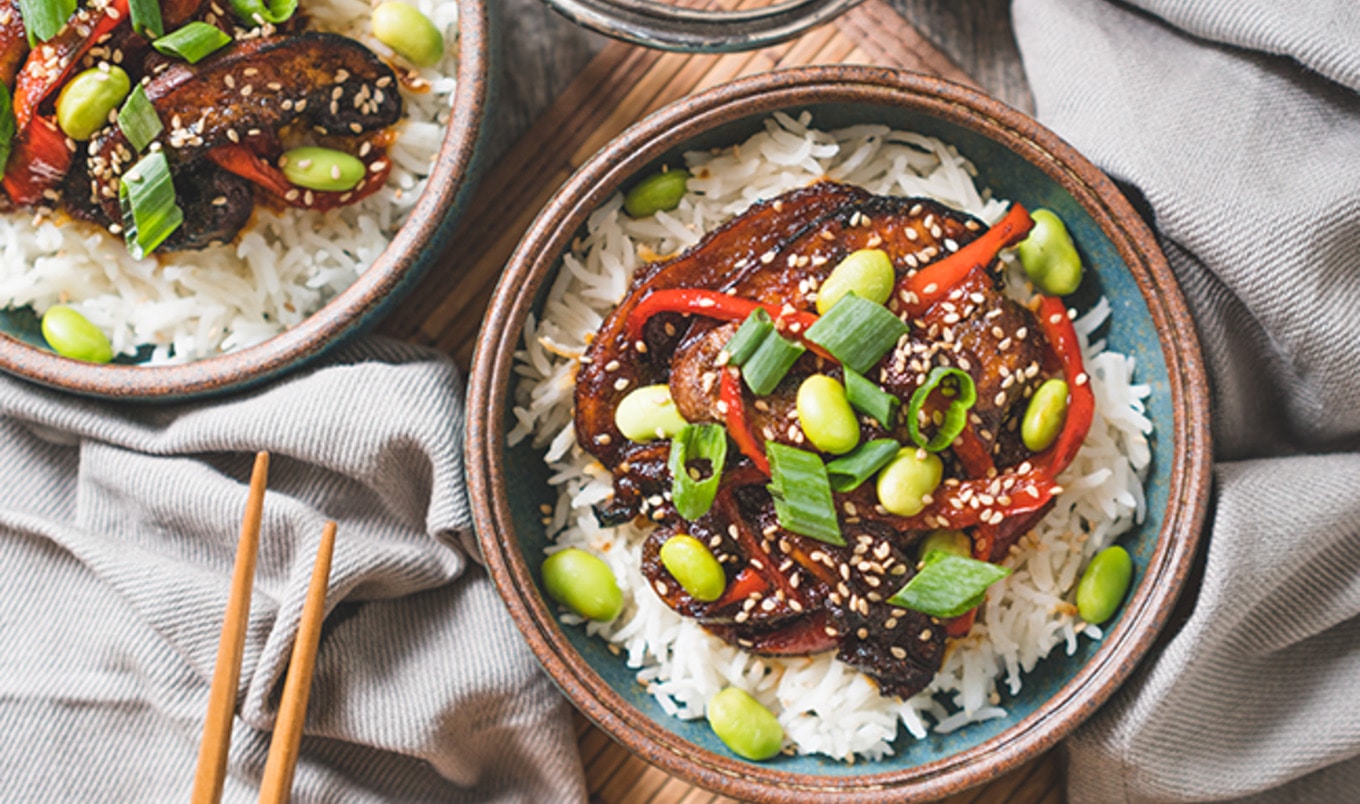 Stir-fried portabello mushrooms in a savory sauce with a punch of ginger will rival your favorite Chinese takeout comfort food.
October 8, 2023
You know who likes Chinese food? Everyone, which is why we're sharing the best veganized ginger "beef" recipe in existence. This flavorful (and spicy!) stir-fry is incredibly easy to make and is ready in just 30 minutes, helping you get dinner on the table quickly. Enjoy this saucy dish over rice with sesame seeds and plenty of scallions.
What you need:
For the ginger sauce:
2 tablespoons sesame oil
½ cup fresh ginger, minced
5 cloves garlic, minced
4 tablespoons rice wine vinegar
3 tablespoons tamari
3 tablespoons maple syrup
1 tablespoon Sriracha
2 tablespoons sesame oil
For the stir-fry:
2 cups uncooked white rice
2 tablespoons canola oil
4 portabello mushrooms, sliced
2 tablespoons cornstarch
2 red peppers, sliced
1 cup edamame beans, steamed
2 tablespoons sesame seeds
½ cup green onions, sliced
What you do:
1. For the sauce, into a saucepan over medium heat, add sesame oil. Add garlic and ginger, and sauté 5 to 7 minutes, or until tender. Add vinegar, tamari, syrup, and Sriracha, and bring to a simmer. Transfer to blender, and blend sauce until smooth.
2. For the stir-fry, cook the rice according to the instructions on the package.
3. Into a skillet, heat oil over medium-high heat. Toss portabello slices in cornstarch, shake to remove any excess, and transfer to the skillet. Fry mushrooms 3 to 5 minutes on each side, or until crispy.
4. Into a saucepan, add ginger sauce and peppers, and bring to a simmer. Once mushrooms are crispy, add to pan with peppers and sauce, and stir to combine.
5. Serve over rice with steamed edamame. Add sesame seeds and green onion to garnish.
For more recipes like this, check out: