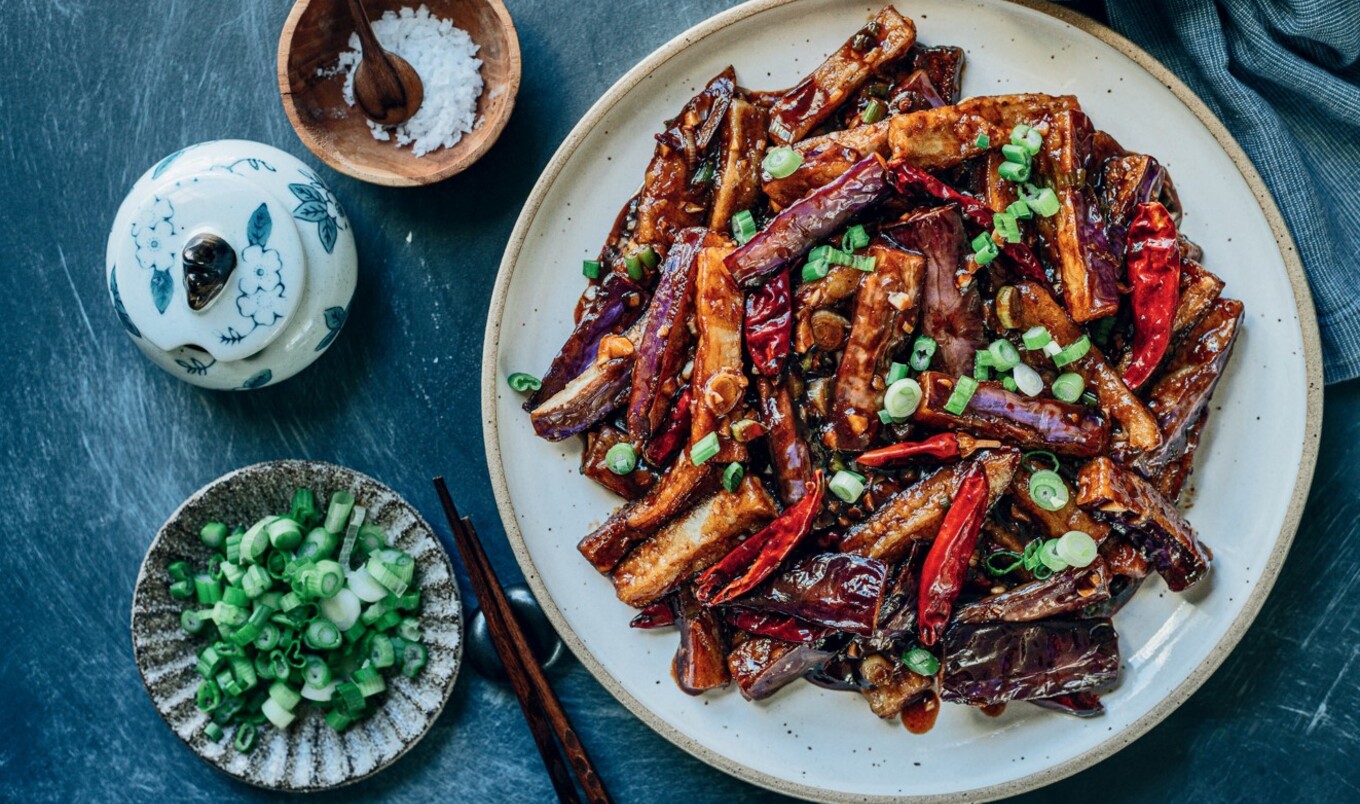 Crispy eggplant is covered in a sticky, sweet, and slightly spicy sauce in this signature Sichuan dish that will turn eggplant haters into eggplant lovers.
May 9, 2023
Fiery Sichuan peppercorns and milder Chinese chili peppers mingle with sizzling ginger and garlic in this recipe from the Chinese Homestyle cookbook, for a deliciously simple and irresistible vegetable-forward dish.
What you need:
For the eggplant:
2 or 3 Chinese eggplants (1 pound total), stems removed, cut into 2-inch long ¼-inch thick sticks
1 teaspoon salt
For the sauce:
3 tablespoons Chinkiang vinegar
1 tablespoon light soy sauce
1 tablespoon dark soy sauce
1 tablespoon Shaoxing wine
1 tablespoon doubanjiang
2 tablespoons sugar
1 tablespoon cornstarch
¼ teaspoon salt
For the stir-fry:
¼ cup cornstarch
⅓ cup peanut oil
2 teaspoons whole Sichuan peppercorns
4 scallions, chopped
3 tablespoons minced garlic
1 tablespoon minced ginger
8 to 10 dried Chinese chili peppers
What you do:
For the eggplant, in a large bowl, place eggplant and cover with water. Add salt and mix well. Place a pot lid on top of eggplant to keep submerged for 15 minutes. Strain and pat dry.
For the sauce, in a medium bowl, combine vinegar, light and dark soy sauces, wine, doubanjiang, sugar, 1 tablespoon cornstarch, and ½ cup of water. Stir until cornstarch is dissolved.
For the stir-fry, sprinkle eggplant with cornstarch and toss until eggplant is evenly coated.
In a large skillet over medium-high heat, warm oil. Add eggplant in an even layer without overlapping, cooking in batches if needed. Fry eggplant pieces until most surfaces are charred and eggplant turns soft, 5 to 7 minutes. Transfer to a large plate. If skillet starts to smoke, reduce heat to medium.
Remove pan from heat. Pour all but 1 tablespoon of oil from pan into a heatproof bowl. To pan, add Sichuan peppercorns. Cook over medium heat until dark brown. Remove with a spatula and discard. Add scallions, garlic, ginger, and chili peppers, stirring a few times to release fragrance.
Stir sauce again to make sure cornstarch is dissolved, then pour into pan. Cook and stir until sauce thickens. Add eggplant and quickly stir to combine.
Immediately transfer to a large serving plate and serve hot.
Here at VegNews, we live and breathe the vegan lifestyle, and only recommend products we feel make our lives amazing. Occasionally, articles may include shopping links where we might earn a small commission. In no way does this effect the editorial integrity of VegNews.