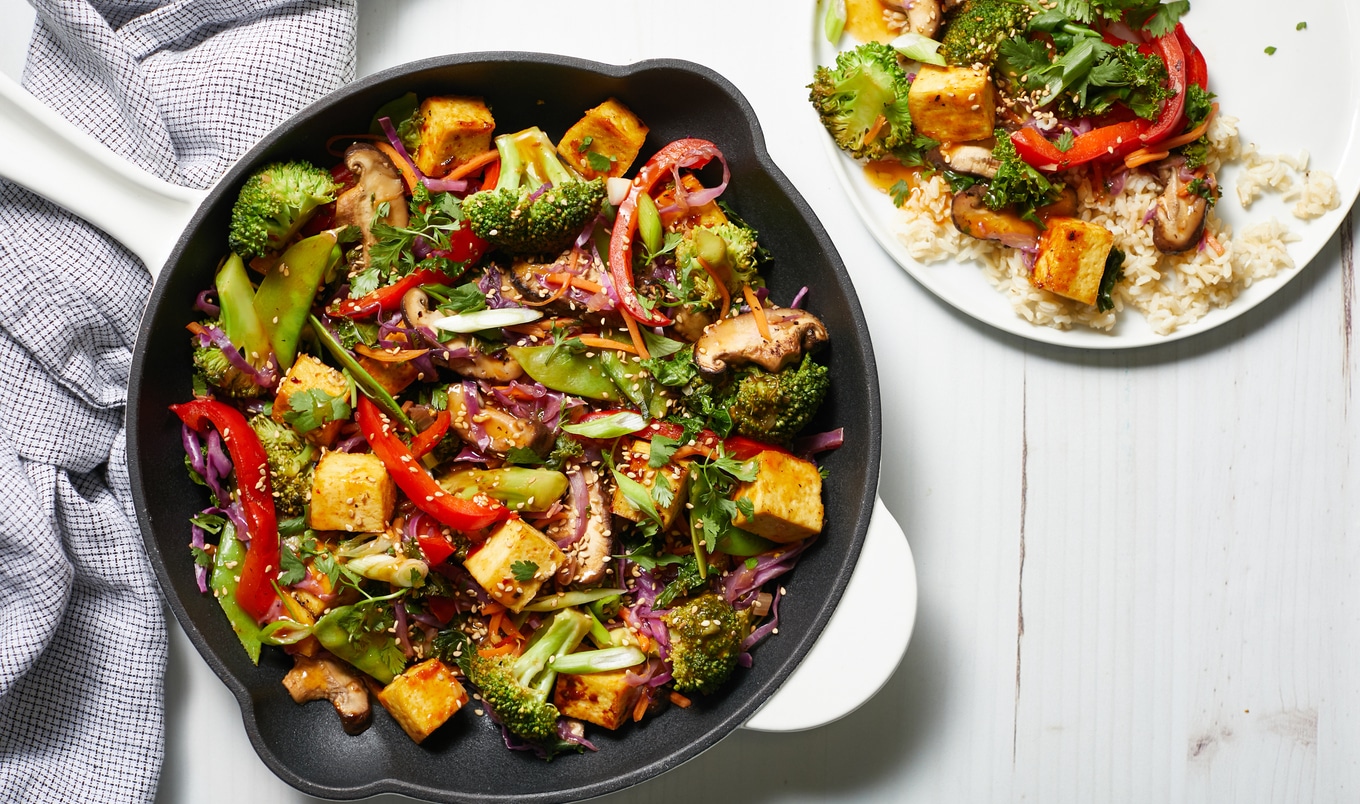 Loaded with vegetables, this sweet and spicy plant-based stir-fry is a great staple weeknight meal.
January 7, 2023
Looking for an easy meal that will pack in a variety of vegetables? Look no further. This flavorful, oil-free stir-fry from The Choose You Now Diet cookbook combines a rainbow of vegetables with a simple sauce for a great go-to meal.
What you need:
1 (12-ounce) package extra-firm tofu, cubed
For the sauce:
1 cup low-sodium vegetable broth
2 tablespoons rice wine vinegar
2 tablespoons sweet chili sauce
1 tablespoon tamari
1-2 tablespoons sriracha, to taste
1½ teaspoon cornstarch
For the stir-fry:
1 shallot, chopped
2 cloves garlic, minced
2 teaspoons minced fresh ginger
1 (8-ounce) package shiitake mushrooms, sliced
½ cup shredded carrots
1 red bell pepper, sliced
½ cup snow peas, sliced
½ cup shredded purple cabbage
2 cups broccoli florets
2 cups chopped kale
1 baby bok choy, sliced
Cooked cauliflower rice or brown rice, to serve
1 tablespoons sesame seeds
¼ cup sliced scallions
¼ cup chopped fresh cilantro
What you do:
Preheat oven to 400 degrees. Line a baking sheet with parchment paper and add tofu. Bake for 20 minutes, flip, and bake for 10 to 15 minutes more until browned. Set aside.
For the sauce, in a small saucepan over medium-high heat, combine broth, rice wine vinegar, sweet chili sauce, tamari, and sriracha. Bring to a boil. Once boiling, reduce heat, and stir in cornstarch. Cook, stirring constantly, for 5 minutes or until thickened. Remove from heat.
For the stir-fry, in a large wok or skillet over medium-high heat, sauté shallot with a little bit of water, just enough to avoid burning, for 3 minutes until browned. Add garlic and ginger, and stir for 1 minute, adding water as needed to avoid burning. Add mushrooms, carrots, and bell pepper. Cook for 5 minutes until mushrooms release liquid. Add snow peas, cabbage, broccoli, kale, and bok choy. Cook for 3 to 4 minutes until vegetables soften. Add tofu and sauce, and stir to combine.
Serve over cauliflower rice or brown rice, and top with sesame seeds, scallions, and cilantro.