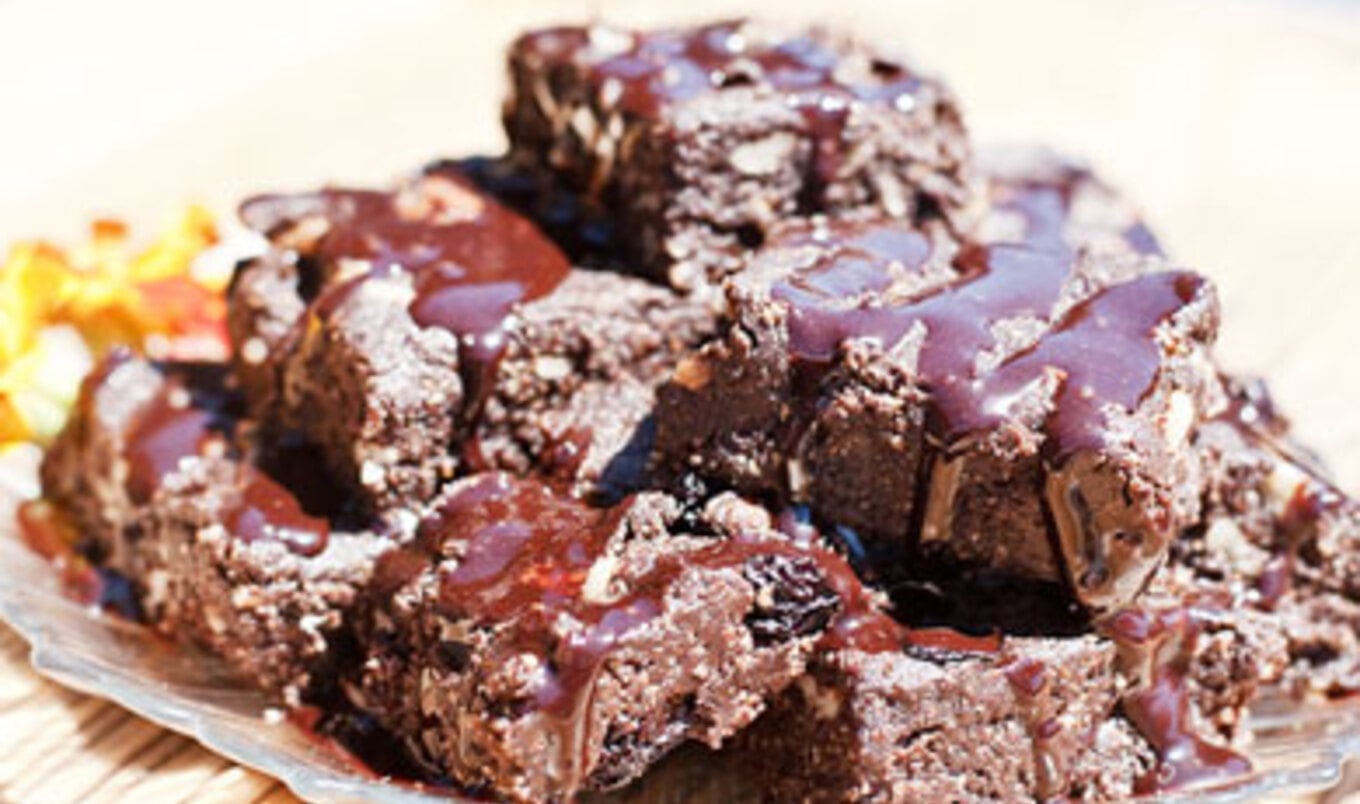 Jason's no-fail, nutrient-rich recipe for raw chocolate brownies is the perfect way to jumpstart healthy habits in the new year.
January 4, 2013
This weekend, Jason Wrobel is making history by debuting the first-ever vegan cooking show on the Cooking Channel. Here, in an exclusive recipe for VegNews readers, he shares a decadent, yet healthy, brownie recipe—one that's packed with superfoods like cacao, maca, goji berries, and hemp seeds.
Makes 10 bars
What you need:
:
4-1/2 cups pecans
3/4 cup pitted dates, packed
3/4 cup raw cacao powder
1/4 teaspoon ground cinnamon
1 teaspoon maca powder
1 teaspoon ground vanilla powder
1/2 teaspoon salt
1/4 teaspoon cayenne pepper (optional)
1/4 cup dried black cherries, goji berries, golden berries, or mulberries
1/4 cup hemp seeds, reserved
What you do:
:
Grease an 8 x 8-inch glass baking dish with coconut oil. In a food processor, process pecans until slightly chunky and mealy (do not overprocess into pecan butter). Place ½ cup of the pecans in a separate bowl and set aside.
While food processor is running, slowly add in dates, rocking base of the food processor to combine evenly.
Add cacao, cinnamon, maca, vanilla, salt, and cayenne and process again until well combined. Fold in dried fruit, hemp seeds, and reserved pecans.
Spread mixture into baking dish, pressing down with your palms. Refrigerate for 30 minutes to set, and then cut into squares. Serve with non-dairy ice cream or vegan chocolate sauce.
Chef's Tip: Why Cacao?
Cacao powder has a deep, rich flavor that works well in hot chocolate, ice cream, and all types of desserts. It's loaded with magnesium and phenylethylamine, which are great for your heart, brain, and libido.