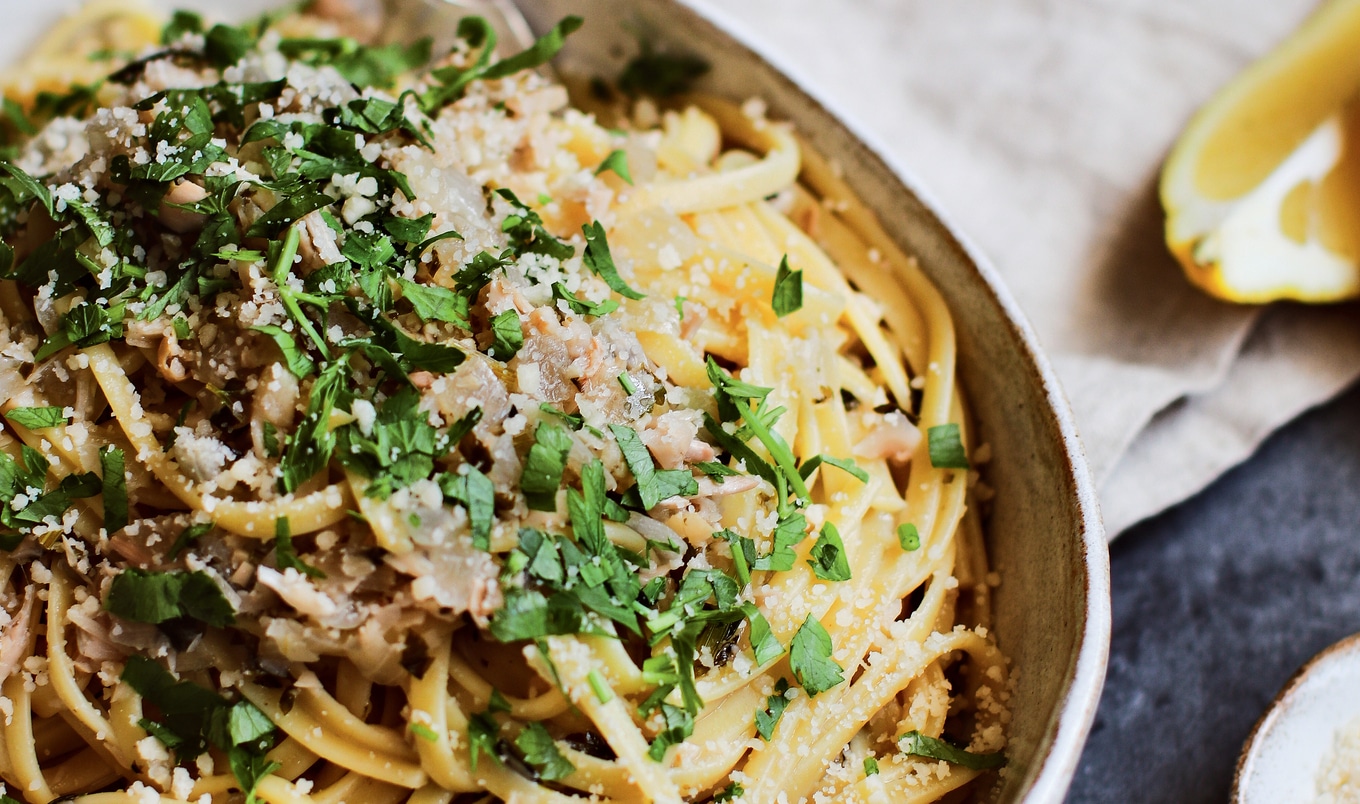 Jackfruit offers the meaty stand-in for clams in this tangy, light, and buttery classic pasta recipe.
December 19, 2022
This dish is popular among the Italian restaurants in Buffalo, NY and is known for its briny, lemony white wine sauce. When whipping up a plant-based dinner, like in this recipe from the Vegan Pasta Night cookbook, clams are easily replaced with jackfruit or hearts of palm, both of which offer a similar flavor and texture since they're both generally brined.
What you need:
1 pound linguine
¼ cup olive oil
¼ cup vegan butter
2 tablespoons minced garlic
½ cup finely diced onion
2 cups dry white wine
2 teaspoons vegan Worcestershire sauce
2 cans brined jackfruit, rinsed and drained, seeds removed
½ sheet nori
Juice of 1 lemon
¼ cup finely chopped fresh parsley, plus more for garnish
1 cup reserved pasta water
¼ teaspoon salt
Grated vegan parmesan, for garnish
What you do:
In a large pot of boiling salted water, cook linguine just until al dente and then drain, reserving 1 cup of pasta water.
In large skillet over medium heat, warm oil and butter. Sauté garlic and onion until softened, about 2 minutes. Add wine and Worcestershire sauce. Bring to a simmer and then reduce heat and cook on low for about 10 minutes.
To a food processor, add jackfruit and nori. Pulse until well mixed and consistency is minced.
To garlic-wine mixture, add linguine, jackfruit, lemon juice, parsley, reserved pasta water, and salt. Simmer for 5 more minutes until sauce is mostly absorbed.
Divide into individual serving bowls, top with parmesan and fresh parsley, and serve.