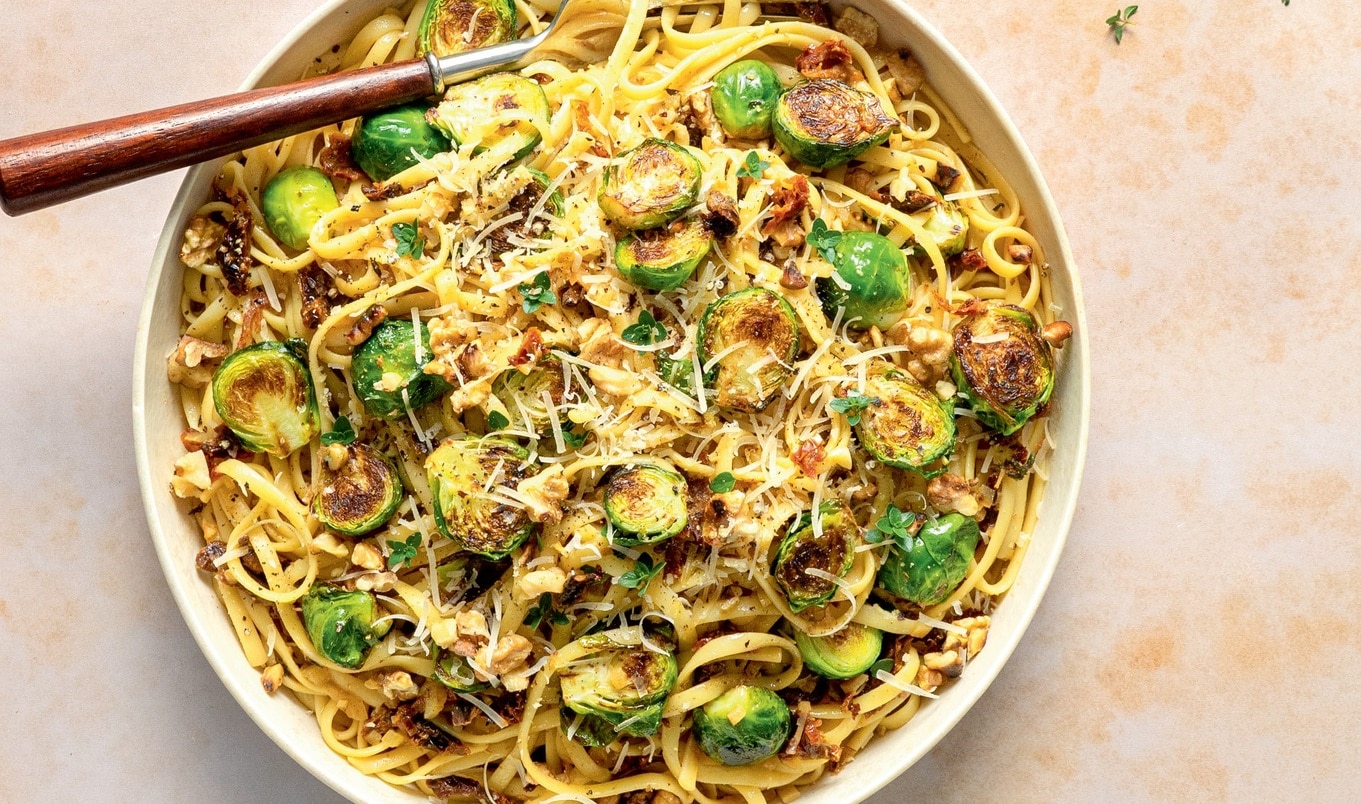 The sauce on this pasta is light and simple, using shallots, white wine, lemon juice, and the secret ingredient … pasta water.
September 10, 2023
A cast-iron pan is best for preparing this dish from the Hot For Food All Day cookbook to get a beautiful char on the Brussels sprouts that other pans just won't accomplish. Pair with crusty bread and a chilled glass of vegan-friendly white wine.
What you need:
1 (14-ounce) package linguine
½ cup raw walnuts
3 tablespoons olive oil, divided
1 pound Brussels sprouts, trimmed and halved
½ cup sundried tomatoes (not oil-packed), thinly sliced
¼ cup finely chopped shallot (about 1 shallot)
2 tablespoons minced garlic
2 teaspoons fresh thyme
⅓ cup dry white wine
2 tablespoons nutritional yeast
2 tablespoons lemon juice
2 teaspoons lemon zest
½ teaspoon salt
¼ teaspoon pepper
½ cup shredded vegan parmesan, for garnish
What you do:
Bring a large pot of salted water to a boil. Cook linguine according to package directions. Reserve ¼ cup of pasta cooking water and set aside. Drain pasta, but do not rinse.
While pasta is cooking, heat a large cast-iron pan over medium-high heat and toast walnuts for 4 to 5 minutes, until fragrant. Remove walnuts from pan and remove pan from heat to cool. Coarsely chop walnuts and set aside.
In the same pan over medium heat, warm 2 tablespoons olive oil. Add Brussels sprouts cut-side-down and spread out into an even layer. Cook for 4 minutes undisturbed to allow sprouts to brown. Toss and cook for another 3 minutes. Transfer Brussels sprouts to a dish and set aside.
Lower heat to medium-low. If pan is very dry, add another drizzle of olive oil. Sauté sundried tomatoes, shallot, garlic, and thyme. Stir to combine and cook for 4 minutes, tossing occasionally and adjusting heat as necessary so garlic doesn't burn.
Add wine and simmer for another 4 minutes, tossing occasionally. Add nutritional yeast, lemon juice, lemon zest, and remaining 1 tablespoon olive oil. Toss to combine and cook for another 3 minutes.
Add linguine and reserved pasta water and toss until combined. Toss walnuts and Brussels sprouts back in along with salt and black pepper. Serve immediately, garnished with vegan parmesan.
For more recipes like this, check out: