Our ancestors preserved meat for obvious reasons—food was scarce, winters were long, and traveling required portable food that was compact and long-lasting. For these reasons, jerky was a staple long before paleo dieters made it the snack trend it is today. However, it also creates a livestock industry that's bad for our health, the planet, and the animals.
Why choose plant-based jerky?
Animal-based jerky products get their flavor—smoky, spicy, sweet—from plants, so why not go straight to the (cruelty-free) source for a jerky that ticks all the boxes? While consumers might think of animals as the only "meaty" option for jerky-making, the terrestrial and marine plant kingdoms offer much more variety, flavor, and textures because, of course, anything animal-based foods can do, plants can do better. And for the vegan jerky category, the proof is in the chew. With this in mind, we're highlighting 18 innovative vegan jerkies that could upend traditional animal-based jerky sales.
It's Jerky Y'all
1 It's Jerky Y'all
Inspired by local Texan flavors and ingredients, this jerky is made using organic soybeans and also features chipotle peppers and the region's famous cactus pears. Flavors include Black Pepper & Sea Salt, Prickly Pear Teriyaki, and Prickly Pear Chipotle. The best part? Portions from each bag sold benefit Rowdy Girl Sanctuary, a cattle ranch turned vegan farm animal sanctuary.
Learn More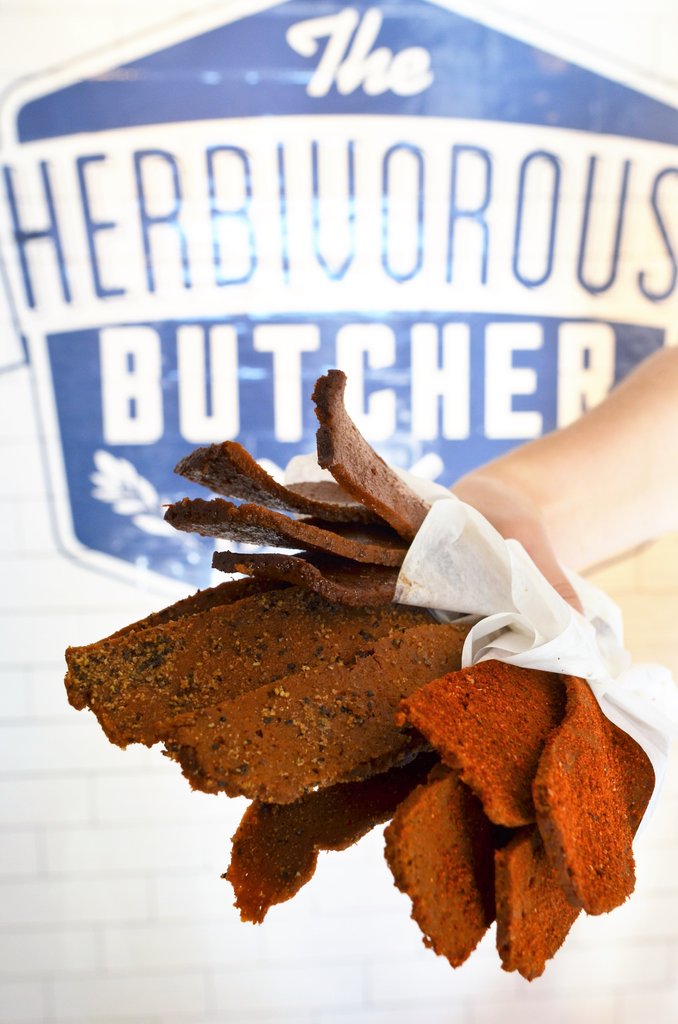 The Herbivorous Butcher
2 The Herbivorous Butcher
The Herbivorous Butcher's chewy and flavorful jerky is seitan-based and comes in three flavors: Teriyaki Jerky, Sizzlin' Cajun Jerky, and Salt 'n Peppa Jerky. "Frankly," Kale Walch, The Herbivorous Butcher co-founder says, "I think ours is more flavorful and the texture is spot on. Some people may not like that ours is a more realistic texture, but different strokes for different folks."
Learn more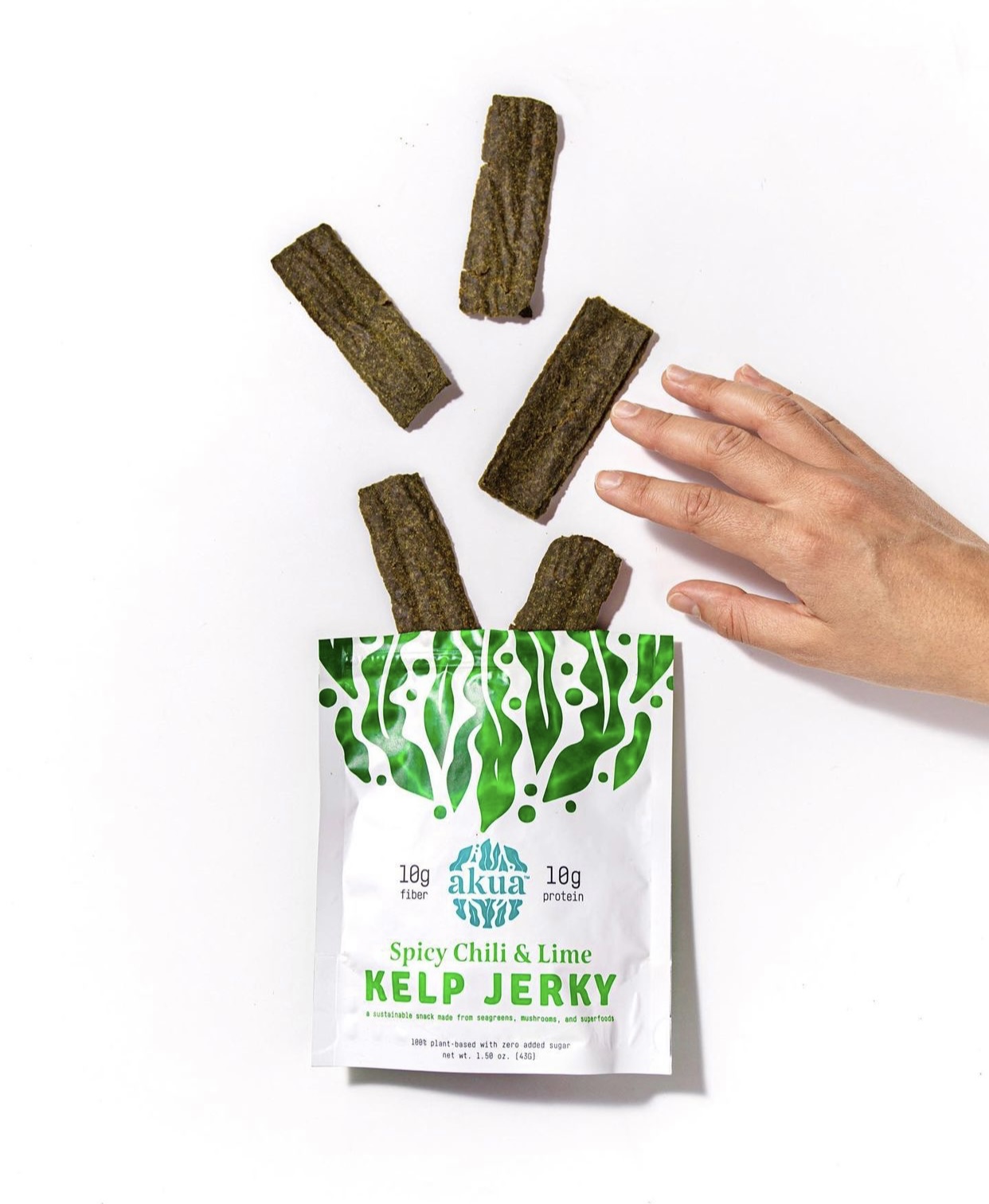 Akua
3 Akua
This jerky is made from mushrooms and kelp, making it high in fiber and protein, while also low in calories, sugar, and fat. The world's first carbon-negative snack, you can rest easy as you munch on this innovative, protein-packed kelp jerky.
Learn more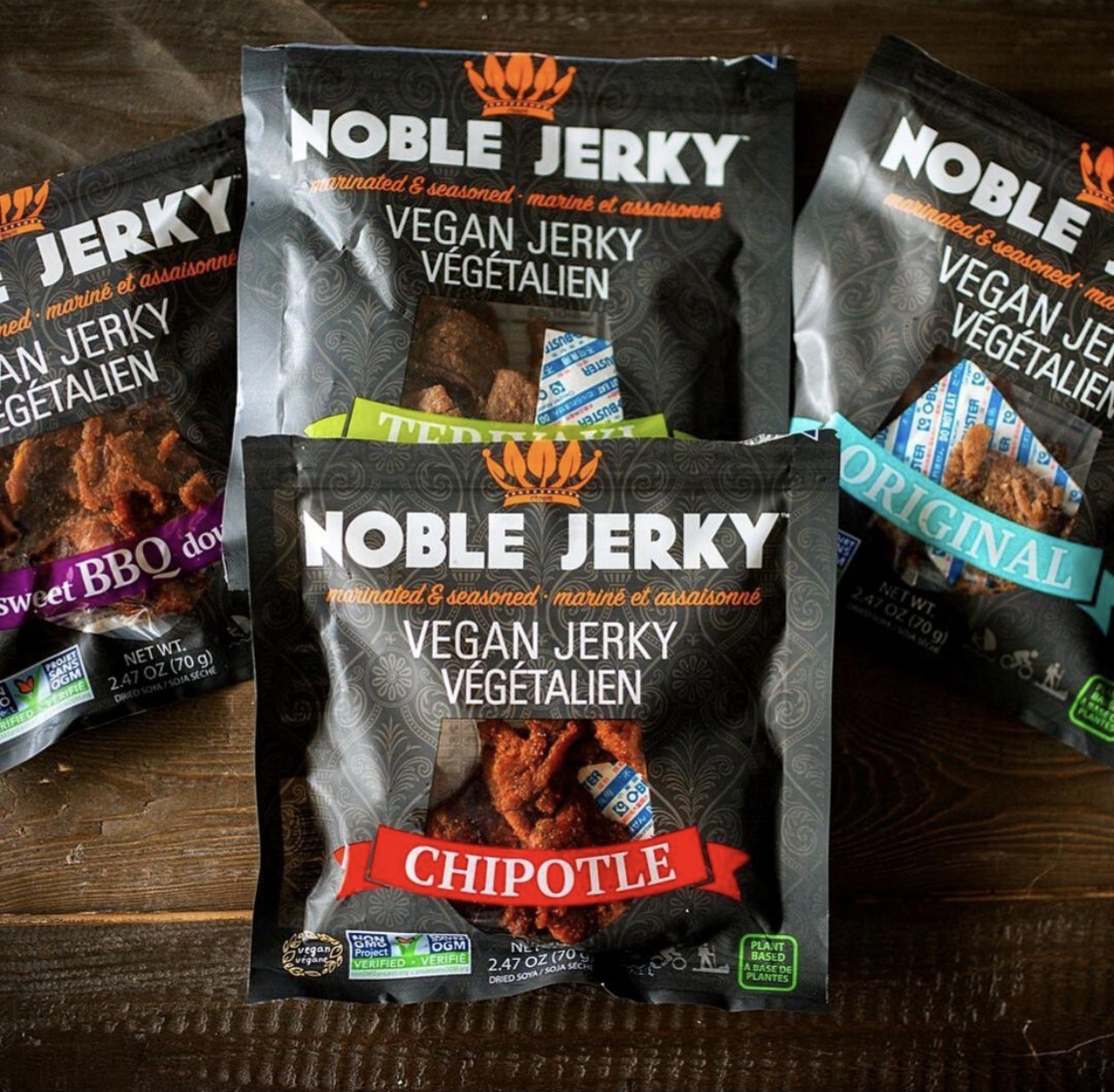 Noble Jerky
4 Noble Jerky
Gourmet-crafted, Noble Jerky is made using soy protein resulting in a chewy, smoky taste that's high in protein. Vegans and omnivores alike are sure to enjoy the authentic taste of the line's Sweet BBQ, Chipotle, Teriyaki, Hickory, and Original flavors.
Learn more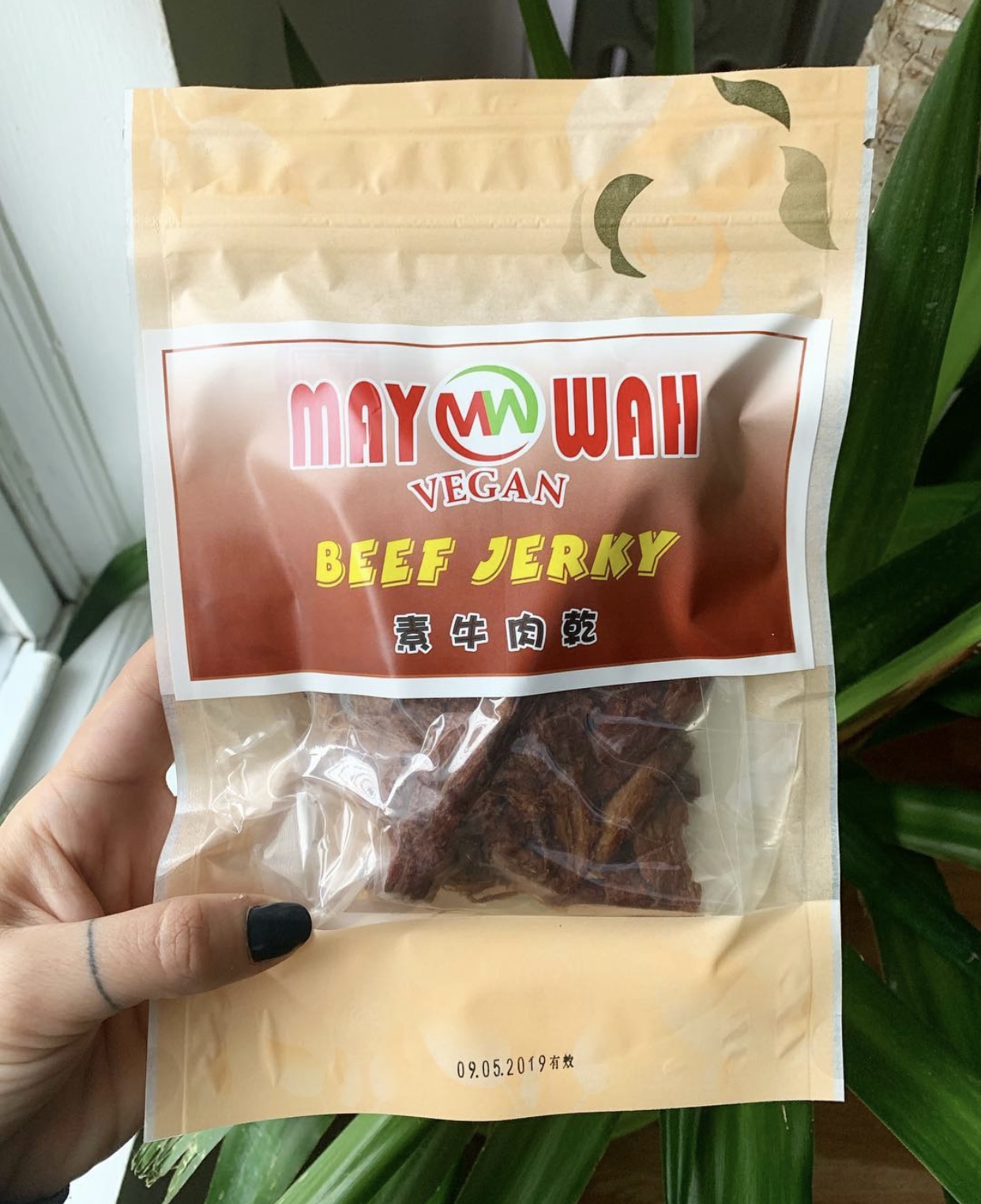 @seitanmademedoit/Instagram
5 Lily's Vegan Pantry
New York City's premiere vegetarian meat seller turned all-vegan grocer offers vegan jerkies made with Japanese konjac root (similar to sweet potato), wheat, or soy. All varieties come in several different flavors, including spicy, teriyaki, and vegan bacon.
Learn more
Louisville Vegan Jerky Co.
6 Louisville Vegan Jerky Co.
With flavors such as Maple Bacon, Smokey Carolina BBQ, and the limited-edition, small-batch Jamaican Jerk, this non-GMO textured soy protein-based jerky is all chew and full of flavor.
Learn more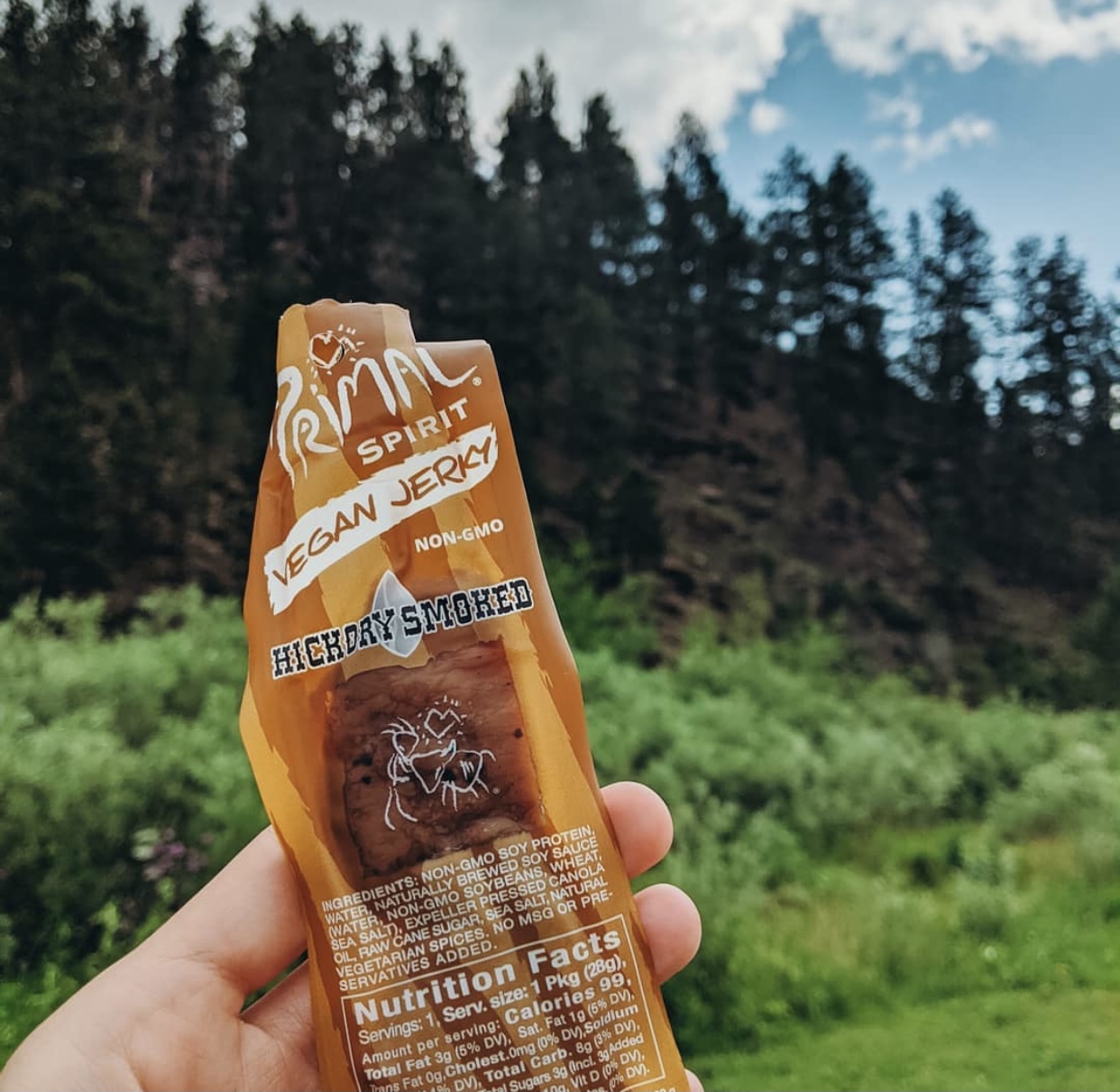 @veggyjane/Instagram
7 Primal Spirit Foods Primal Strips
These individually-wrapped jerkies are comprised of soy, seitan, and shiitake mushrooms. Flavors such as Thai peanut and Texas BBQ make for a perfect portable snack for traveling, hiking, or keeping in your bag for snack emergencies.
Learn more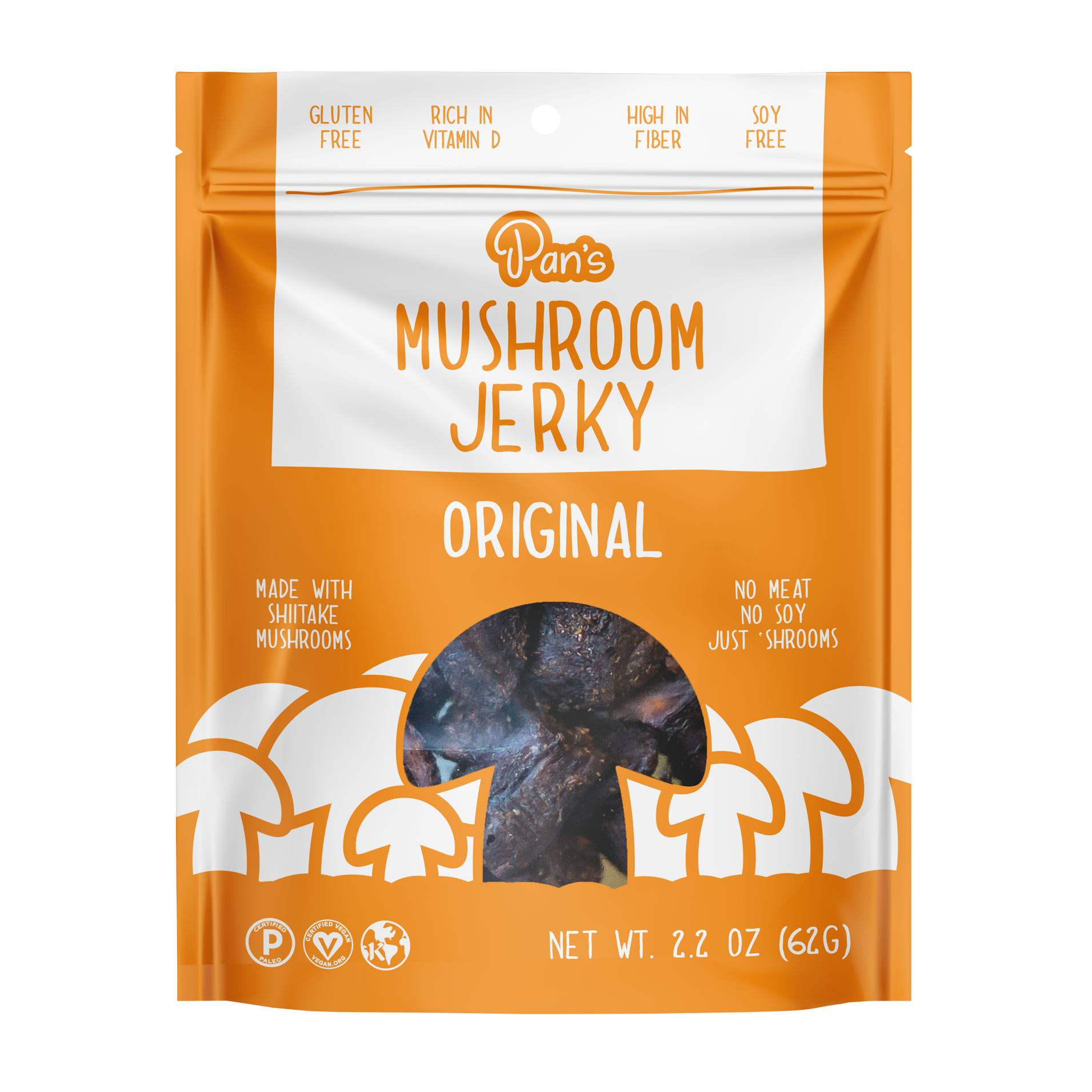 Pan's Mushroom Jerky
8 Pan's Mushroom Jerky
Backed by Shark Tank billionaire Mark Cuban, this vegan jerky is made of shiitake mushrooms for a savory snack rich in umami. Flavors include Original, Zesty Thai, Applewood BBQ, Salt & Pepper, Teriyaki, and Curry. Stock up for your next road trip!
Learn more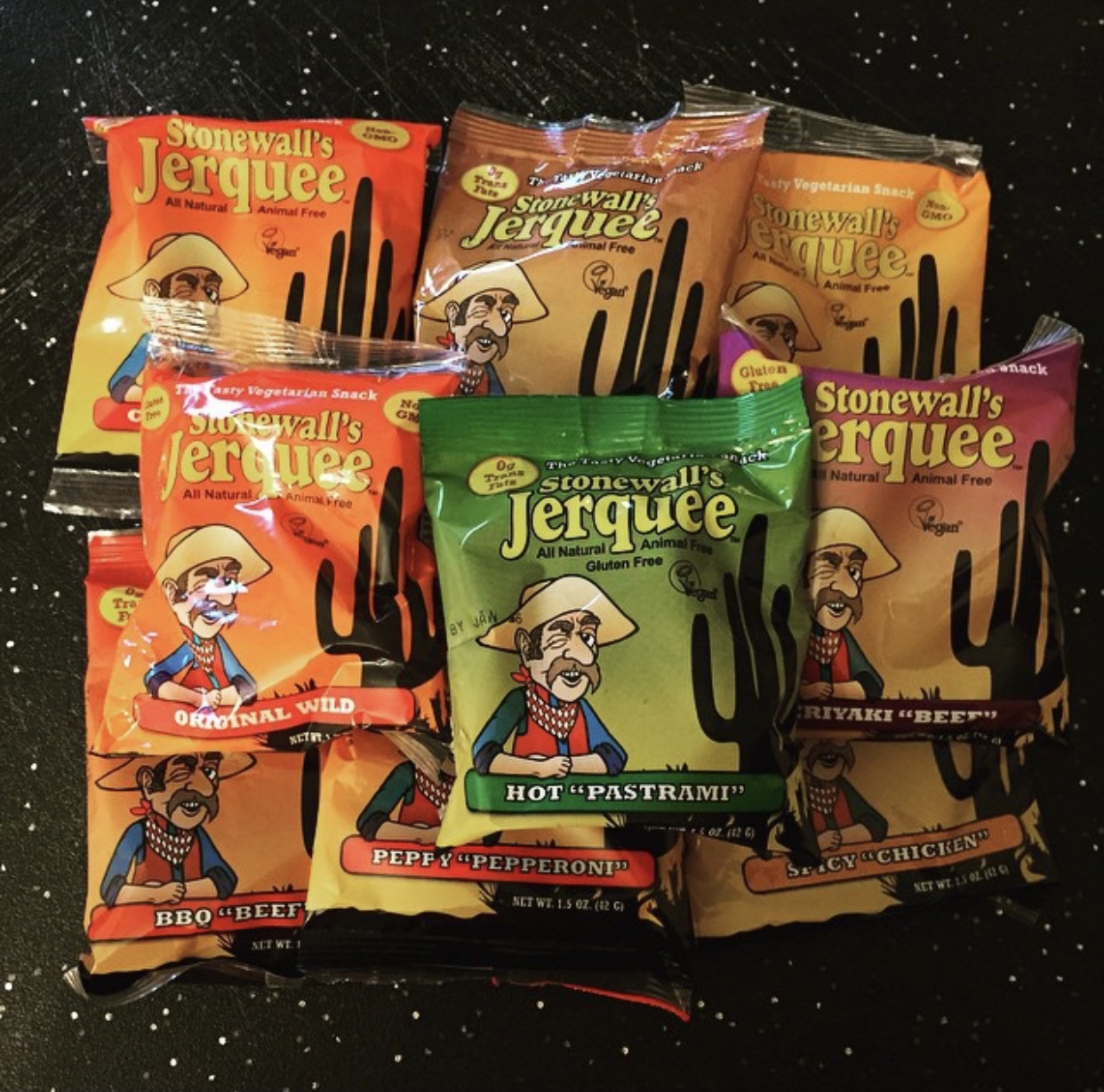 @ldbeme/Instagram
9
Stonewall's Jerquee
Don't let the fancy spelling fool you! These single-serve "jerquees" are equal parts meaty, chewy, and savory.
Learn more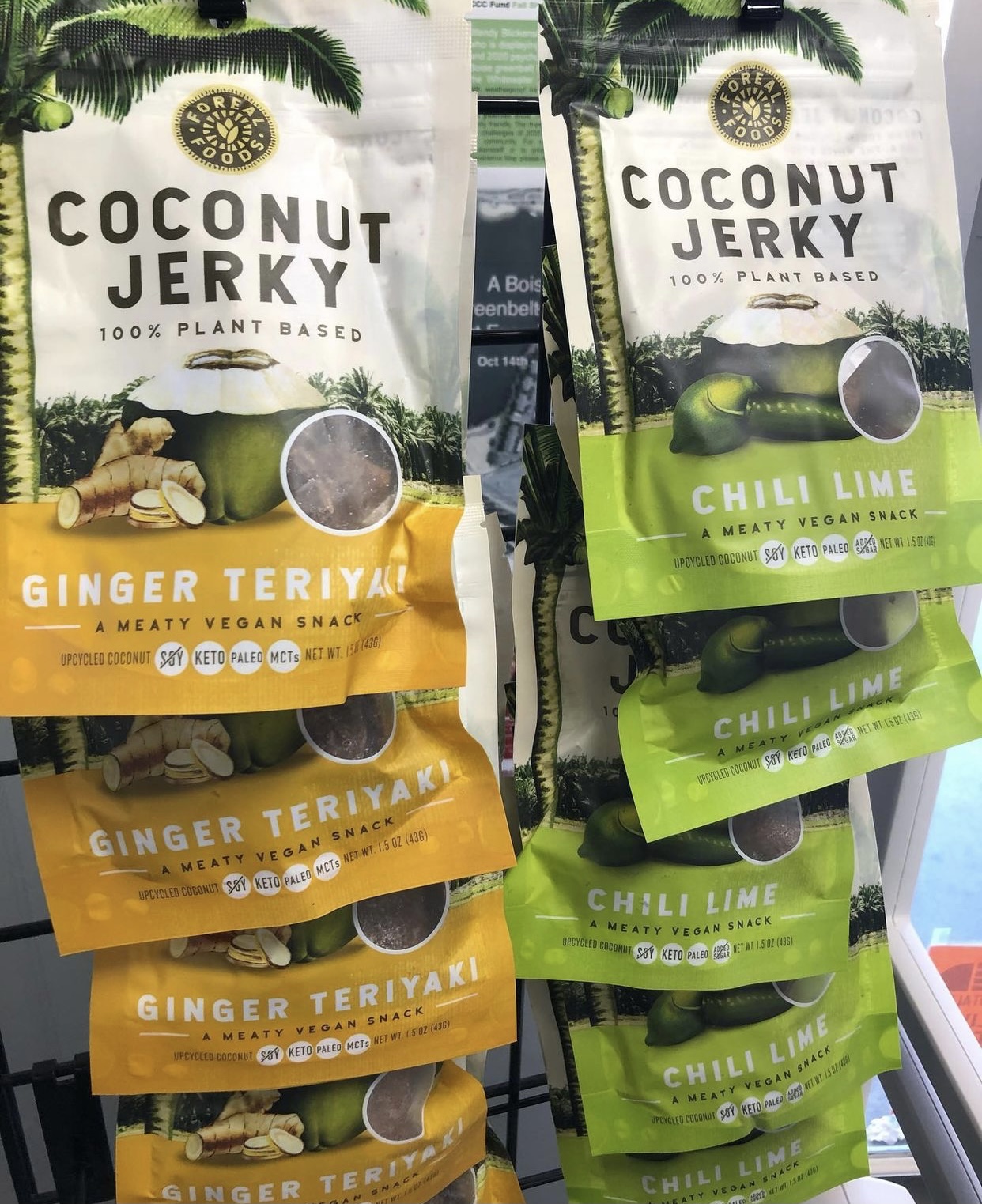 @therecordexchange/Instagram
10Foreal Foods Coconut Jerky
Coconut doesn't just lend itself to milk, water, ice cream, and cheese, as it's a natural jerky, too. To make the transformation, young coconut meat is marinated and dehydrated for an addictively healthy jerky.
Learn more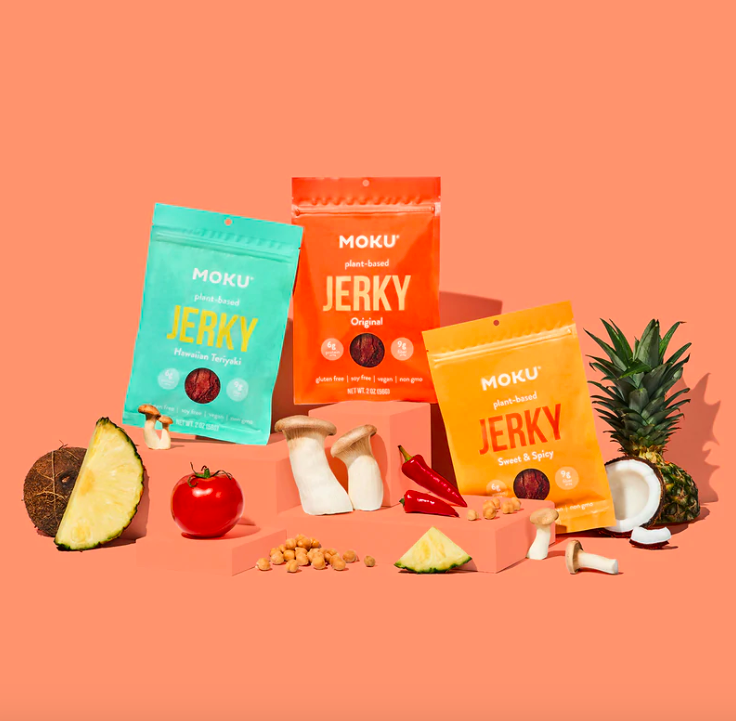 Moku Foods
11Moku Foods Plant-Based Jerky
Crafted by world-renowned chefs, Moku Foods' plant-based jerkies are nothing short of delicious. Made in three signature flavors (Original, Hawaiian Teriyaki, and Sweet & Spicy), this meatless jerky owes its meaty bite to mushrooms. Plus, 1% of every purchase is donated to a nonprofit of your choice.
Learn more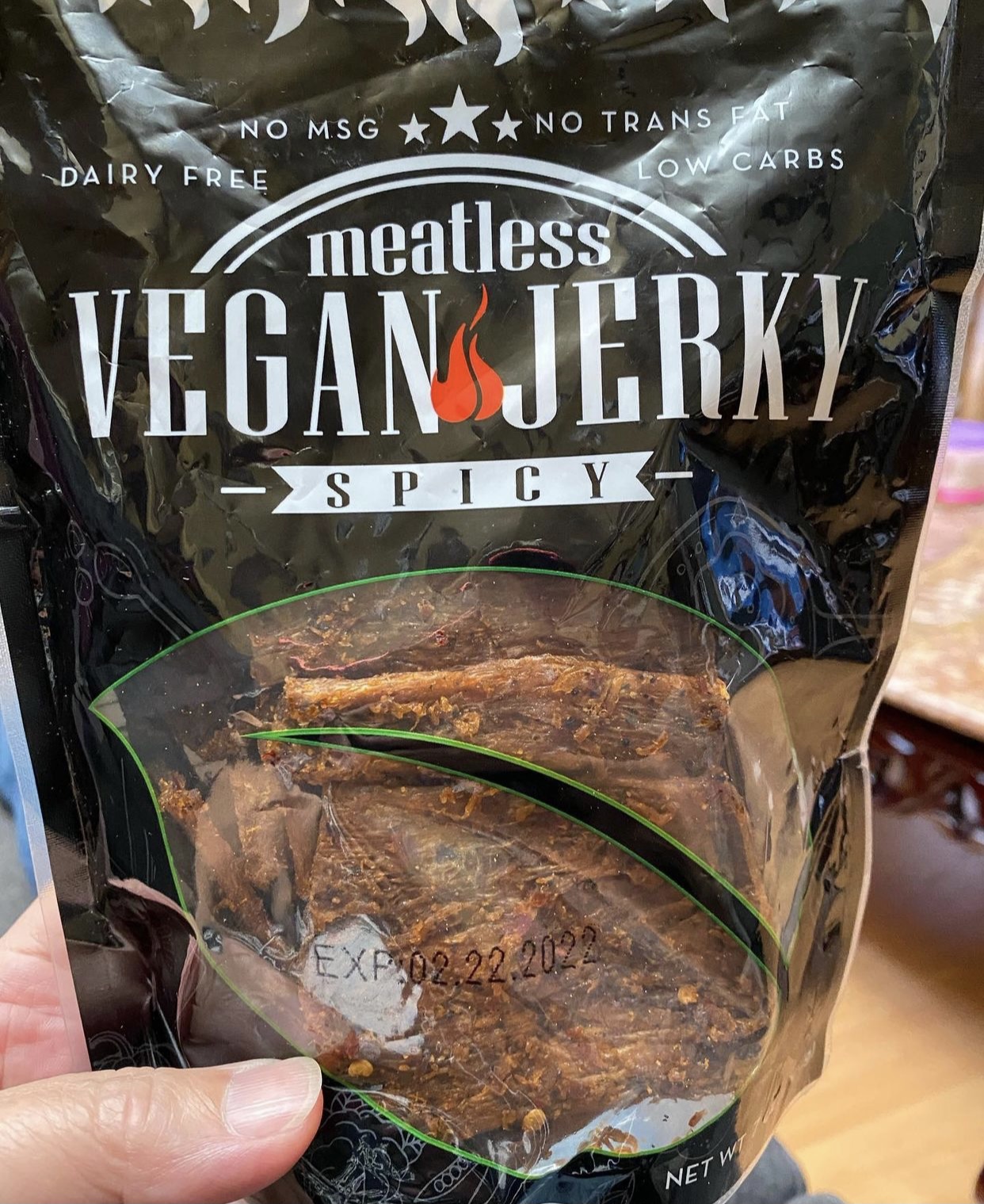 @tweedykat/Instagram
12BeLeaf Vegan Jerky
Famous for their fan-favorite vegan fried egg, BeLeaf's line of plant-based jerky is another must-have for any vegan pantry. Made using soybean protein, the company offers flavors like Spicy, Wasabi, and Original.
Learn more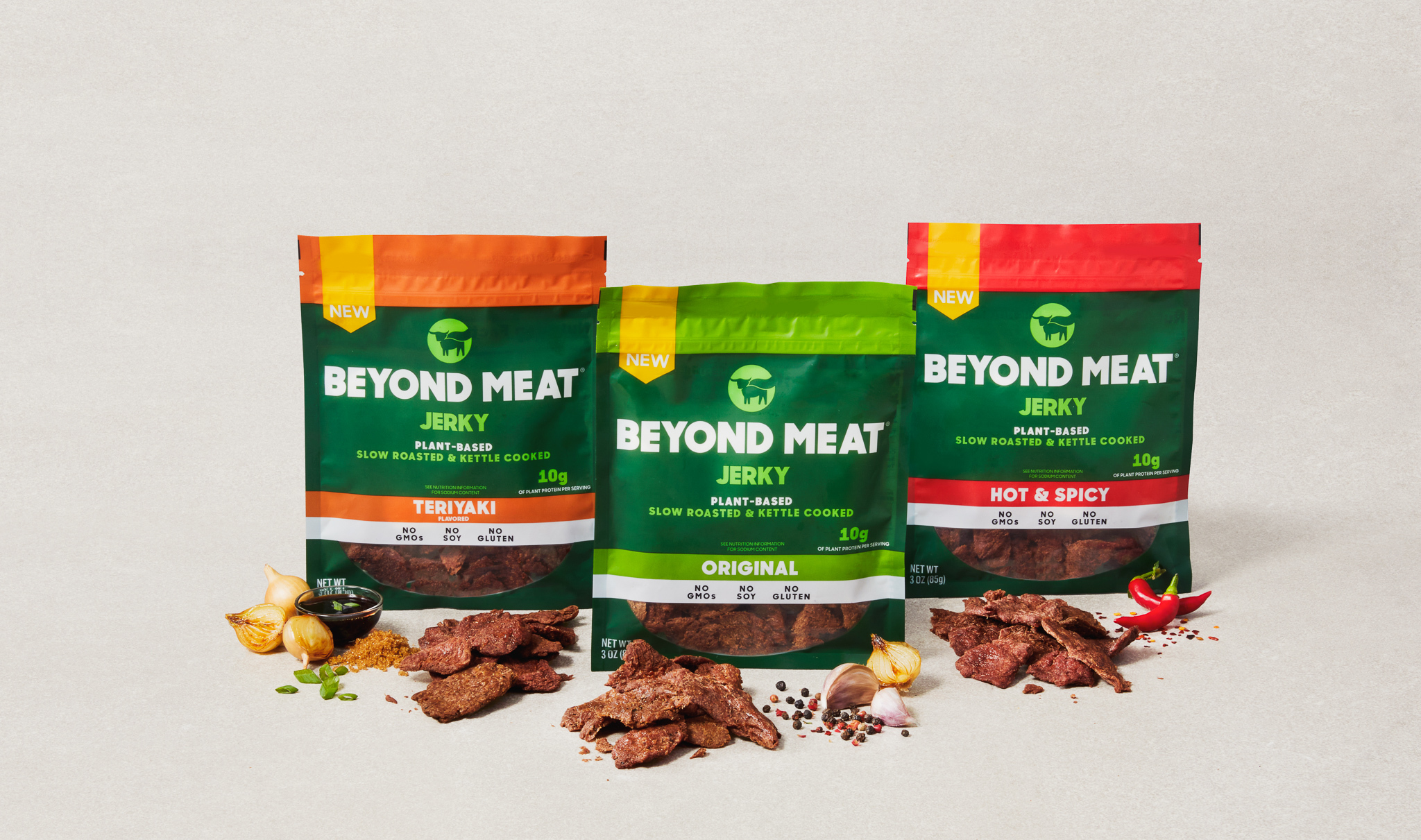 Beyond Meat
13 Beyond Meat Jerky
The masterminds behind the world-famous Beyond Burger are now whipping up vegan jerky. Made from peas and mung bean protein, flavors include Original, Hot & Spicy, and Teriyaki.
Learn more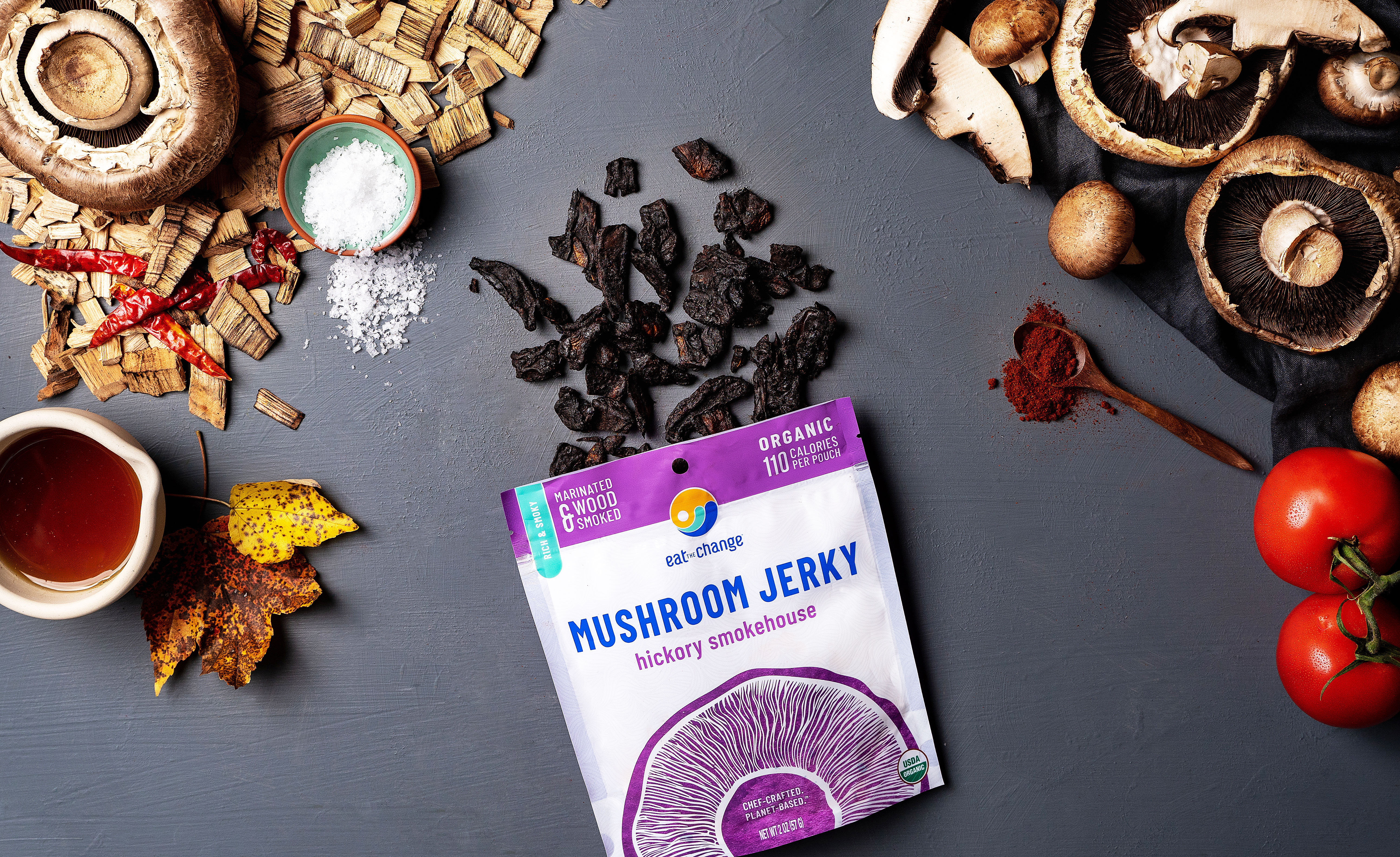 Eat the Change
14Eat the Change Mushroom Jerky
Co-founded by Top Chef alumn Spike Mendelsohn, Eat the Change creates chewy vegan jerky using mushrooms sustainably sourced from a Pennsylvania-based family farm. Bruised and oversized mushroom stems—which wouldn't normally make it to grocery store shelves—are marinated in a spice blend and smoked for a plant-based jerky you'll want again and again.
Learn more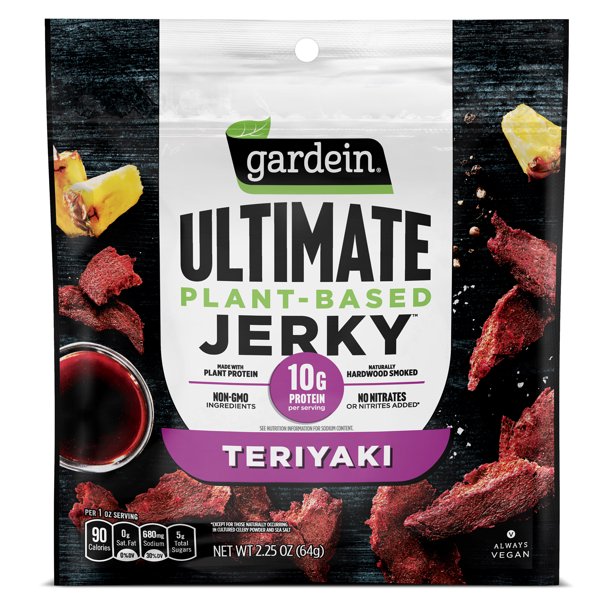 Gardein
15Gardein Ultimate Plant-Based Jerky
This vegan OG won't be left behind. Launched in 2020, Gardein's smoky jerky is made from seitan for added chewiness and meaty realness. Choose between Original, Teriyaki, and Hot and Spicy flavors the next time snack time strikes.
Learn more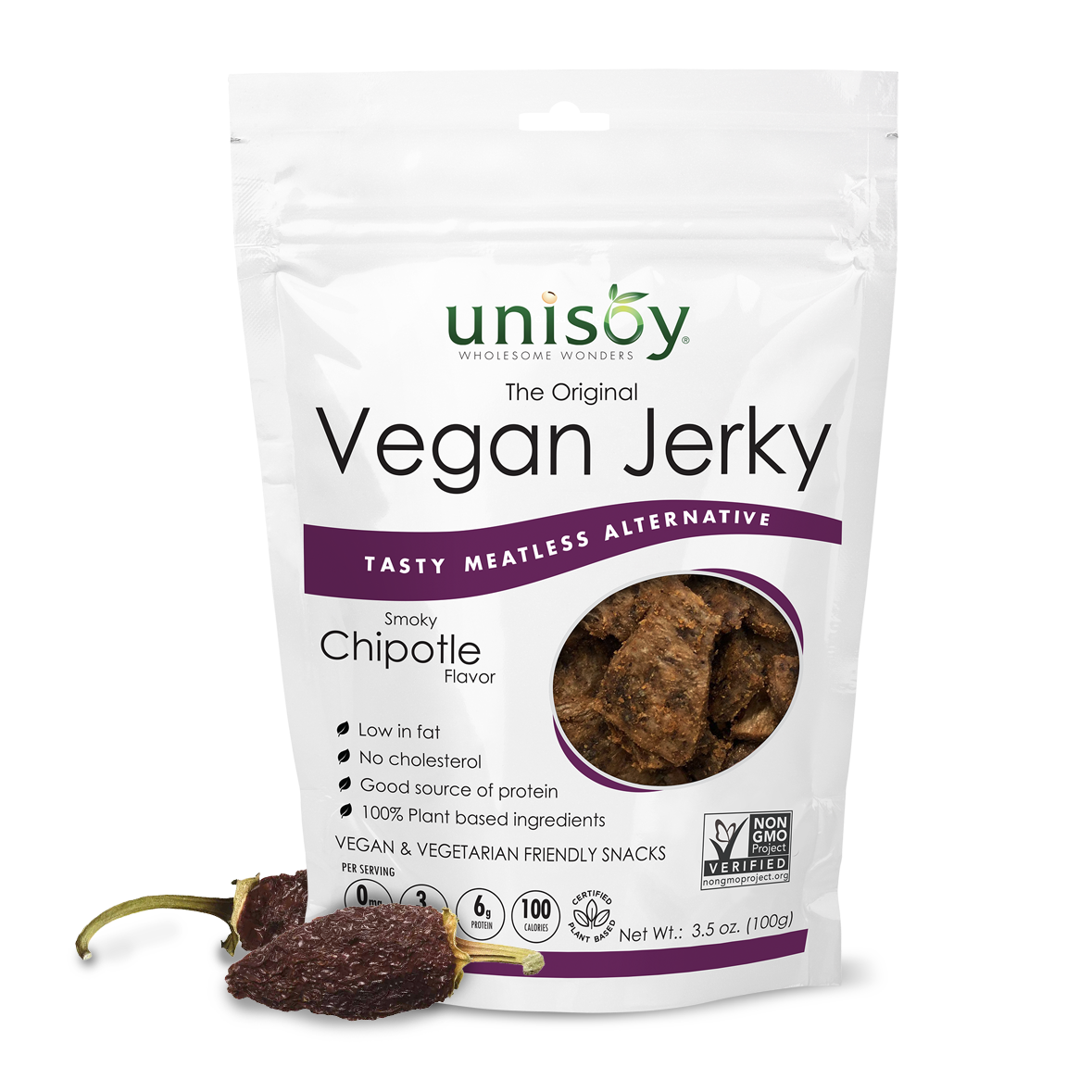 UniSoy
16UniSoy Vegan Jerky
With a whopping six flavors, there's a UniSoy Vegan Jerky to satisfy every craving. Whether you opt for Cracked Pepper, Hot 'n Spicy, Teriyaki, Carne Asada, Habanero, or Smoky Chipotle, each bag packs a punch of flavor.
Learn more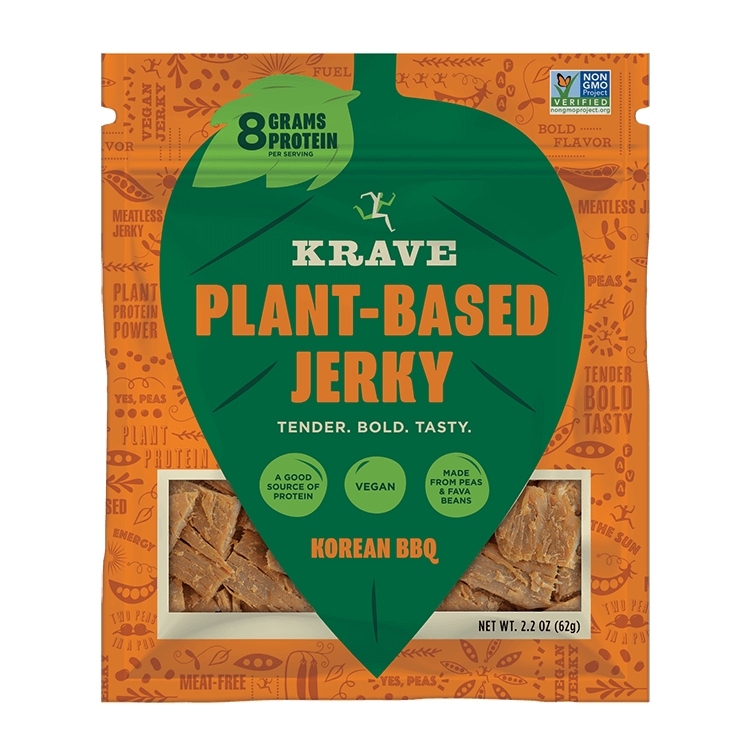 KRAVE
17KRAVE Plant-Based Jerky
Snack brand KRAVE is venturing into the world of plant-based eats with its line of vegan jerky. Made from a blend of peas and fava beans, each serving boasts 8 grams of protein. The Smoked Chipotle flavor is sure to satisfy, but the Korean BBQ can't be missed.
Learn more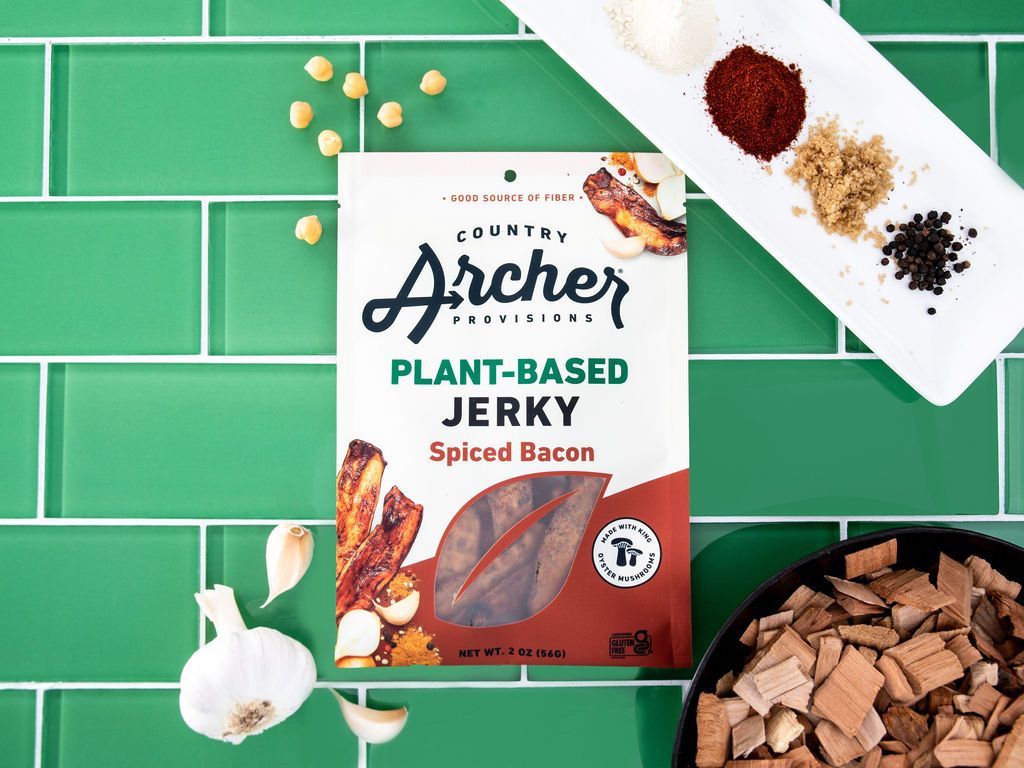 Country Archer Provisions
18Country Archer Provisions Plant-Based Jerky
Between BBQ, Teriyaki, and Spiced Bacon flavors, this vegan-friendly brand delivers when it comes to plant-based jerky. King oyster mushrooms lend their tender texture to this classic snack.
Learn morE
For more vegan snacks, read: