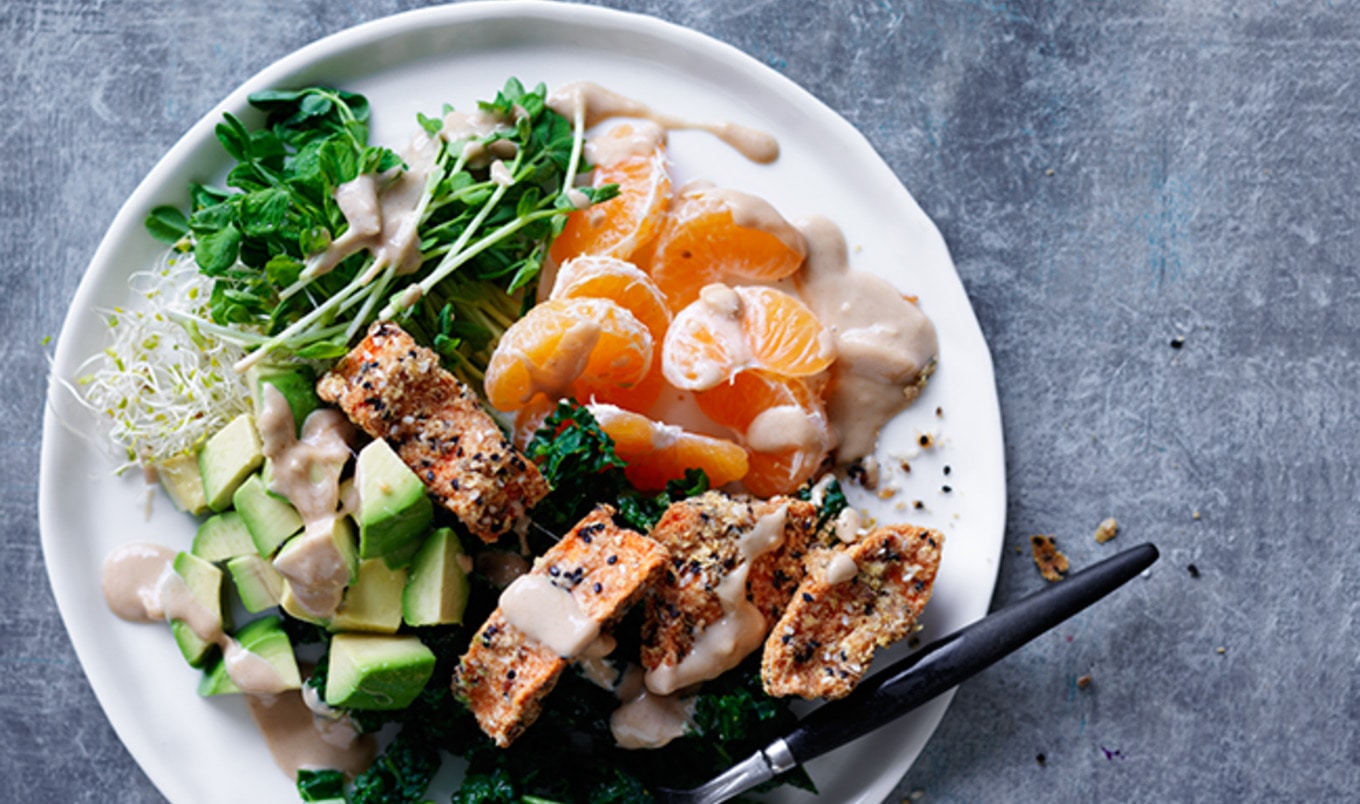 Crisp-skinned papaya serves as a salmon fakeout in this totally raw, plant-based salad.
July 5, 2021
Convincingly fishy and deliciously substantial, papaya is transformed into raw, plant-based "salmon" in this inventive and elegant dish from Maz Valcorza's The Naked Vegan: 140+ Tasty Raw Vegan Recipes For Health and Wellness. Served atop a bed of fresh kale, avocado, and clementines, this showstopping salad is sure to become a fast summer favorite.
What you need:
For the papaya salmon:
1 cup flaxseed meal
1 teaspoon granulated garlic
1 teaspoon granulated onion
1 teaspoon dulse flakes
1 teaspoon chopped dill
1 whole papaya, peeled, seeded, and cut into chunks
For the kale-avocado salad:
1 large avocado, diced
2 cups shredded kale
1 cup snow pea sprouts
1 cup clementine segments
For the Ginger-Miso Dressing:
1 cup water
3 tablespoons cold-pressed extra virgin olive oil
3 tablespoons tahini
3 tablespoons coconut nectar
2 tablespoons red or white miso paste
1 tablespoon apple cider vinegar
2 teaspoons lime juice
2-inch piece of ginger, peeled and chopped
To serve:
3 tablespoons black sesame seeds
Ginger-Miso dressing
Alfalfa sprouts, to garnish
What you do:
1. For the papaya salmon, into a bowl, place all ingredients except the papaya and toss until well combined. Roll the papaya chunks in the mixture, then place on a mesh dehydrator tray.
2. Dehydrate at 105 degrees for 5 hours, or until outside is crispy. If you don't have a dehydrator, place papaya mixture on a baking tray and leave in the oven on its lowest setting, with the door slightly ajar, for 1 hour.
3. For the ginger-miso dressing, into a blender, place all ingredients and blend until smooth.
4. To serve, arrange salad ingredients among four bowls and top with papaya salmon. Sprinkle with the sesame seeds, drizzle with dressing, garnish with alfalfa sprouts, and serve.