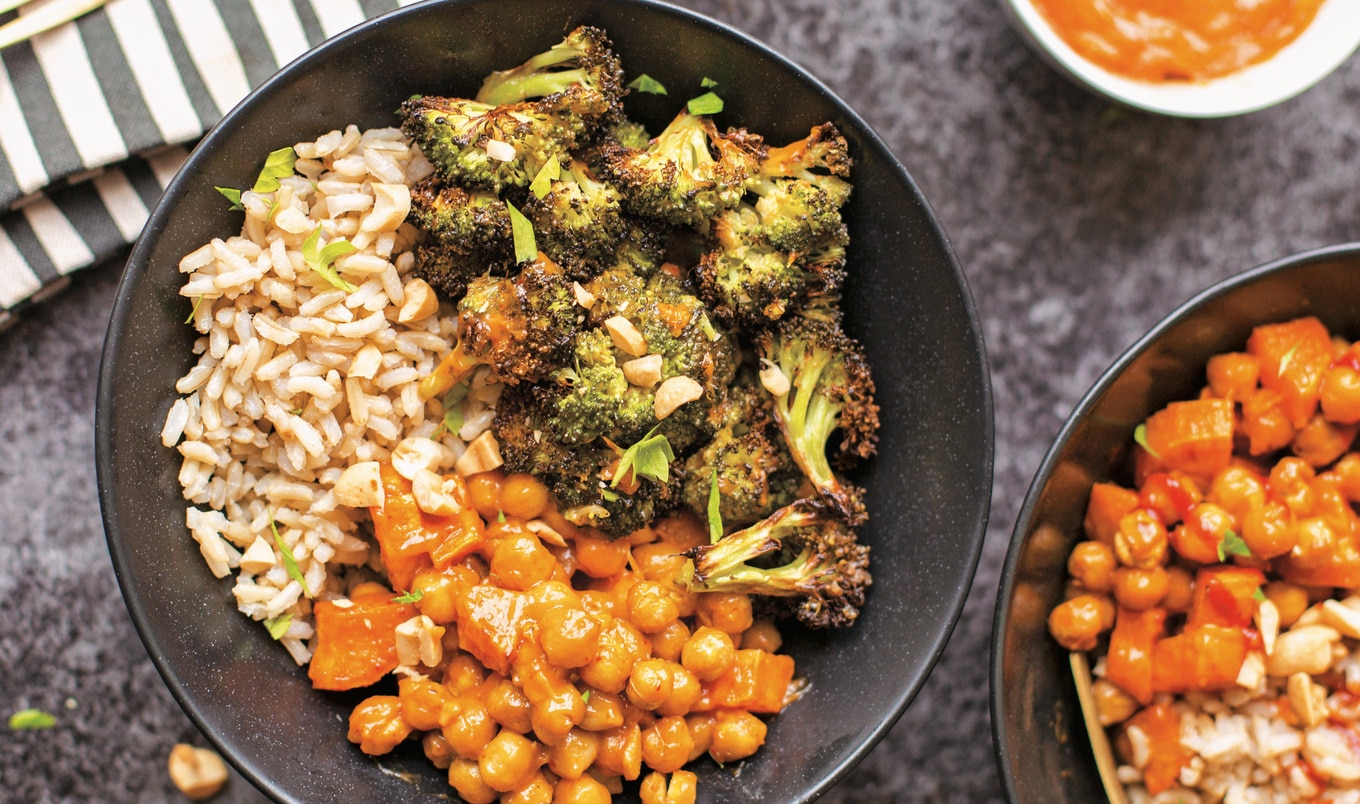 Spicy sweet peanut sauce and tender caramelized vegetables make for wholesome, simple vegan bowls that are perfect for lunch or dinner.
March 28, 2023
In need of a quick, minimal-cooking-involved meal? Try this simple and nutritious bowl from the Effortless Vegan for a quick weeknight meal.
What you need:
1 large sweet potato, peeled and cut into ½-inch cubes
1 (15-ounce) can chickpeas, drained and rinsed
3 cups broccoli florets
2 tablespoons avocado oil
½ teaspoon salt
4 cups cooked rice
3 spring onions, sliced
⅓ cup fresh cilantro
¼ cup chopped peanuts
For the peanut sauce:
2 tablespoons toasted sesame oil
⅓ cup peanut butter
1 tablespoon sriracha
1 tablespoon minced fresh ginger
2 tablespoons maple syrup
2 tablespoons tamari
1 tablespoon rice vinegar
What you do:
Preheat oven to 425 degrees. Lightly grease two large nonstick baking sheets. Add sweet potato and chickpeas to one large baking sheet and broccoli florets to other. Drizzle both pans with avocado oil, sprinkle salt over top, toss, and spread vegetables and chickpeas out evenly.
Place sheets in oven and bake for 15 minutes. Remove from oven and stir vegetables around, flipping over sweet potatoes. Return pans to oven and roast for 5 to 10 minutes, until sweet potatoes and broccoli are tender. Remove from oven and set aside.
For the peanut sauce, into a medium bowl, whisk together toasted sesame oil, peanut butter, sriracha, ginger, maple syrup, soy sauce, and vinegar. Pour peanut sauce over top of roasted vegetables and chickpeas and mix everything together. Divide vegetables and chickpeas among four bowls; top with equal parts spring onions, cilantro, and peanuts; and serve over rice.