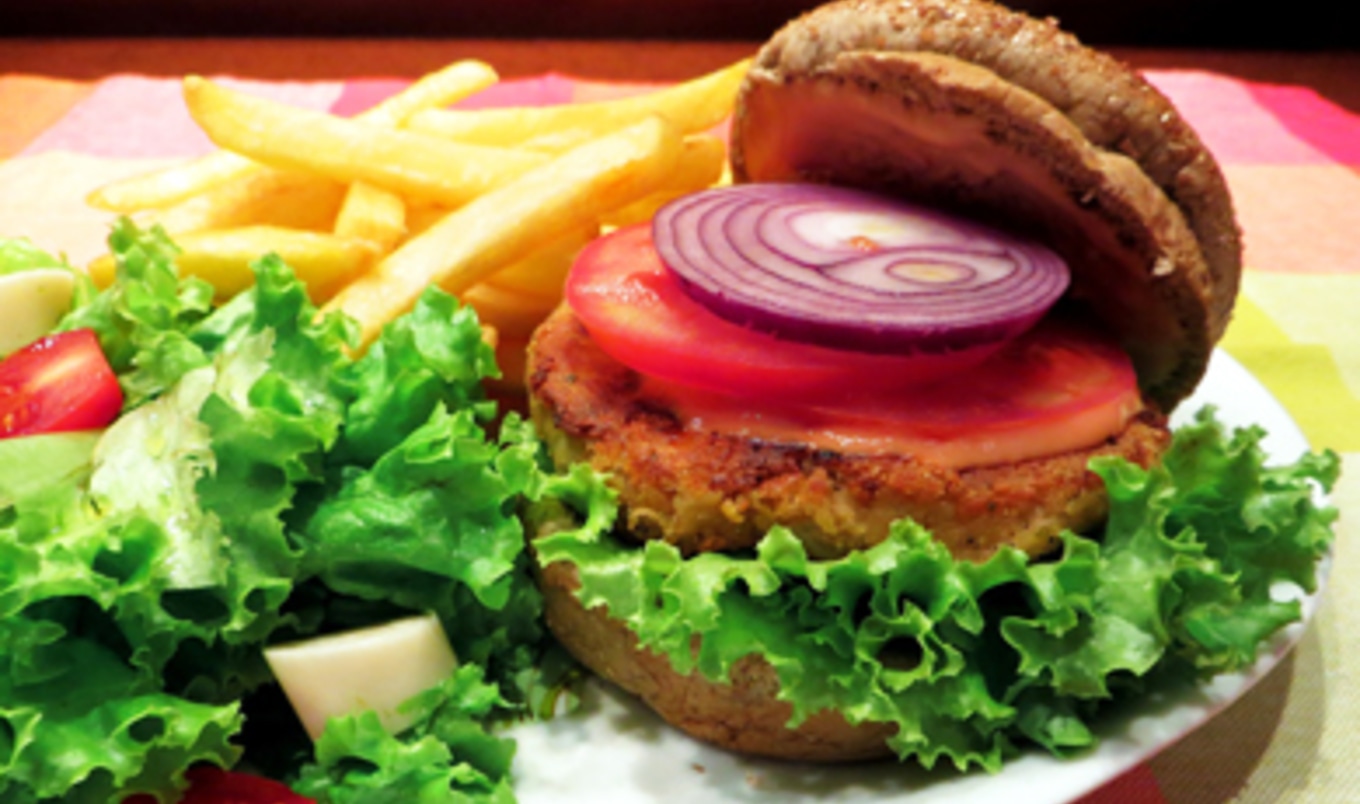 A sweet, tangy aioli sauce seals the deal with these perfect game-day burgers.
August 21, 2016
Makes 8 burgers
What you need:
For the burger:
1 tablespoon olive oil
1 cup finely chopped onions
3 cloves garlic, minced
1 16-ounce can chickpeas, drained and rinsed
2 cups firm tofu
1 cup cooked brown rice
1 tablespoon dried oregano
1⁄3 cup nutritional yeast
1⁄2 cup panko-style breadcrumbs
1 tablespoon soy sauce
2 tablespoons liquid smoke
1 teaspoon salt
1⁄4 teaspoon cayenne pepper
1⁄2 cup canola oil, for frying
8 burger buns
2 tomatoes, sliced 
1 small red onion, thinly sliced 
2 tablespoons pickles, sliced 
8 lettuce leaves 
For the Barbecue Aioli:
1⁄4 cup barbecue sauce
1⁄2 cup vegan mayonnaise
What you do:
In a small frying pan over medium heat, add olive oil. Sauté onion and garlic until onions are translucent, for about 5 minutes. Set aside and let cool.
In a food processor, place chickpeas and pulse a few times. Leave some chickpeas whole for texture. Transfer to a large bowl.
In the same food processor bowl, process tofu until crumbled. Add cooked rice and process until well mixed. Combine with chickpeas.
Add onion mixture, oregano, nutritional yeast, breadcrumbs, soy sauce, liquid smoke, salt, and cayenne pepper to the bowl and mix well.
Using a 1⁄2 cup measuring cup, add mixture and form patties.
If frying patties, in a frying pan over medium-high heat, heat canola oil. Fry burgers until golden brown, about 3 minutes each side. Alternatively, brush each side with oil and grill until charred, 3 to 5 minutes per side on a grill.
To make the Aioli in a small bowl, combine barbecue sauce and mayonnaise and whisk well until mixed.
To assemble burgers, spread some Barbecue Aioli on bun, and top with patty, tomato, red onion slices, pickles, and lettuce. Serve warm.
Photo credit: Daniel Biron