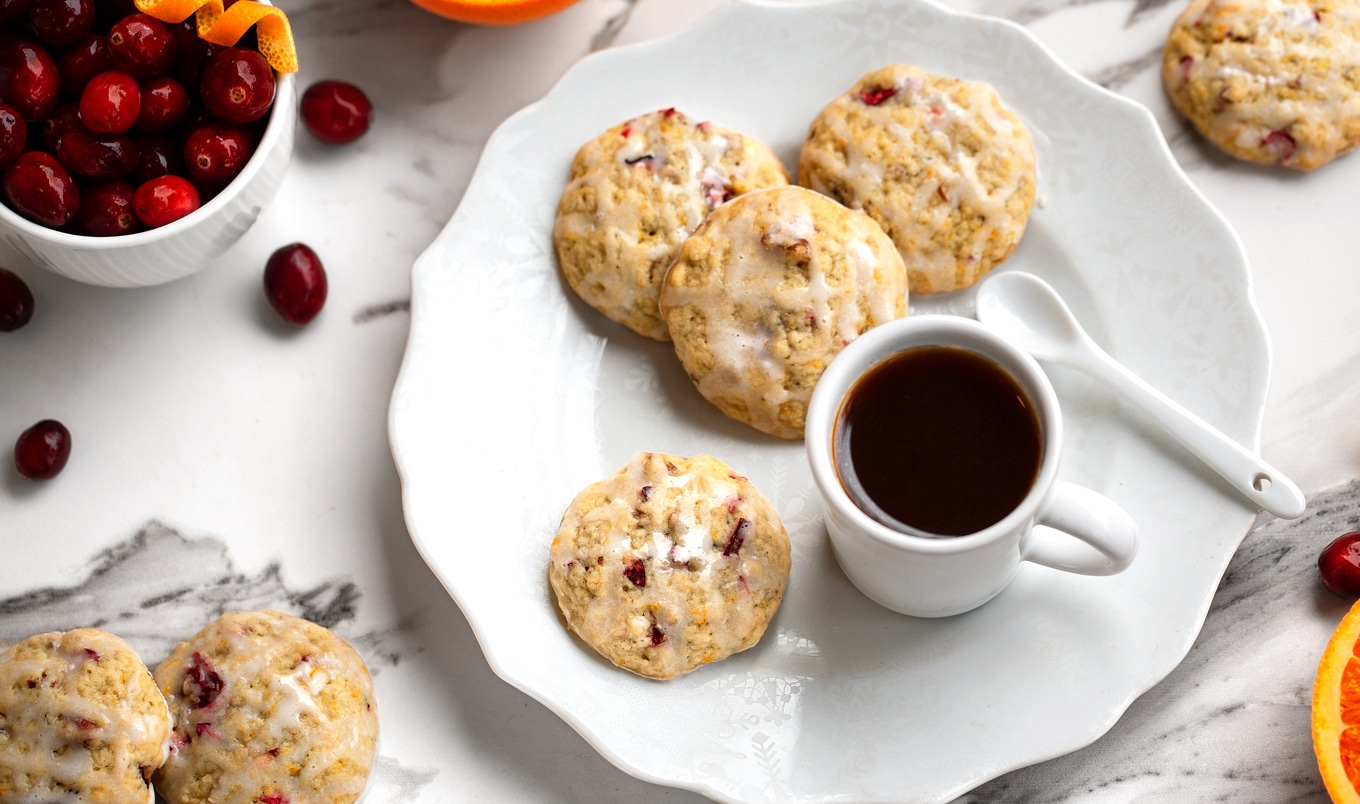 This soft-baked, reminds-you-of-home vegan cookie delivers sweet citrus flavor balanced perfectly with tart cranberries.
December 7, 2022
A sweet lemon drizzle paired with each soft bite of these VegNews Holiday Cookie Contest-winning cranberry-pecan-orange cookies makes for one delicious holiday cookie. Pair with a hot mug of tea and a good book for a cozy night in.
What you need:
For the cookies:
2 cups all-purpose flour
½ teaspoon baking soda
½ teaspoon salt
¾ cup vegan butter, softened
⅔ cup granulated sugar
1 teaspoon vanilla extract
2 tablespoons fresh squeezed orange juice
Zest of one orange
¼ cup chopped fresh cranberries
¼ cup chopped pecans
For the lemon drizzle:
1 cup powdered sugar
1 tablespoon fresh lemon juice
½ teaspoon vanilla extract
1 tablespoon vegan milk, if needed
What you do:
For the cookies, in a medium bowl, mix together flour, baking soda, and salt. Set aside.
In a large bowl, beat together butter, sugar, and vanilla with hand or stand mixer until smooth, and stir in orange juice and zest.
Add dry mixture to wet mixture and mix until combined, then fold in cranberries and pecans. Form dough into a tight mound, wrap in plastic wrap, and place in fridge for at least 2 hours.
Preheat oven to 350 degrees and line baking sheets with parchment paper. Scoop 1 tablespoon of dough and roll into balls. Place onto baking sheets and lightly press down with the palm of your hand. Bake for 13 minutes or until bottom is light golden brown. Remove from oven and let cool completely on wire racks.
For the icing, with a fork, mix together powdered sugar, lemon juice, and vanilla. Add milk if icing is too thick.
Once cookies have cooled, drizzle with icing, and serve.