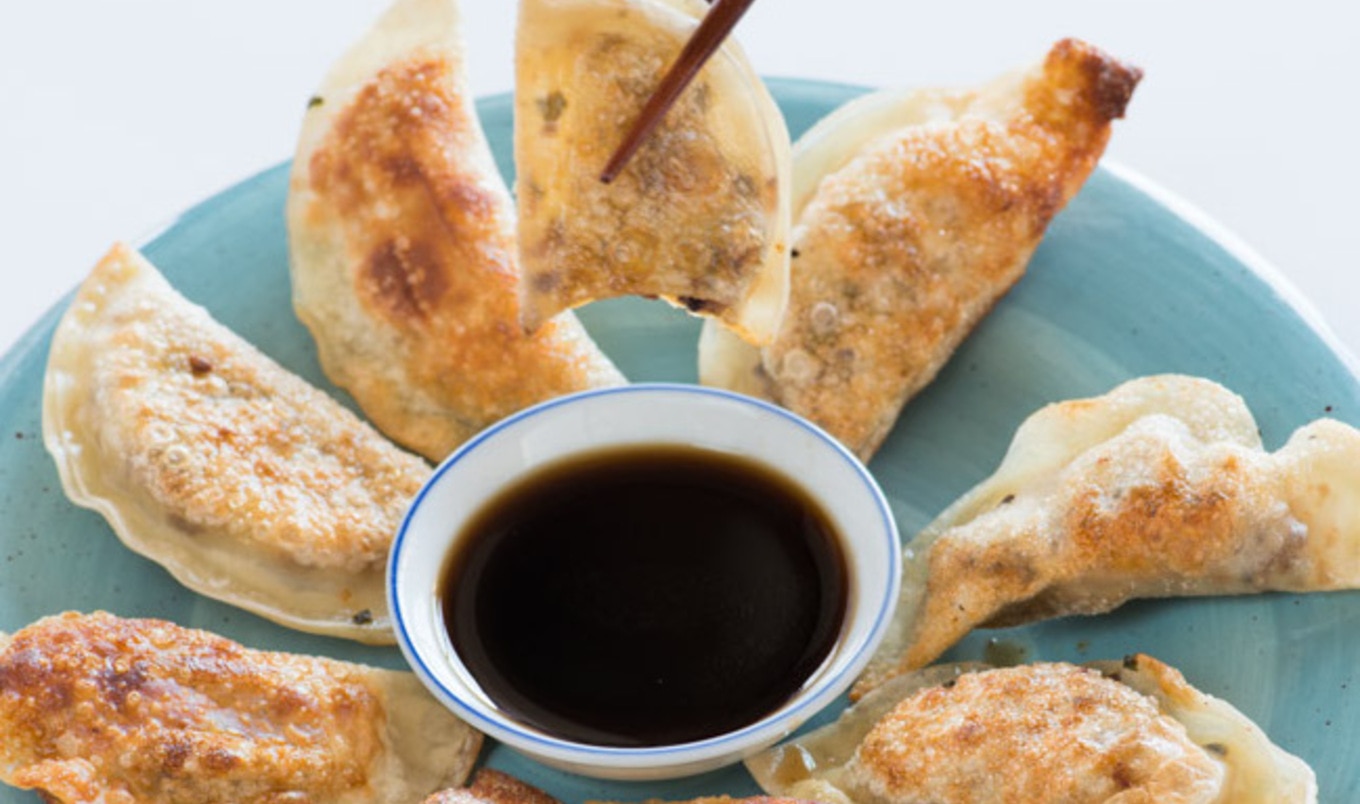 Salty, spicy, savory—these little dumplings are packed with a delicate mingling of flavors.
October 4, 2021
Pair these savory, meaty potstickers from VegNews Food Editor Joni Marie Newman's Fusion Food in the Vegan Kitchen cookbook with a variety of tasty dipping sauces for a delicious appetizer.
What you need:
For the sesame-Sriracha seitan crumbles:
½ cup vital wheat gluten flour
½ teaspoon smoked paprika
½ teaspoon onion powder
¼ teaspoon chipotle powder
¼ teaspoon salt
⅛ teaspoon black pepper
¼ cup water
1 tablespoon Sriracha
1 tablespoon soy sauce
2 teaspoons sesame oil
1 tablespoon vegetable oil
For the cojita-style tofu crumbles:
1 block (12-ounces) extra-firm tofu, drained and pressed
½ teaspoon salt
½ teaspoon garlic powder
½ teaspoon onion powder
½ teaspoon dried oregano
¼ teaspoon ground cumin
¼ teaspoon chipotle powder
1 tablespoon rice vinegar
For the potstickers:
Sesame Sriracha Seitan Crumbles
1/2 cup Cotija-Style Tofu Crumbles
2 tablespoons finely chopped chives
1 package vegan pot sticker wrappers
Oil, for coating
What you do:
For the Sesame Sriracha Seitan Crumbles, to a large mixing bowl, add water, Sriracha, soy sauce, and sesame oil and mix well. In a separate bowl, combine water, Sriracha, soy sauce, and sesame oil. Add wet mixture to dry and combine. Break dough apart into little crumbles.
In a frying pan over medium-high heat, warm oil. Add crumbles to pan and sauté for 4 minutes, or until browned and dry.
For the Cojita-Style Tofu Crumbles, in a mixing bowl, crumble tofu until it resembles crumbled feta. Mix in remaining ingredients until well incorporated. Allow to sit overnight before using, to allow tofu to absorb flavors.
For the potstickers, in a small mixing bowl, toss together seitan crumbles, tofu crumbles, and chives.
Lay one wrapper on a flat surface. Add 1 teaspoon filling to center of wrapper. Dip fingertips in water and run around edge of wrapper. Fold wrapper over, into a half-moon shape, and press edges together to seal. Use a fork to crimp edges. Repeat with remaining 35 wrappers and filling. Coat with a thin layer of oil.
In a steamer, add potstickers in a single layer and steam for 10 minutes, or until hot and moist. Serve immediately, or freeze for later use.