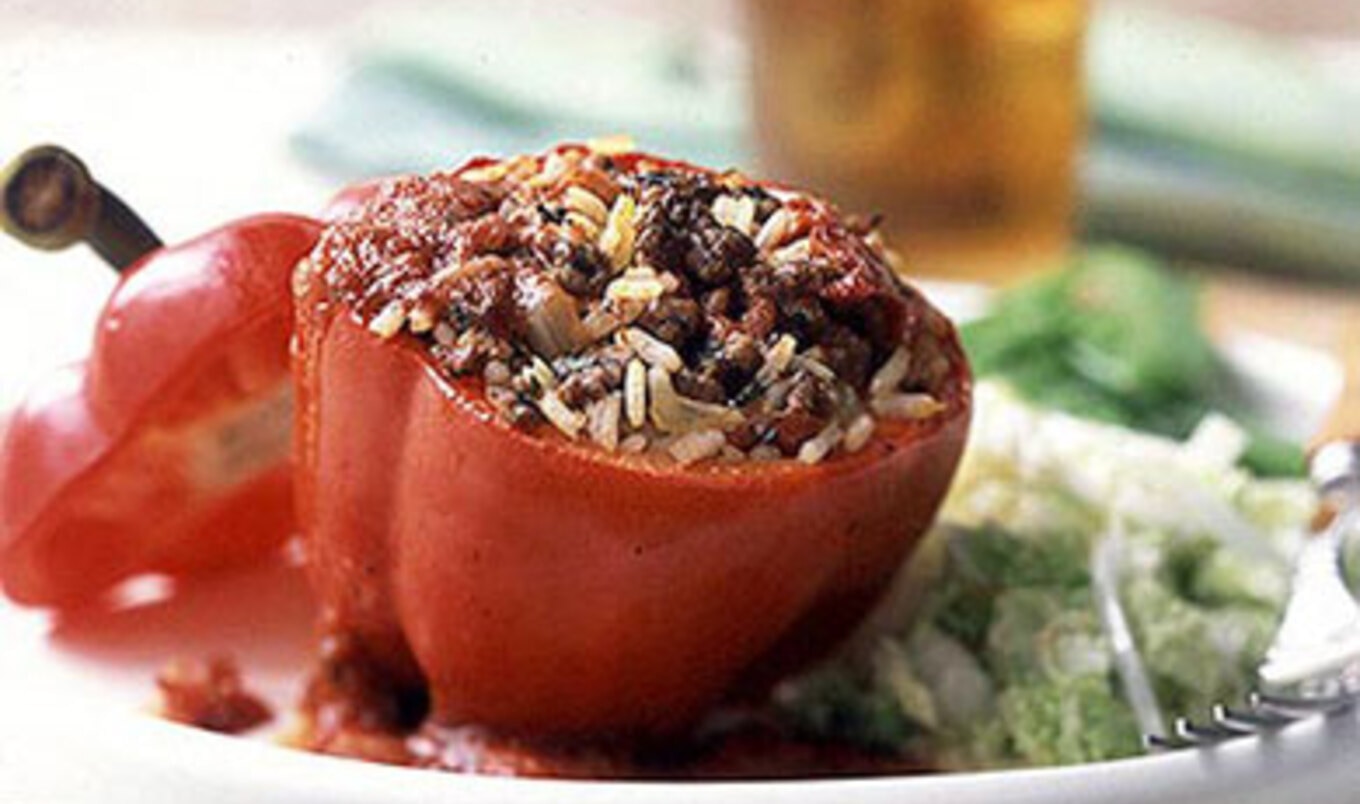 Bright, spicy, and succulent, these peppers really pop.
November 9, 2008
As the sun is setting earlier and earlier, let these colorful, flavor-packed peppers brighten up your evening. Think all stuffed peppers are created equal? Think again. The secret ingredient of peanut butter adds depth and richness to these longtime favorites. Here's yet another tasty way answer those who ask, "where do you get your protein?"
Serves 4
What you need:
6 red bell peppers
1 tablespoon olive oil
1 small yellow onion, chopped
2 cups cooked brown rice
1 16-ounce can dark red kidney beans, drained and rinsed
1 cup tomato salsa
1/4 cup peanut butter
2 tablespoons minced canned jalapeños
1 tablespoon minced fresh parsley
1 teaspoon light brown sugar
Salt and freshly ground black pepper
1/2 cup apple juice or water
What you do:
Preheat the oven to 350 degrees. Slice off the tops of the peppers, reserve and set aside. Remove the seeds and membranes and discard. Plunge peppers into a pot of boiling water and cook until slightly softened, about 3 minutes. Remove from the water and drain, cut side down. Chop the pepper tops and set aside.
Heat the oil in a large skillet over medium heat. Add the onion and reserved chopped pepper tops and cook until softened, about 5 minutes.
In a large bowl, combine the onion mixture with the rice, beans, salsa, peanut butter, jalapeños, parsley, sugar, salt, and pepper to taste. Mix well.
Fill the pepper cavities evenly with the rice mixture, packing tightly. Place upright in a baking dish. Add the apple juice to the baking dish, cover tightly, and bake until the peppers are tender and the stuffing is hot, about 40 minutes.