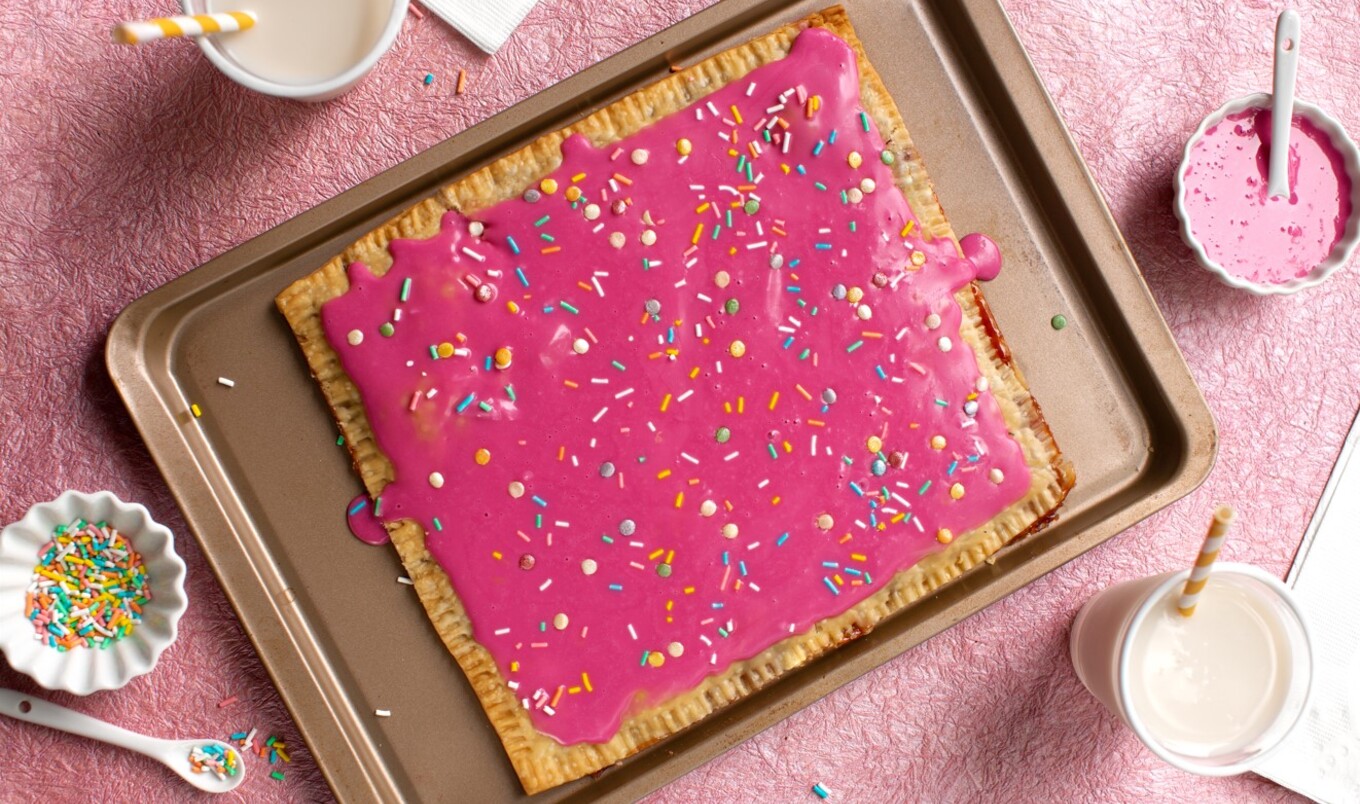 This giant pastry makes a mockery of the diminutive single servings of our nostalgic childhood favorites.
January 31, 2023
Bigger is better for the ideal ration of crust to filling in this recipe from The Everyday Vegan Cheat Sheet cookbook, allowing you a bigger bite of gooey, jammy fruit preserves than would ever fit in the classic hand pie. Icing is essential to the nostalgic experience and this bold pink, beet-colored icing does not disappoint.
What you need:
For the pastry and filling:
2½ cups all-purpose flour
2 teaspoons sugar
½ teaspoon salt
¾ cup vegan butter, chilled and cut into small pieces
1 tablespoon lemon juice
3 tablespoons ice-cold water, divided
1 cup fruit preserves
For the pink icing:
2 cups powdered sugar
1 teaspoon vanilla extract
3 tablespoons beet juice, divided
3 tablespoons rainbow sprinkles
What you do:
For the pastry, in a large bowl, place flour, sugar, and salt. Use a pastry cutter to cut in pieces of butter, until pea-sized. Sprinkle lemon juice and 1 tablespoon of water into bowl and stir well, until dough holds together when squeezed. If still crumbly, keep adding water, a teaspoon at a time, and mix thoroughly until dough is cohesive, being careful not to overmix.
Divide dough into two equal portions. Shape into rounded rectangles and flatten into disks about ½-inch thick. Wrap tightly with plastic wrap and place in refrigerator. Let chill for at least an hour.
Preheat oven to 350 degrees. Lightly dust a clean, flat surface with an even coating of flour. Unwrap one disk of dough and coat both sides lightly with additional flour. Starting at center of disk, use rolling pin to apply light pressure while rolling outwards to edges. Roll dough out into a rectangle, as wide as a half sheet pan but not quite as long.
Carefully transfer to an ungreased half sheet pan and lightly prick all over with a fork. Spread fruit preserves all over, leaving about ½-inch border around edge clear.
Repeat process with second piece of dough, laying over jam-topped piece gently. Crimp edges with a fork, sealing firmly so jam doesn't escape. Trim away any rough edges and prick top carefully to vent. Bake in center of oven for 30 to 35 minutes, or until lightly golden brown.
Remove from oven and allow to cool until just barely warm.
For the icing, in a medium bowl whisk powdered sugar, vanilla, and 2 tablespoons of beet juice until completely smooth. Add more beet juice if needed to reach a desired consistency for drizzling, approximately same thickness as pancake batter.
Pour icing over baked and cooled tart, spreading out as evenly as possible. Top with sprinkles and let stand at room temperature for an hour to set.
Here at VegNews, we live and breathe the vegan lifestyle, and only recommend products we feel make our lives amazing. Occasionally, articles may include shopping links where we might earn a small commission. In no way does this effect the editorial integrity of VegNews.